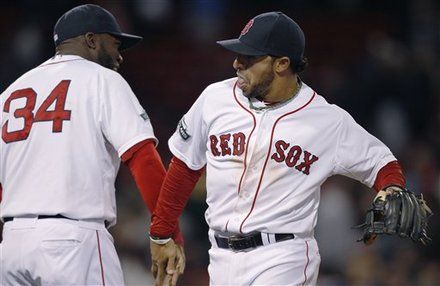 9-1 lead 10 days ago. 11-1 last night.
In the 9-1 lead, it was the bullpen who failed the Boston Red Sox. Last night, it was Clay Buchholz who was staked to that 11-1 lead only to leave with what turned out to be the final score of 11-6 against the Oakland A's.
Buchholz was on his way to his nicest outing of the season having thrown 76 pitches through six innings. Then things took a turn for the worse.
He allowed a single to pinch-hitter Anthony Recker and walked Daric Barton. He got the first out of the inning when Brandon Inge lined out to shortstop Mike Aviles. Buchholz then got the groundball he needed for a double play to end the inning but Aviles slipped on the relay throw and Cliff Pennington ended up safe at first.
He then walked Jemile Weeks to load up the bases. Former Red Sox CF Coco Crisp laced a single to bring in two runs followed by another former member of the local nine, Josh Reddick, golfing one out of the park for a three-run homer to make it a ball game at 11-6.
Junichi Tazawa came in and loaded up the bases on a single, hit by pitch and error on Nick Punto. Vicente Padilla got him out of the jam by striking out Barton.
Scott Atchison made it a little more interesting in the 8th when he loaded up the bases on two singles and a walk. Atchison ended up getting the first out by striking out Crisp. He then gave way to Franklin Morales who induced a ground ball that went to Dustin Pedroia who took matters into his own hands to double up Reddick.
After two days of being shut down, the Red Sox offense woke up last night against A's starter Tommy Milone.
David Ortiz continues to tear up left-handed pitching as he had two home runs last night against Milone. Darnell McDonald finished a triple short of the cycle and knocked in two on a two-run blast. Marlon Byrd made his Fenway Park debut in a Red Sox uniform and added two hits with two RBIs.
Bobby Valentine is going to have a decision to make with Mike Aviles in the leadoff spot when Jacoby Ellsbury returns from his dislocated shoulder. Since Ellsbury went down, Aviles has continued to thrive leading off and last night was no different going for 2-for-5 with four RBIs. Three of them came on a three-run blast in the 5th inning.
The best guess here is that Aviles continues to leadoff with Ellsbury batting second when he returns. But with Bobby V, you can just never know what he's thinking.
We'll be on the lookout today to see what the Red Sox do with Aaron Cook. They have until midnight tonight to put him on the 25-man roster or possibly see him opt-out of his minor league deal. I suspect though, he'll be called up before today's game.
But we'll see.
We'll be back later with today's lineups, batter/pitcher matchups and links from the day. So for now, let's take at look at the overnight links from the media by clicking on the read more button below if you're on the home page.
To open the links up in a new tab or window, use Control+click
Red Sox tee off on Athletics [Boston Globe]
Hardball, but it could've been so much easier [Boston Globe]
Decision day here on sinkerballer Cook [Boston Globe]
Hard-hit numbers for Buchholz [Boston Globe]
Buchholz inconsistent as Red Sox bats erupt [Boston Herald]
Plenty left in Big Papi [Boston Herald]
Powerful display by McDonald [Boston Herald]
Aaron Cook coming up in short order? [Boston Herald]
Josh Reddick secures role [Boston Herald]
Ryan Sweeney swinging hot bat for Red Sox [Boston Herald]
Sox go up big, hold on to beat A's, 11-6 [CSN New England]
Now with A's, Reddick makes return to Fenway [CSN New England]
It takes five relievers, but Red Sox bullpen comes through [CSN New England]
Buchholz: 'I feel like this was my most positive outing' [CSN New England]
Ortiz ends scorching April with two home runs [CSN New England]
Wake, Trot, Bruno to be honored in May [ESPN Boston]
Rapid Reaction: Red Sox 11, A's 6 [ESPN Boston]
Buchholz sees progress with changeup [ESPN Boston]
Youk's back should be OK, trainer says [ESPN Boston]
Ortiz caps April with two more homers [ESPN Boston]
Pieces of April, a morning in May [ESPN Boston]
Bobby Valentine: 'I didn't have a major plan' for losing Jacoby Ellsbury and Andrew Bailey [Full Count]
What to do with Aaron Cook, Daisuke Matsuzaka and other Red Sox notes [Full Count]
Closing Time: Red Sox lineup overcomes late meltdown by Clay Buchholz [Full Count]
Bobby Valentine 'Kicking Himself' for Lack of Backup Plans After Outfield, Bullpen Injuries [NESN.com]
Red Sox Hitters Embracing 'Contagious' Hitting Philosophy With Offensive Onslaught [NESN.com]
Kevin Youkilis Remains 'Day-to-Day' After Missing Two Straight Games With Stiff Back [NESN.com]
Bobby Valentine Bucking Tradition, Keeping Opinions to Himself Early in Season [NESN.com]
Red Sox Groundskeeper David Mellor Shows How to 'Stripe' Lawns, Create Patterns Like Those at Fenway Park (Video) [NESN.com]
Valentine takes blame for no backup plans [RedSox.com]
Youk scratched again due to back tightness [RedSox.com]
Decision looming on Cook's future [RedSox.com]
Sweeney fitting in just fine with new ballclub [RedSox.com]
Owens using strikeout as calling card [RedSox.com]
Valentine: Ortiz 'a star of stars right now' [Alex Speier – WEEI.com]
What history says about Clay Buchholz's April struggles [Alex Speier – WEEI.com]
For more slices of Red Sox goodness, head over to the Boston Globe, Boston Herald, CSN New England, ESPN Boston, NESN, Providence Journal, RedSox.com and WEEI websites.
And if you must check out the enemy news, be sure to head over to the Oakland Tribune and San Francisco Chronicle websites.
Follow Ian on Twitter @soxanddawgs. And be sure to like us on Facebook as well.
photo credit: AP Photo