After winning last night 8-6, the Boston Red Sox look to get back to .500 and take the weekend series tonight in the finale of a three-game set with the New York Yankees at Yankee Stadium in the Bronx.
First pitch is scheduled for 8:05 p.m. and will be broadcast nationally on ESPN. You can also watch the game online at ESPN3.com or on your mobile device with the WatchESPN app. If you can't catch the television broadcast, you can always listen to it on the Red Sox radio network.
Felix Doubront toes the rubber for the 20th time this season tonight. In his previous 19 starts, Doubront is 10-5 with a 4.54 ERA. He's made two starts against the Yankees this season and is 1-0 with a 2.92 ERA (4 ER/12.1 IP). He's made six career appearances (two starts) against the Evil Empire and is 1-0 with a 3.18 ERA (6 ER/17 IP). Two of those appearances have come in the Bronx where he has no record with a 0.00 ERA (0 ER/2 IP).
Hiroki Kuroda will make his 21st start of 2012 for Joe Girardi. In his previous 20 starts, Kuroda is 10-7 with a 3.34 ERA. He picked up a no decision in his only start of 2012 against the Red Sox after allowing seven runs (six earned) in 5.2 innings back on July 6th. Overall in his career, Kuroda has made two starts against the Red Sox and is 0-1 with a 5.68 ERA (8 ER/12.2 IP).
Click on the read more button below to see today's lineups, batter/pitcher matchups and links from the day if you're on the home page.
Here are today's lineups:
And here is how the hitters have fared against today's starting pitchers: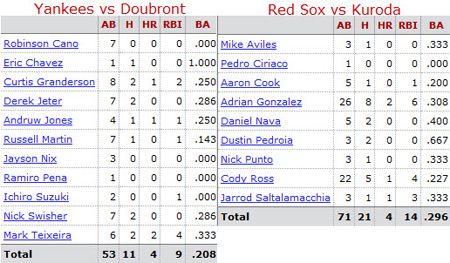 NOTES:
REFRESH OR CHECK BACK OFTEN AS MORE LINKS WILL BE ADDED BEFORE GAMETIME IF/WHEN THEY BECOME AVAILABLE AND WILL BE BOLDED
To open the links up in a new tab or window, use Control+click
Vicente Padilla-Mark Teixeira feud spices up rivalry [boston herald]
Bobby V on Francona chatting with players: 'I didn't think it was any big deal' [clubhouse insider]
Francona apologizes to Valentine via text [csn new england]
Doubront hopes to stay ahead of curve [espn boston]
Doubront faces Yanks in finale [espn boston]
Ortiz, Middlebrooks in PLAY clinic on Monday [extra bases]
Gonzalez heating up, but walks remain a mystery [extra bases]
What Impact Could Daniel Bard Have on the Red Sox if Called Back Up? [nesn.com]
Xander Bogaerts Enjoying Success Down on the Farm, Has a 'Very High Ceiling' (Video) [nesn.com]
Dustin Pedroia, Pedro Ciriaco Both Scorching as Red Sox Attempt to Take Series Against Archrival Yankees [nesn.com]
Bobby Valentine Not Bothered by Terry Francona's Behavior in the Red Sox Clubhouse [nesn.com]
Mike Aviles Sitting Against Yankees Due to Turf Toe That's 'Affecting His Batting' [nesn.com]
What if Cherington sells? A trade-deadline projection [projo sox blog]
Valentine doesn't see Crawford surgery as inevitable [projo sox blog]
Bothersome toe keeps Aviles out of lineup [projo sox blog]
Valentine expects Red Sox to be 'in it to win it' at trade deadline [projo sox blog]
Valentine not put off by Francona session in clubhouse [projo sox blog]
Doubront looking to build momentum for Sox [redsox.com]
Francona apologizes to Valentine via text [redsox.com]
Follow Ian on Twitter @soxanddawgs. And be sure to like us on Facebook as well.