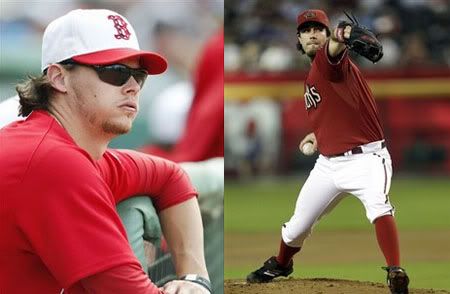 The Boston Red Sox are hoping that Anaheim is a little nicer to them than Seattle was as they finish up a 10-game road trip with a three-game set against the Los Angeles Angels of Anaheim at Angel Stadium of Anaheim.
Tonight's game will start at 10:05 p.m. and will be shown on NESN in the Red Sox television market. The game can be seen in the Angels television market on Fox Sports West. If you can't catch the television broadcast, you can always listen to the game on the 2010 Red Sox radio network.
Clay Buchholz looks to shake off the rust in his second start since returning from the disabled list. He's made 16 starts for the Red Sox and is 10-5 with a 2.81 ERA. He's faced the Angels once this year back on May 3rd, picking up the win after allowing four runs in 5 2/3 innings. Buchholz has made four career starts against the Angels and is 2-2 with a 6.35 ERA.  He's made one career start at Angel Stadium of Anaheim and took the loss after allowing four runs in 4 2/3 innings back in 2008. Ironically enough, that start and loss came against John Lackey.
Fresh off his trade from the Arizona Diamondbacks yesterday, Dan Haren gets thrown into the fire tonight for the Angels. Haren made 21 starts for the Diamondbacks and was 7-8 with a 5.60 ERA. He faced the Red Sox back on June 17th with the D'backs taking the loss after allowing six runs (four earned) in 5 2/3 innings. Haren has made seven starts in his career against the Red Sox and is 2-4 with a 3.14 ERA.
Lineups, batter/pitcher matchups, and links after the jump.
55-44

52-49

1. Marco Scutaro
SS
1. Erick Aybar
SS
2. J.D. Drew
RF
2. Maicer Izturis
2B
3. Kevin Youkilis
1B
3. Bobby Abreu
RF
4. David Ortiz
DH
4. Torii Hunter
CF
5. Adrian Beltre
3B
5. Hideki Matsui
DH
6. Victor Martinez
C
6. Alberto Callapso
3B
7. Jed Lowrie
2B
7. Mike Napoli
1B
8. Mike Cameron
CF
8. Juan Rivera
LF
9. Jeremy Hermida
LF
9. Jeff Mathis
C
Clay Buchholz
SP
Dan Haren
SP
And here is how hitters have fared against this evening's starting pitchers: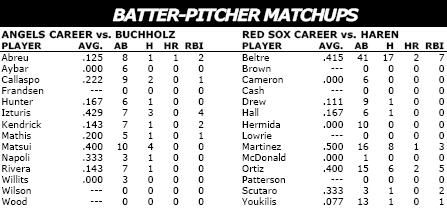 Victor Martinez was activated from the disabled list this afternoon. To make room on the 25-man roster, Dusty Brown was optioned back to Pawtucket.
To open the links up in a new tab or window, use Control+click
Video: The Nation Lives for Terry Francona [SOX & Dawgs]
Ellsbury goes 1-for-3 in GCL game; Haren to start for Angels [Clubhouse Insider]
Notes: Martinez back in the lineup [CSN New England]
Video: Three Swings with Nomar [ESPN Boston]
Fading Okajima underscores Sox's need for help [ESPN Boston]
Werth to Sox? 'Chasing a ghost' [ESPN Boston]
Delcarmen, Ramirez available? [ESPN Boston]
Rangers, Tigers cool on Lowell [ESPN Boston]
Martinez catching, hitting sixth [ESPN Boston]
Ellsbury to join bobblehead in Pawtucket? [ESPN Boston]
TV and radio ratings fall for Red Sox [Extra Bases]
Ellsbury starts rehab assignment [Extra Bases]
News from Anaheim: VMart is back [Extra Bases]
Hideki Okajima's Statistical Trends Far From Encouraging [NESN.com]
Casey Kelly's Success a Testament to His Father Pat's Talents On and Off the Field [NESN.com]
Angels Gearing Up for Halo-Turned-Rival John Lackey, Red Sox in Three-Game Set [NESN.com]
Catching Position Won't Be Black Hole With Victor Martinez Back in Lineup [NESN.com]
Victor Martinez Activated for Series Opener in Anaheim, Giving Offense Much-Needed Boost [NESN.com]
American League Wild Card Race Heats Up as Dan Haren Joins Angels Rotation [NESN.com]
How much of an upgrade would Downs be? [Projo Sox Blog]
Red Sox broadcasts no longer baseball's highest-rated, first time since 2003 [Projo Sox Blog]
Victor Martinez activated, Brown sent down, Bates, Ellsbury moves. [Projo Sox Blog]