After falling on a walk-off for the second straight night, the Boston Red Sox look to avoid yet another sweep this afternoon in the finale of a three-game set with the Tampa Bay Rays at Tropicana Field.
First pitch is scheduled for 1:40 p.m. The game will be broadcast on NESN in the Red Sox television market. If you live in the Rays television market, you can catch the game on Sun Sports. If you don't live in either market, you're in luck as the MLB Network will have coverage of the game (outside of Red Sox and Rays television markets). And if you can't catch the game on television, you can always listen on the 2014 Red Sox Radio Network.
Brandon Workman makes his fourth appearance (first start) of 2014. In his previous three appearances, Workman has no record with a 1.42 ERA (1 ER/6.1 IP). He made two appearances (one start) against the Rays and is 0-1 with a 4.50 ERA (4 ER/8 IP). He's allowed two runs in two innings in his lone appearance at the Trop.
Jake Odorizzi makes his 10th start of 2014 this afternoon. In his previous nine starts, Odorizzi is 2-4 with a 4.98 ERA. He took a no decision last year in his lone career start against the Red Sox after allowing one run in 5.2 innings of work.
NOTES:
Mike Napoli has been placed on the 15-day disabled list. Workman has been called up from Triple-A Pawtucket to take his place on the 25-man roster.
Here is how the hitters have fared against the starting pitchers during the regular season over their careers.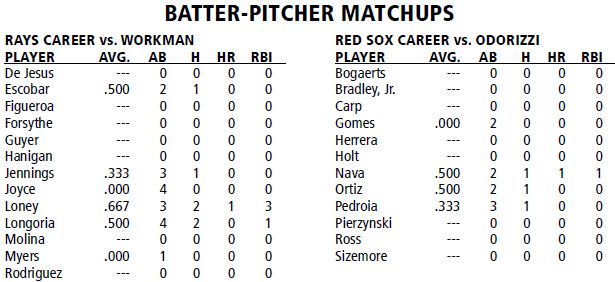 More links (bolded) will be added if/when they become available so please check back often.
To open the links up in a new tab or window, use Control+click
Napoli to DL [clubhouse insider]
Theo Epstein brings Manny Ramirez into Cubs' fold. Really. [clubhouse insider]
Red Sox notes: Napoli heads to the DL [csn new england]
Boston Red Sox put Mike Napoli on DL to keep extra reliever [espn boston]
Red Sox notes: Mike Napoli heads to disabled list; Xander Bogaerts cleared for action [full count]
Red Sox place Mike Napoli on disabled list with finger sprain [providence journal]
Seeking end to slide, Sox hand ball to Workman [red sox]
Sprained finger forces Napoli to disabled list [red sox]
Sunday Mail: How Do We Fix What Ails the Skidding Red Sox? Hey, We're Open to Suggestions [touching all the bases]
photo credits: getty images, getty images