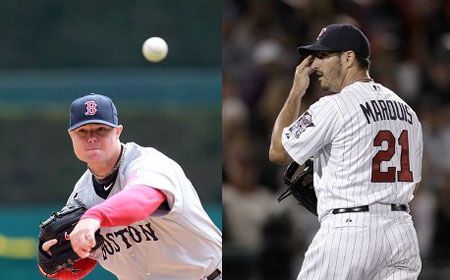 After being rained out last night at home, the Boston Red Sox take to the road for a seven game road trip. Tonight, they'll take on the Minnesota Twins in the first game of a three-game set at Target Field in Minneapolis, MN.
First pitch is scheduled for 8:10 p.m. and the game will be broadcast on NESN in the Red Sox television market. If you live in the Twins television market, you can catch the game on Fox Sports North. If you can't catch the television broadcast, you can always listen to it on the Red Sox radio network.
Jon Lester will make his fourth start of the season for the struggling Red Sox. In his previous three starts, Lester is 0-2 with a 5.82 ERA. He took the loss in his only start of 2011 against the Twins on August 10th when he allowed four runs in 7.1 innings of work. He's made seven appearances (six starts) against the Twins in his career and is 1-3 with a 4.71 ERA. He's made four starts against the Twins on the road, two at the Metrodome and two at Target Field. In the two starts at the Metrodome, Lester was 0-1 with a 6.35 ERA. In his two starts at the Twins current home of Target Field, he is 0-2 with a 5.84 ERA (8 ER/12.1 IP).
Jason Marquis makes his second start of the season after beginning it on the disabled list. In his first start, he picked up the win after allowing four runs in five innings against the New York Yankees. He has not faced the Red Sox since the 2002 season as a member of the Atlanta Braves. In that start, he took a no decision after allowing two earned runs in 6.2 innings of work. He's made four career appearances (two starts) against the Red Sox and is 0-1 with a 2.70 ERA.
Click on the read more button below to see today's lineups, batter/pitcher matchups and links from the overnight and day if you're on the home page.
Here are today's lineups:
And here is how the hitters have fared against today's starting pitchers:
Notes: The Red Sox have signed catcher Mike Rivera and assigned him to Triple-A Pawtucket.
REFRESH OR CHECK BACK OFTEN AS MORE LINKS WILL BE ADDED BEFORE GAMETIME IF/WHEN THEY BECOME AVAILABLE AND WILL BE BOLDED
To open the links up in a new tab or window, use Control+click
Kevin Youkilis and Julie Brady tie the knot [Boston.com]
Aviles denies reported incident with Valentine [Rob Bradford – WEEI.com]
Bard's tale: Red Sox could follow Rangers' lead [Clubhouse Insider]
McClure: Red Sox 'definitely' will look at using Aceves for two-inning saves [Clubhouse Insider]
Who gets the blame for Sox' poor start? [CSN New England]
Felger tells Sox players 'shut up and play' [CSN New England]
Aviles on Valentine outburst: 'All news to me' [CSN New England]
Bard OK with heading to the pen temporarily [CSN New England]
Toast to Fenway Park, Return of Legends Among Jenny Dell's Top Moments From Ballpark's Birthday Bash [Jenny Dell – NESN.com]
Power Rankings: Sox drop to 24th [ESPN Boston]
Daniel Bard expects to start Friday [ESPN Boston]
Dice-K gives up HRs in first two innings [ESPN Boston]
New Cubs reliever Bowden hits jackpot [ESPN Chicago]
How bad has the pitching been? Pretty bad [Extra Bases]
Schedule creates opportunity for Red Sox [Extra Bases]
Cook pitches tonight in Pawtucket [Extra Bases]
Aviles, Valentine deny report of 'ugly scene' [Extra Bases]
Some improvement for Ellsbury [Extra Bases]
Bard willing to move to pen temporarily [Extra Bases]
Red Sox 0-for-3 on problem solving [Tony Massarotti – Boston Globe]
Bobby Valentine Far From Sole Reason for Red Sox' Struggles and Other Thoughts From the Week in Baseball [NESN.com]
Daniel Bard's Starting Experiment Could Be Done After Skipped Start, Bullpen's Struggles [NESN.com]
Daisuke Matsuzaka's Eventual Return Could Give Red Sox a Boost Despite Hurler's Shaky Career [NESN.com]
How Many Games Will the Red Sox Win During Their Seven-Game Road Trip? [NESN.com]
A Series Matter: Red Sox-Twins and Uncertainty [Projo Sox Blog]
Derek Lowe's 2004 World Series ring reported stolen [Projo Sox Blog]
Shouldn't the Sox sweep in Minnesota? [Projo Sox Blog]
Why are you booing Bobby? [Projo Sox Blog]
Aviles, Valentine brush off report of run-in [Projo Sox Blog]
Bard OK with temporary bullpen stint, wary of being a savior [Projo Sox Blog]
Former Twin Punto happy to see Morneau healthy and productive [Projo Sox Blog]
Red Sox look to get on track in Minnesota [RedSox.com]
Bard temporarily in 'pen, wants to remain starter [RedSox.com]
Aviles, Valentine deny report of spring rift [RedSox.com]
Madden: Bobby V 'shell-shocked,' 'a lost soul' [Alex Speier – WEEI.com]
Youkilis deserves more time [Touching All The Bases]
Follow Ian on Twitter @soxanddawgs. And be sure to like us on Facebook as well.
Photo credits: Getty Images, AP Photo