When David Ortiz agreed to the one-year deal with the Boston Red Sox, there were some grumblings here in Red Sox Nation that he may be past his prime at the age of 36. People were worried that he couldn't match the production of years past.
The baseball operations people may have felt the same way about Big Papi because they lowballed him during arbitration negotiations and didn't offer him anything reasonable for a two-year deal. So what did he do, he came into spring training in the best shape of his life.
Well if he was holding a grudge against anyone in the front office of the Red Sox, I like the way he's showing to them he's no where near done producing. After another three hit performance in the 6-4 win over the Tampa Bay Rays, Big Papi is now hitting .444 on the season with one home run and 10 RBIs. Five of his 13 hits on the season are of the extra base variety with four of them being doubles.
His third hit and second double of the afternoon turned out to be the difference as it knocked in Kevin Youkilis with the fifth run of the afternoon for the Red Sox. His first hit of the afternoon, a double in the second, was the start of a three-run inning. He would come around to score on a mammoth blast over the Green Monster by Cody Ross, who seems to be taking to Fenway quite nicely.
Mike Aviles added an insurance run in the 7th with a solo home run, his second in as many days.
Felix Doubront once again struggled with his pitch count. He left the game after five plus innings and 96 pitches. He also was given a four run lead and squandered it again. However with that said, he did look pretty good at times as he finished with a career-high seven strikeouts.
At times, he was making the Rays hitters look silly. He had good life on his fastball and his curveball and changeup were pretty much unhittable. Some bad defense played a part in him giving up three runs in the 5th and personally, I think the blame on the home run he allowed to Fenway favorite Luke Scott in the 6th goes to skipper Bobby Valentine.
With Doubront's pitch count well over 90 pitches at that point, Valentine elected to keep him out on the mound to face the lefty Scott. Obviously it didn't turn out that way. Not to question Valentine but former manager Terry Francona would have taken him out and given the bullpen a chance to save the win for him.
Scott Atchison struggled a little out of the bullpen but Vicente Padilla bailed him out with 1.2 innings of one-hit ball. Franklin Morales continued to be solid out the bullpen and Alfredo Aceves was lights out in picking up his second save of the season.
Hopefully the nice pitching and hitting continue this afternoon.
To see today's lineups, as well as the batter/pitcher matchups as well as links from the day, please click on the read more button below if you're on the home page.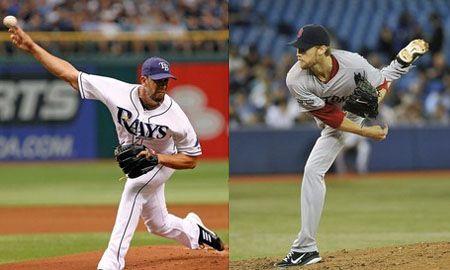 After picking up their third straight win, the Boston Red Sox look for the sweep of the four-game set with their AL East rivals the Tampa Bay Rays this morning at Historic Fenway Park.
First pitch is scheduled for 11:05 a.m. and the game will be broadcast in the Red Sox television market on NESN. If you live in the Rays television market, you can catch the game on Sun Sports. If you can't catch the television broadcast, you can always listen to it on the Red Sox radio network.
After taking the loss in his first career MLB start, Daniel Bard looks to continue the winning ways for the Red Sox this morning. In his first start against the Blue Jays, he allowed five earned runs in five innings of work all though he pitched better than his line indicated. Bard made eight appearances against the Rays in 2011 and was 0-1 with a 1.13 ERA (1 ER/8 IP). Overall in his career, he's made 18 appearances and is 0-1 with a 1.00 ERA (2 ER/18 IP).
James Shields makes his third start of 2012 for the reeling Rays. In his previous two starts, Shields is 1-0 with a 5.54 ERA. He made five starts against the Red Sox in 2011 and was 2-3 with a 3.29 ERA. Overall in his career, Shields has made 21 career starts against the Red Sox and is 7-12 with a 4.61 ERA. Ten of those starts have come at the Fens where he is 1-9 with a 6.75 ERA.
Here are today's lineups:
And here is how the hitters have fared against today's starting pitchers:
REFRESH OR CHECK BACK OFTEN AS MORE LINKS WILL BE ADDED BEFORE GAMETIME IF/WHEN THEY BECOME AVAILABLE AND WILL BE BOLDED
To open the links up in a new tab or window, use Control+click
Ortiz keeps hits coming [Boston Globe]
An important exam [Boston Globe]
Striking turnaround for Sox bullpen [Boston Globe]
Red Sox take out trash [Boston Herald]
Remembering man of great action [Boston Herald]
Felix Doubront throws a splitter [Boston Herald]
David Ortiz' success includes owning lefties [Boston Herald]
Pedroia peeved over Bobby V's Youk comments [Boston Herald]
Youkilis 'confused' about Valentine's criticism [Rob Bradford – WEEI.com]
Pedroia: Don't understand Bobby V's point [Rob Bradford – WEEI.com]
Valentine does damage control, faces strong words from Pedroia [Clubhouse Insider]
Youkilis' agent not real happy right now [Clubhouse Insider]
Red Sox beat Rays in third straight, 6-4 [CSN New England]
Valentine: 'Youk's just not into it' [CSN New England]
Youkilis 'confused' about Valentine comments [CSN New England]
Red Sox bullpen rounding into form [CSN New England]
Ortiz's hot start to season continues against Rays [CSN New England]
Sox power their way out of early slump [CSN New England]
Sox pitchers finding their groove [CSN New England]
Rapid Reaction: Red Sox 6, Rays 4 [ESPN Boston]
David Ortiz locked in, on a roll [ESPN Boston]
Aceves, bullpen shut the door on Rays [ESPN Boston]
Doubront solid until troublesome fifth [ESPN Boston]
Valentine questions Youkilis' commitment [ESPN Boston]
Youkilis responds; not in lineup today [ESPN Boston]
Red Sox, Rays set for Patriots Day matinee [ESPN Boston]
Bobby Valentine apologizes to Kevin Youkilis for questioning commitment [ESPN Boston]
Valentine: I apologized to Youkilis [ESPN Boston]
Initial Q&A from Bobby V on Youk [ESPN Boston]
Schill's reaction to Bobby V-Youk flap [ESPN Boston]
Kevin Youkilis: 'I was confused' by Valentine remarks [Extra Bases]
Source: Red Sox actively exploring outfield market, but pickings slim for now [Full Count]
Former Dodgers pitcher Ralph Branca remembers the day Jackie Robinson changed history [Full Count]
Closing Time: Offense keeps clicking as Red Sox roll past Rays [Full Count]
What was Bobby Valentine thinking? [Full Count]
Bobby V: 'We're big boys and I'm sure [Youk] is going to get it' [Full Count]
Dustin Pedroia: 'I'll talk to Bobby and we'll figure it out' [Full Count]
Cody Ross Points to Return to Fenway, Rapport With 'Best Hitting Coach' Dave Magadan as Keys to Resurgence [NESN.com]
Dave Magadan Calls David Ortiz a 'Man on a Mission,' Admires Success Against Lefties [NESN.com]
David Ortiz Rewards Bobby Valentine, Who 'Wanted Him' on His Team [NESN.com]
Which Rays Starting Pitcher Would You Most Want on Your Team? [NESN.com]
Kevin Youkilis Out of Red Sox Lineup With Sore Groin, Not Because of Misunderstanding With Bobby Valentine [NESN.com]
Dustin Pedroia 'Doesn't Understand' What Bobby Valentine Is Trying To Do [NESN.com]
Bobby Valentine Didn't Intend To Motivate Kevin Youkilis With Controversial Comments, Apologizes [NESN.com]
Kevin Youkilis' response to Bobby Valentine's comments [Projo Sox Blog]
Valentine on Youkilis comments: "That wasn't meant to motivate" [Projo Sox Blog]
Rays concerned Matt Moore was tipping pitches [Projo Sox Blog]
Crawford close to getting some game action [RedSox.com]
Red Sox exploring trade market for outfielders [RedSox.com]
Sox eye four-game sweep of Rays on Patriots' Day [RedSox.com]
Branca pleased to call Robinson a friend [RedSox.com]
Youkilis 'confused' by Valentine's criticism [RedSox.com]
The Book: Bryce Brentz [SoxProspects.com]
Man on a mission: This April, David Ortiz is all statements, no questions [Alex Speier – WEEI.com]
For more slices of Red Sox goodness, head over to the Boston Globe, Boston Herald, CSN New England, ESPN Boston, NESN, Providence Journal, RedSox.com and WEEI websites.
And if you must check out the enemy news, head over to the Tampa Bay Times and Tampa Tribune websites.
Follow Ian on Twitter @soxanddawgs. And be sure to like us on Facebook as well.
photo credits: Getty Images, Getty Images, Getty Images