The New England Patriots signed free agent defensive back Will Allen on Wednesday. Allen, a former Dolphin, got a reported one-year deal for just under $1 million. He is expected to help bolster the defensive backfield, which had issues all through 2011.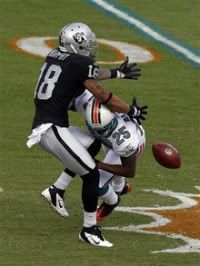 Allen, a Syracuse product, was a 1st round draft pick (22nd overall) in the 2001 NFL Draft by the New York Giants. After four seasons, he moved onto the Dolphins as a free agent for 2006.
There was also some not so good news for the Patriots today as the Buffalo Bills signed DE Mark Anderson to a four-year $27.5 million contract after one season in Foxboro. It calls for $9 million in guaranteed money. It's pretty safe to say that New England wasn't going anywhere near the parameters of the deal offered by Buffalo.
Anderson led the team in sacks with Andre Carter as both registered 10 on the season.
The team also lost out on its top rusher BenJarvus Green-Ellis today as he signed a three-year contract with the Cincinnati Bengals. The Lawfirm, was the last Patriots 1,000-yard rusher, which he did in 2010, and he also had back-to-back seasons of at least 10 TD's when he had 13 in 2010 and 11 in 2011. The 24 rushing TD's were second in the NFL for the two-year period trailing only Arian Foster who had 26 for Houston.
Green-Ellis had 29 touchdowns in his Patriots career, 7th most in franchise history, he had six career 2 TD games and the team was 22-1 in games in which he had a TD.
Follow Steve on Twitter @SteveMichaelsII
Photo credit: AP Photo