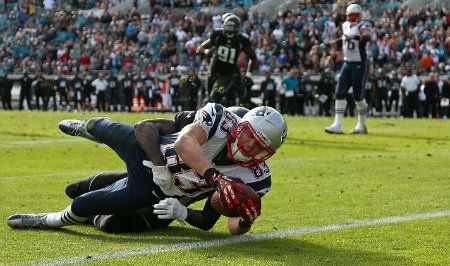 Uninspired should stand out in that headline as well as here. That's what Sunday's effort was by the New England Patriots against the lowly Jacksonville Jaguars. The Jags sporting a now 2-13 record and an anemic defense and pathetic offense should have been cannon fodder for a New England team looking to regain it's edge after last weeks loss at home to San Francisco.
But no, they barely slipped by a Jaguars team, 23-16 that at least tried. They are severely outmanned both due to injuries and lack of talent. Yet they tried and damn near won. Now wouldn't that have frosted some holiday balls back in New England?
I sit here writing this and I am not pleased, neither should the owners, staff, players and you the fans. I'm sure it wasn't pretty anywhere that hard liquor was available.
Maybe they're just too ready for Christmas and time with their families. Several players have new marriages and babies and that's well understood but before you go about your holiday you're expected to show up for your job. They didn't do that on Sunday it was like they were on a Florida vacation. All of them.
I hope they soaked up some rays on their trip because they flat out sucked. If I had paid to make the road trip and watch them in person I would serious consider calling the office tomorrow and asking them to give me a refund.
I don't know how else to put it they flat out sucked Sunday and I hope they realize it and do something about it.
I don't know what's happened to this team but Sunday they were 4 of 12 on third down, against San Francisco 2 of 15. That's pretty pathetic by any standard.
This team has work to do Bill Belichick, Josh McDaniels, Mike Patricia and all the players nobody is excluded. Enjoy your Christmas then get to work because the last thing I want to see is one of those half assed efforts against the Dolphins next Sunday.
Patriots at Jaguars Gamebook includes the box score, all the stats, play by play, drive charts and more.
Patriots at Jaguars Game Recap.
To continue reading, hit the read more button below if you're on the home page.
Turning Point of the Game
S Patrick Chung's second INT of the game in the end zone as the clock expired to seal the Patriots win.
Offensive Player of the Game
RB Stevan Ridley rebounded well and had 18 carries and gained 84 yards.
Defensive Player of the Game
CB Marquis Cole had 2 tackles for loss to lead the team. He also made 5 tackles (5 solo), had a pass defensed and 1 INT. He added a 6th tackle on special teams.
Game Notes
Starters for the Patriots were:
On Offense:
LT Solder
LG Mankins
C Wendell
RG Connolly
RT Vollmer
TE Hernandez
TE Hoomanawanui
TE Fells
WR Lloyd
QB Brady
RB Ridley
On Defense:
DE Ninkovich
DT Wilfork
DT Deaderick
DE C. Jones
LB Mayo
LB Hightower
CB McCourty
CB Arrington
S Chung
S Gregory
DB Cole
Inactives for the Game:
Patriots
TE Rob Gronkowski (forearm/hip)
LB Brandon Spikes (knee/ankle)
CB Alfonzo Dennard (hamstring/knee)
DE Ron Brace (back)
OL Markus Zusevics
DE Jake Bequette
RB James Develin
Jaguars
RB Rashad Jennings (concussion)
RB Maurice Jones-Drew (ankle)
CB Antwaun Molden
RB Jonathan Grimes
LB Brandon Marshall
OL Eben Britton
DE Austen Lane
The spread (Patriots MINUS 15.5) WAS NOT covered. The over/under (50.5) WAS NOT COVERED. I GAVE the points (Patriots) and took the OVER. I am now 3-12 vs. the spread and 10 of 15 calling the under/over.
Since 1999 the Patriots have the best record in the NFL at 158-65.
New England is 81-47-1 against teams in the AFC South.
Since 2001 the Patriots are 73-17 in games played on Thanksgiving or later.
Since 2001 New England is 44-6 in December games.
The New England defense has forced a turnover in 26 consecutive games dating back to Week 6 in 2011.
The Patriots lead the all-time series 9-1 including playoffs.
The Patriots are 3-1 on the road in the series, the lone road was a playoff game in 1996.
New England has won the last 6 meetings.
Bill Belichick is now 203-108 including playoffs in his career.
Belichick's 203 wins are good for 7th all-time.
Bill Belichick is 6-2 vs. the Jags in his career including playoffs. He is 6-0 with New England.
Tom Brady is 6-0 vs. the Jags including 2-0 in the playoffs. Overall including playoffs he is 151-44.
Brady has 332 TD passes in his career he is now 5th all-time. Hall of Famer Fran Tarkenton is 4th with 342.
Brady has thrown at least 1 TD pass in 47 consecutive games. That ties Hall of Fame member Johnny Unitas for the second longest streak in NFL history.
WR Wes Welker now has catches in 116 consecutive games including playoffs, 99 as a Patriot. The last time Welker did not have a catch in a game was 12/24/05 as a Dolphin.
Welker led the team with 10 catches for 88 yards and 1 TD.
RB Danny Woodhead had the other TD catch.
RB Stevan Ridley had 84 yards on 18 carries.
CB Kyle Arrington led the team with 7 tackles (7 solo) and had 1 tackle for loss.
LB Dont'a Hightower had the lone sack for the Patriots.
Hightower, DE Trevor Scott and DE Chandler Jones each had a QB hit.
CB Marquis Cole had 2 tackles for loss to lead the team. He also made 5 tackles, had a pass defensed and 1 INT. He added a 6th tackle on special teams.
S Patrick Chung had a pair of INT's late in the game to help the team seal the win.
Chung (2), Hightower, Cole, LB Tracy White and DT Brandon Deaderick each had a pass defensed.
S Nate Ebner led the squad with 2 tackles on special teams.
Roster moves this week:
Promoted WR Kamar Aiken from the practice squad.
The Patriots sacked Jacksonville QB Chad Henne 1 time, while Brady was sacked 3 times.
New England is PLUS 23 in turnover differential, 1st in the NFL. The offense has given up 9 INT and 7 fumbles, while the defense has 19 INTs and 20 fumble recoveries.
The Patriots were 2 for 3 (66.6%) in the red zone. They had 2 TDs and 1 FG.
New England was 4 for 12 (33.3%) on third down conversions and 0 for 0 on 4th down attempts.
Jacksonville has never beaten New England in the regular season, they are 0-6.
The Jaguars finished with only 1 win at home the fewest in the 17 seasons on the franchise.
Mike Mularkey is 2-13 in his first season with Jacksonville. He was 14-18 in two seasons with Buffalo for an overall record of 16-31.
He is 0-5 vs. New England in his career.
Jags QB Chad Henne is 1-5 vs. New England in his career, 1-4 with Miami. Overall he is 14-22 (1-4 with Jacksonville).
Jacksonville was 4 for 15 (27%) on 3rd down conversions and 1 for 2 (50%) on 4th down attempts.
The Jags were 1 for 4 (%) in the red zone. They had 1 TD, 1 FG and 2 INT's.
Jacksonville is MINUS 1 in turnover differential, 16th in the NFL. The offense has given up 14 INT and 9 fumbles, while the defense has 12 INTs and 10 fumble recoveries.
Jeff Triplette was the game referee. The temp at kickoff was 58.
Attendance – 70,251 at EverBank Field in Jacksonville FL.
Post Game Interviews
Patriots head coach Bill Belichick and Patriots QB Tom Brady post game press conference via patriots.com
This Week in the AFC East
Dolphins beat the Bills, 24-10
Chargers downed the Jets, 27-17
AFC East Standings
Patriots 11-4/5-0
Dolphins 7-8/2-3
Jets 6-8/2-3
Bills 5-10/1-4
Next Week
The Patriots host the Miami Dolphins next Sunday at Gillette Stadium in Foxboro MA. Kick off is at 1 p.m. on CBS.
Follow Steve on Twitter @SteveMichaelsII
photo credit: getty images