As we get closer and closer to the non waiver trade deadline and teams start to fight for better position or begin to drop off you have to wonder which managers will survive the season and return to their club in 2013.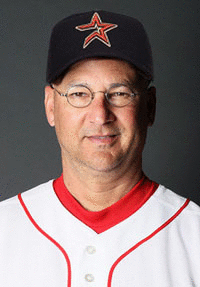 With that in mind former Boston manager Terry Francona, after a year in the ESPN Sunday Night Baseball booth is expected to be highly coveted. So where does Tito land?
In the American League East it looks as all five skippers will be safe and will return to their clubs.
In the AL Central it appears to be a different story as two teams could look for new dugout leaders for 2013. You have to wonder how safe Ron Gardenhire is in Minnesota. The Twins are suffering through another awful season but their history has shown the front office to be more than patient with the manager.
In Gardenhire's case he is not only a long time manager, since 2002, but he was a coach on Tom Kelly's staff from 1991 and replaced him when he retired after the 2001 season. He is under contract through the 2013 season and after 11 seasons he may have had enough to even walk away on his own. Gardenhire will be 55 in October and maybe a year off or moving to the front office may rejuvenate him.
The other Central team that could be looking is Kansas City. Ned Yost, 56, has been there since 2010 after a tumultuous ending to his 6-year tenure as skipper of the Milwaukee Brewers in 2008 when he was fired by the team with two weeks to go in the season and the club in the heat of the pennant race. That Brewers club did make the playoffs under interim manager Dale Sveum.
Right now the Yost is also signed through the 2013 season but the Royals are nearly 20 games under .500 and have a sub .500 record since he took over for Trey Hillman.
In the AL West one club that could be looking at a change is the Seattle Mariners. Currently Eric Wedge, a former Red Sox farmhand and Cleveland Indians manager, is their skipper. Wedge, 44, had success in Cleveland before the team was broken apart with trades of star players and impending free agency. He won the 2007 AL Manager of the Year in taking Cleveland to the ALCS before blowing a 3-1 series lead and losing to Boston in 7 games.
After 7 seasons in Cleveland he was let go and after a year off he took over in Seattle in 2011. In his first season the team went 67-95 (.414) and this year at the July trade deadline the Mariners are 10 games under .500 and 14 games behind the division leader.
As of late the Seattle ownership has been less then lenient with managers having gone through Daren Brown (2010), Don Wakamatsu (2009-10), Jim Riggelman (2008), John McLaren (2007-08), Mike Hargrove (2005-07) and Bob Melvin (2003-04) since the 10 year tenure of Lou Piniella. So you have to wonder where Wedge's status sits in the eyes of the ownership.
Wedge reportedly got a three-year deal when he was hired so he is under contract through 2013.
To continue reading, please click on the read more button below if you're on the home page.
In the National League East I'd say at this time only Charlie Manuel may be on the hot seat with the Philadelphia Phillies dropping off so far and so fast this season. He has had to cope with many injuries and that may buy him another year but for all the high priced talent on the club it hasn't looked good. In fact it appears at this time the team is in sell mode as they are reportedly shopping SS Jimmy Rollins, RF Hunter Pence and SP Cliff Lee.
Manuel, 68, has been the Phillies manager since 2005 after having managed the Cleveland Indians for 2 and half seasons before he was eventually replaced by Wedge that offseason. In Philadelphia, Manuel has had much more success that he did in Cleveland leading the Phils to a World Series title in 2008 and back to the Fall Classic in 2009, losing to the New York Yankees.
Manuel was on the hot seat at least once in his Philly tenure back entering the 2008 season it was seen as do or die and after a slow start the team produced the World Series championship and saved his job.
In addition over the years Manuel has had many severe health problems including kidney cancer, a blocked colon, a heart attack and triple bypass surgery. He is under contract through the 2013 season.
While in the Nations Capital, the Washington Nationals are leading the division behind 69 year old Davey Johnson. There are no indications that the Nats would get rid of Johnson or that Johnson would retire but given his age, along with Manuel's, retirement is a distinct possibility.
Johnson took over part way into 2011 after an 11-year absence from a major league dugout. Johnson has managed in many places over the years including Los Angeles, Baltimore, Cincinnati and New York where he won the 1986 World Series with the Mets. He is under contract to manage through the 2013 season.
Johnson could also hang around for another year knowing how good this team has been and how much better it may be in 2013.
In the NL Central St. Louis, Chicago, Pittsburgh and Milwaukee all would appear to be staying put in the dugout. I think under no circumstances does Brad Mills return to the Houston Astros in 2013 when they move to the AL West. Mills, a former Red Sox bench coach under Francona, is currently managing a poor team made up of Triple A and Double A players as the new general manager and ownership sell out any real players from under him.
Mills, 55, has been the Houston bench general since the start of the 2010 season and is highly respected in baseball circles. This is his first managerial job at the major league level and you have to feel for him with the way the Houston organization has run all of it's talent out of town in his tenure.
There have been several reports earlier this month that Mills will be relieved of his duties at the end of season. He is in the final year of his contract and the team has an option for 2013.
Another NL Central club could be looking for a new skipper come 2013 and that's the Cincinnati Reds. Currently Dusty Baker, 63, is in the final season of his contract and the Reds have yet to approach him about next season even with the club in or near first place most of the season.
Baker is a long time MLB manager having lead the San Francisco Giants for 10 seasons and to a World Series berth in 2002. He was also a three time NL Manager of the Year in his time with Giants. After the World Series season he left the Giants and moved onto to the Chicago Cubs for four seasons before taking a year off working at ESPN. He has been the Reds manager since 2008.
In the NL West the Colorado Rockies would be a team that could look to make a change. After failing to meet expectations in 2011 and now again 2012 it looks as though it may be the end of the line for Jim Tracy in the Rocky Mountains as the team is 25 games under .500.
Tracy, 56, is in his fourth season as the Rockies skipper and won the NL Manager of the year in 2009 after replacing Clint Hurdle in May of that season. He has also managed 5 seasons in Los Angeles and 2 seasons with Pittsburgh before his Colorado tenure. His contract expires at the end of the season.
So where does this leave Francona?
It gives him some options that's for sure. In the American League it would give him Minnesota, Kansas City, Seattle and Houston. While in the Senior Circuit there are potential openings in Philadelphia, Washington, Cincinnati and Colorado.
I'm not sure that Francona would be willing to go back to Philly after his first go around there wasn't so great. It was nothing like his tenure in Boston and Phillies fans threatened him and his family and even reportedly flattened the tires on his car in the stadium lot.
To me the places that make the most sense would be Minnesota, Washington and Cincinnati should they have openings.
Minnesota has always had talent and deep farm system with more behind it. Even though they haven't been so good their first two seasons at Target Field I would imagine help isn't that far away. Plus the front office has always been manager friendly having had only two managers since 1986.
Washington would be a great landing spot should Johnson retire or decide to go back to the front office spot he had before taking over. The Nats have some incredible young talent in Bryce Harper and Stephen Strasburg and very good young pitching staff with some vets sprinkled in. Francona would essentially be walking into a situation similar to what he had when he came to Boston in that he would have a good team ready to win when he got there. The only difference is this one is full of young stars not aging ones.
And that leaves Cincinnati who has had a baseball rebirth the last few seasons with great everyday players in Jay Bruce, Brandon Phillips and Joey Votto. Throw in the up and comers in Zack Cozart and Devin Mesoraco with a solid pitching staff that has Mat Latos, Johnny Cueto, veteran Bronson Arroyo and the Cuban Missile Crisis, Aroldis Chapman on the back end. This team can easily contend for several seasons in the NL Central and for a World Series title in the process.
If I am Francona I want to punch my ticket for a team that is close to a title and can stay at that level for four or five seasons. I wouldn't be shocked to see Cincinnati not extend Baker in hopes of landing Francona. And with Mills likely out of Houston at season's end it potentially gives Tito his former bench coach back as he builds his staff.
So if you were Terry Francona which job(s) look(s) interesting to you?
Follow Steve on Twitter @SteveMichaelsII