We know the UConn Huskies women's basketball team may have a special year this season. But you don't really start learning about your team until you have your first road game.
Sure it's only two games in but the Huskies made sure to make a statement in College Station, TX on Sunday afternoon.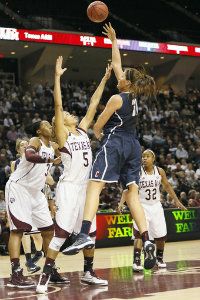 Playing in front of a nationally televised audience on ESPN2, Stefanie Dolson tied her career-high with 24 points as UConn went on to an easy 81-50 win over the Texas A&M Aggies in front of 7,681 at Reed Arena.
The Huskies improve to 2-0 and are off to the Virgin Islands to play in the 2012 Women's Paradise Jam starting on Friday against the Wake Forest Demon Deacons. The Aggies fall to 0-3.
Dolson ended up with a nice all-around game adding six rebounds, five assists and three blocked shots to her 24 point effort. Kaleena Mosqueda-Lewis added 16 points, five rebounds and five assists while Breanna Stewart had 11 points and six rebounds.
Kelly Faris rounded out the Huskies in double-digits with 10 points and a team-high six assists. Kiah Stokes led the team with seven rebounds.
Courtney Walker was the only member of the Aggies to hit double figures with 20 points and also led them with seven rebounds. One time UConn recruit Kelsey Bone added eight points and was dominated by Dolson down low. Courtney Williams chipped in with seven points.
UConn Huskies @ Texas A&M Aggies 11.18.12 box score
Follow Ian on Twitter @soxanddawgs. And be sure to like us on Facebook as well.
photo credit: us presswire (no. 22 in gallery)