Despite being shorthanded on Saturday afternoon, the UConn Huskies women's basketball team looked like, well the UConn women of old. And that proved to be bad for the Marquette Golden Eagles.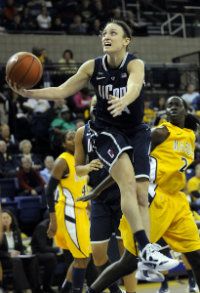 The Huskies opened up the game on a 21-3 run and never looked back on their way to an 85-51 win over the Golden Eagles in front of 2,684 at the Al McGuire Center in Milwaukee, WI.
UConn improves to 14-1 (2-1 Big East) while Marquette falls to 8-7 (0-2).
The Huskies were without their second leading scorer and leading rebounder Breanna Stewart who sprained her left ankle in practice. They also played most of the game without their All-American Bria Hartley who sprained her left ankle and sat out of the rest of the game.
Kaleena Mosqueda-Lewis paced the Huskies with 24 points while Stefanie Dolson added 20 points and five rebounds. Brianna Banks came off the bench to add 12 points.
Kelly Faris had another one of her nice all-around games with 11 points, five rebounds, eight assists and five steals. Morgan Tuck returned to action and led the Huskies with nine rebounds to go along with seven points.
Marquettte was led by Sarinna Simmons' 19 points. Arlesia Moore was the next highest scorer with seven points while both Chelsie Butler and Cristina Bigica added six points.
Morse, Katie Young and Lauren Tibbs led the Golden Eagles with four rebounds each.
With UConn looking like a well-oiled machine early on, they made sure Marquette had no chance of winning this game. They moved the ball with ease within their offense, made the right cuts, etc, etc.
This is what they need to continue to do going forward. Play like that the rest of the way and big things could happen in Storrs, CT.
The Huskies return back home on Tuesday night when they'll host the nationally ranked Louisville Cardinals at the XL Center on Tuesday night. Tip is scheduled for 9 p.m.
UConn Huskies @ Marquette Golden Eagles box score
Follow Ian on Twitter @soxanddawgs. And be sure to like us on Facebook as well.
photo credit: john woike – hartford courant (no. 8 in gallery)