I've been saying all along this season that once Big East play began, the UConn Huskies men's basketball team were going to give teams problems.
And that's exactly what happened on Saturday afternoon against the Notre Dame Fighting Irish.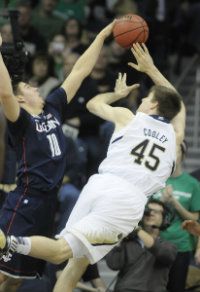 Behind the strong play of Shabazz Napier and Tyler Olander, UConn was able to pull off the 65-58 upset of the Fighting Irish in front of 9,149 at Purcell Pavillion at the Joyce Center.
UConn improves to 12-3 (2-1 Big East) while Notre Dame falls to 14-2 (2-1).
The win by the Huskies stopped a Fighting Irish 12-game winning streak and a 17-game home winning streak. The last time the Irish lost at home, it was last season against UConn.
Napier led the way with 19 points and had five rebounds and four assists. Olander played by far his best game of the season on both ends of the floor. He finished with a career-high 16 points and seven rebounds.
Ryan Boatright, who playing in front of a lot of family and friends who made the two hour trip from Chicago to South Bend, didn't disappoint them with 14 points, three rebounds and five assists. DeAndre Daniels led the Huskies with nine rebounds to go along with eight points.
Eric Atkins paced Notre Dame with 18 points and four assists. Jack Cooley added 14 points and nine rebounds while Jerian Grant had 11 points and four assists.
So how did UConn win this game?
They played great defensively and once again outrebounded their opponent. From various media reports and the television broadcast, UConn head coach Kevin Ollie implemented a new rebounding drill. Well we can say it it has worked well as UConn outrebounded Notre Dame 34-28.
This was the Olander we've been waiting for all season long. He was strong offensively and defensively he was outstanding especially given he had to cover the double-double machine of Cooley. The help defense was great too.
UConn needs to continue this type of play as their schedule doesn't get any kinder to them. They'll have a short turn around as they return home on Monday night to host the Louisville Cardinals at the XL Center. Tip is scheduled for 7 p.m.
To continue reading, please click on the read more button below if you're on the home page.
UConn Huskies @ Notre Dame Fighting Irish 1.12.13 box score
Here are the postgame quotes from Notre Dame head coach Mike Brey and UConn head coach Kevin Ollie.
Here are UConn's postgame notes.
Here are Notre Dame's postgame notes.
<
Follow Ian on Twitter @soxanddawgs. And be sure to like us on Facebook as well.
photo credit: richard messina – hartford courant (no. 6 in gallery)