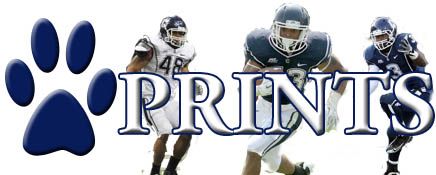 This week:
After a bye week, the UConn Huskies hit the road for a Big East matchup with the No. 20/19/18 Louisville Cardinals at Papa John's Cardinal Stadium.
The Line/Prediction:
According to Rivals.com odds, Louisville is favored by 11.5 points. The over/under is 45.5 points.
My prediction for the game is Louisville 31 UConn 21.
Tickets:
According to Ticketmaster, there are a limited amount of tickets available for the game.
Getting To The Game:
Here is the weather forecast for Louisville, KY·
Here are driving directions, parking tips, seating chart and stadium policies for Papa John's Cardinal Stadium.
BROADCAST INFORMATION
Television:
Saturday's game is being televised as the BIG EAST Network Game of the Week. The game will be seen live in Connecticut, New York, New Jersey and northeast Pennsylvania by SNY.
Eamon McAnaney is on play-by-play with David Diaz-Infante on color and Joe Beninati is the sideline reporter.
The game will be televised in a total of 42 markets around the country and in 10 of the top 25 markets. Stations include: KTXD in Dallas, MASN in Washington, D.C. and Balitmore, Brighthouse Network in Tampa, Sarasota and Orlando, Fla., WWHO in Columbus, WHAS-ABC in Louisville, Cox Sports in Rhode Island and New Orleans, WTVQ-ABC in Lexington, Kent., Time Warner Cable in Rochester, Syracuse and Binghamton, N.Y. and WMYS in South Bend, Ind.
The game will be replayed in its entirety on SNY on Tuesday, Nov. 27 at 11:00 a.m. The game will be replayed in a condensed "Husky Power Hour" on Sunday, Nov. 25 at 7:00 a.m. and 9:00 a.m., on Monday, Nov. 26 at 8:00 a.m. (Connecticut only) and Wednesday, Nov. 28 at 11:00 a.m. (Connecticut only).
Radio:
For the 21st consecutive season, WTIC 1080-AM in Hartford serves as the flagship station for the IMG/UConn Radio Network. WTIC is the state's only 50,000 watt signal and can be heard in 23 states and parts of Canada.
Veteran UConn announcers Joe D'Ambrosio (play-by-play) and Wayne Norman (color commentary) return to call the action with Kevin Nathan on the sidelines.
UConn football on home Saturday dates gets going early with "Breakfast At The Rent" with Ray Dunaway and Scott Gray beginning at 6:00 a.m. The UConn Tailgate Show will air from 9:30 a.m. to 10:30 a.m. with Kevin Nathan and Bob Joyce. The pregame show begins at 10:30 a.m. followed by the game and then postgame "Husky Talk" with Kevin Nathan
UConn football games are also broadcast over the internet at WTIC.com. Here is a full list of stations on the UConn IMG Sports Radio Network.
The UConn vs. Louisville game will also be available on satellite radio on Ch. 112 on Sirius and 197 on XM.
Louisville Radio:
The Louisville Sports Radio Network has coverage of the game. Paul Rogers (play-by-play), Joe Tronzo (analyst) and Doug Ormay (sideline) have the call.
The Louisville call will also be available on Sirius 85 and XM 85.
To continue reading the UConn Huskies @ Louisville Cardinals preview, click on the read more button below if you're on the home page.
Last Week:
UConn was off last week but beat Pitt 24-17 their last time on the gridiron. Louisville was also off last week and fell to Syracuse 45-26 their last time out.
History:
Saturday's game will be the ninth meeting between UConn and Louisville and the Cardinals lead the series 5-3 — although the Huskies have won three of the five last meetings.
Connections:
UConn head coach Paul Pasqualoni has a 1-2 head coaching record against Louisville from his time at Syracuse and last year's game as the Connecticut coach.
The Orange won at Louisville 15-9 on Oct. 3, 1992 and lost to the Cardinals 30-20 on Sept. 13, 2003 in the Carrier Dome.
UConn does not have any players from the commonwealth of Kentucky on its roster nor does Louisville have any Connecticut players on its roster.
Louisville wide receiver Kai Dominguez and running back Kamal Hogan attended St. Joseph's Regional as did Connecticut linebacker Ryan Donohue and linebacker/fullback Wyatt Vinci.
Other UConn News:
Here is the UConn roster and 2012 schedule.
Here is UConn's depth chart for the game.
Here are the quotes from UConn head coach Paul Pasqualoni's press conference as well quotes from some of the players.
Pasqualoni is the all-time winningest coach in BIG EAST Conference league wins with 65 and overall wins with 113. He is just one of two league coaches in history to win four BIG EAST Championships. His overall college coaching record stands at 150-89-1 (34-17 at WCSU, 107-59-1 at Syracuse and 9-13 at UConn).
Four members of the University of Connecticut football team were named to seven major award watch lists over the course of the 2012 preseason.
Senior Tight End Ryan Griffin
John Mackey Award Watch List
Lombardi Award Watch List
Sophomore Running Back Lyle McCombs
Doak Walker Award Watch List
Maxwell Award Watch List
Senior Linebacker Sio Moore
Butkus Award Watch List
Lombardi Award Watch List
Senior Defensive End Trevardo Williams
Bednarik Award Watch List
Lombardi Award Watch List
Nagursky Trophy Watch List
Sophomore Linebacker Yawin Smallwood
The following four Huskies were named team captains for the season in the week prior to the season opener vs. UMass – redshirt senior outside linebacker Jory Johnson (Mobile, Ala.), redshirt senior offensive tackle Adam Masters (Bethesda, Md.), senior wide receiver Nick Williams (East Windsor, N.J.) and redshirt senior cornerback Blidi Wreh-Wilson (Edinboro, Pa.).
The Huskies need to win each of their final two games to earn bowl eligibility for the fifth time in six years.
UConn owns an all-time mark of 26-34 in BIG EAST Conference games since joining the league for football in 2004.
UConn is 5-24 on the road in BIG EAST games.
UConn is 1-3 all-time in games at Louisville.
UConn is 1-18 against ranked teams.
UConn is 34-20 in games following a loss since Oct. 26, 2002.
Senior defense end Trevardo Williams is the now the school career lead in sacks with 27.5.
Senior wide receiver and returner Nick Williams (East Windsor, N.J.) has been named one of four finalists for the third annual Pop Warner National College Football Award.The award, established in 2010, recognizes a Pop Warner alumnus who has made a difference on the field, in the classroom and in his community. It is presented to a student-athlete who has taken the ideals of Pop Warner to the next level and serves as a role model to Pop Warner's young scholar athletes.
Here is where UConn stands in the lastest NCAA statistics:
Total Defense – 9th at 296.20 yards per game
Rushing Defense – 11th at 107.60 yards per game
Passing Defense – 21st at 188.60 yards per game
Scoring Defense – 19th at 18.40 points per game
Sacks – 2nd at 2.70 per game
Tackles For Loss – 22nd at 7.00 per game
Total Offense – 109th at 320.60 yards per game
Rushing Offense – 115th at 87.00 yards per game
Passing Offense – 63rd at 233.60 yards per game
Scoring Offense – 117th at 17.30 points per game
Punt Returns – 13th at 13.85 yards per return
Here is where UConn individuals stand in NCAA leaders
Trevardo Williams – t18th in sacks at 0.85 per game (leads BIG EAST)
Yawin Smallwood – t27th in tackles for loss at 1.30 per game (tied for first BIG EAST)
T20th in tackles at 10.00 per game (third BIG EAST)
Nick Williams – 15th in punt returns at 13.47 per return
Sio Moore – t27th in tackles for loss at 1.30 per game (tied for first BIG EAST)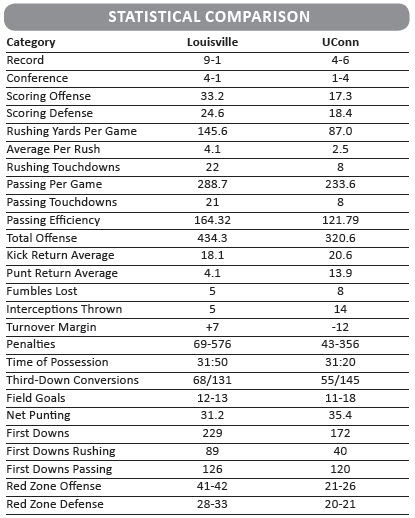 Notes from this week's opponent Louisville:
Here is the Louisville roster and 2012 schedule.
Here is Louisville's depth chart.
Here are the quotes from Louisville head coach Charlie Strong's press conference.
Charlie Strong is in his third season as the head coach at Louisville. In 2010, he led Louisville to a 7-6 record and a victory over Southern Mississippi in the Beef 'O' Brady's Bowl. In 2011, the Cardinals were 7-6 and 5-2 in the BIG EAST to tie for first place. Louisville lost to North Carolina State in the Belk Bowl.
Prior to taking over the Louisville position, he was an assistant coach at Florida from 2003-09. He served as the defensive coordinator for the Gators since 2003 and was the associate head coach since 2005. Strong was also an assistant coach on the Gator staff from 1988-89 and 1991-94.
Strong also had assistant coaching stints at South Carolina (1999-2002), Notre Dame (1995-98), Mississippi (1990) and Southern Illinois (1986-87). He is a 1983 graduate of Central Arkansas, where he was a three-time all-conference selection in football and two-time pick in track and field.
It is Senior Day for Louisville. 13 players (10 scholarship, 3 walk-ons) will be honored by Strong before the game.
Here is a list of the seniors who will be playing their last home game at Papa John's Cardinal Stadium. Mario Benavides, Daniel Brown, Adrian Bushell, Bo Eggers, Stephen Goodwin, Nick Heuser, Alex Kupper, Nate Nord, Scott Radcliff, Andrell Smith, Will Stein, DeMarcus Topp, Chris Zelli.
This will head coach Charlie Strong's third Senior Day and the Cardinals are 0-2 so far in home finales.
Entering its 94th season of football, the University of Louisville now has four coaches who have started their coaching careers at Louisville with three straight winning seasons. Bobby Petrino (2003-06) and John L. Smith (1998-2002) were the last two head coaches to post three straight winning seasons in their first three years on the job until head coach Charlie Strong became the fourth with a win over USF.
Lee Corso (1969-72) was the other coach to post three consecutive winning seasons to start his career. Corso, Smith and and head coach Charlie Strong also won league titles during their first three seasons.
After taking over a program that went 15-21 in the three years prior to his arrival, head coach Charlie Strong is on pace to do something special in just his third year as head coach. With a win over Connecticut, Strong would be the third coach at Louisville to win 10 or more games. John L. Smith won 11 games in his fourth season and Bobby Petrino also tallied an 11-win season in just his second year on the sidelines.
With its 9-1 record, Louisville is within one win of reaching a double-digit win plateau for only the fourth time in school history. With a win over Connecticut on Saturday, the Cardinals would gather their 10th win of the season.
Louisville is 53-61-1 all-time against current members of the BIG EA ST. Louisville's 22 victories over Cincinnati is the most vs. any BIG EAST opponent for the Cardinals.
Since joining the BIG EAST in 2005, the Cardinals are 18-9 in BIG EAST home games.
Since 1998, the Cardinals have won 74.7 percent of their home games, going 71-24 over that span.
With its first quarter touchdown against Syracuse, Louisville raised its current total of games in which it scored to 157. The 157 straight games mark the longest streak in program history. The last time the Cardinals were shut out came on Sept. 23, 2000.
In three years under head coach Charlie Strong, the Cardinals are 9-3 in games following a defeat.
At 9-1, Louisville is bowl eligible for the third consecutive season under head coach Charlie Strong.
Thursday UConn Football Links:
To open the links up in a new tab or window, use Control+click
Big East predictions: Week 13 [andrea adelson - espn.com]
DC answered some questions in his mailbag [desmond conner - hartford courant]
What to watch in the Big East: Week 13 [matt fortuna - espn.com]
Wednesday roundup: Is pro-style way to go? [john silver - sny.com]
The Blitz: Huskies at Cardinals [uconnhuskies.com]
Connecticut Visits Louisville in BIG EAST Network Game of the Week Saturday [bigeast.org]
UConn Needs Another Strong Game From Defensive Leader Sio Moore [hartford courant]
Next Week:
The Huskies return to home to Rentschler Field, for what could be their final game of the 2012 season, next Saturday to host the Cincinnati Bearcats. Kickoff is TBA as of right now.
Follow Ian on Twitter @soxanddawgs. And be sure to like us on Facebook as well.