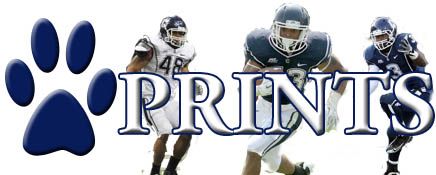 This week:

The UConn Huskies return home to Rentschler Field to host the Pitt Panthers on Friday night at 8 p.m.
Here are the rosters for the Huskies and the Panthers.
The Line/Prediction:
According to Rivals.com odds, Pittsburgh is favored by 3.5 points. The over/under is 43.5 points.
Tickets:
According to the Ticketmaster, there are still tickets available for the game.
Getting To The Game:
Here is link for the weather report for Rentschler Field. Here is all the parking info you will need for the game, this link includes directions to Rentschler Field. Here is a Rentschler Field seating chart and here is some general information for Rentschler Field.
The parking lots will open up 4 hours before kickoff. Here is a list of the tailgating rules at the Rent.
At UConn home games, FanFest takes place starting four hours before kickoff up until 30 minutes before the game. It takes place between Gates A and B outside the stadium gates.
The offerings change each game, but activities typically include inflatable games for children, live bands, promotional vehicles and UConn student-athletes from various teams signing autographs.
The "Husky Walk" is a chance for fans to welcome the UConn team as they get off the team buses and head to the stadium. That takes place approximately two hours and 15 minutes before kickoff between Gates A and B.
Once again this season at the end of home games, the UConn team will sing the "UConn Husky" fight song in front of the student section at Rentschler Field.
BROADCAST INFORMATION
Television:
Friday's game is being televised nationally by ESPN2. Carter Blackburn is on play-by-play with Rod Gilmore on color while Jemele Hill is the sideline reporter.
The game will be replayed in its entirety on SNY on Tuesday, Nov. 13 at 11 a.m. and in a condensed "Husky Power Hour" version on Saturday, Nov. 10 at 7 a.m. and 9 a.m., Monday, Nov. 12 at 8 a.m. (Connecticut only) and Wednesday, Nov. 14 at 11 a.m.
Radio:
For the 21st consecutive season, WTIC 1080-AM in Hartford serves as the flagship station for the IMG/UConn Radio Network. WTIC is the state's only 50,000 watt signal and can be heard in 23 states and parts of Canada.
Veteran UConn announcers Joe D'Ambrosio (play-by-play) and Wayne Norman (color commentary) return to call the action with Kevin Nathan on the sidelines.
For this game, Bob Joyce will join Wayne Norman and Kevin Nathan as Joe D will be in Germany with the UConn men's basketball team for their game against the Michigan State Spartans.
UConn football on home Saturday dates gets going early with "Breakfast At The Rent" with Ray Dunaway and Scott Gray beginning at 6:00 a.m. The UConn Tailgate Show will air from 9:30 a.m. to 10:30 a.m. with Kevin Nathan and Bob Joyce. The pregame show begins at 10:30 a.m. followed by the game and then postgame "Husky Talk" with Kevin Nathan
UConn football games are also broadcast over the internet at WTIC.com. Here is a full list of stations on the UConn IMG Sports Radio Network.
The UConn vs. Pittsburgh game will also be available on satellite radio on Ch. 128 on Sirius and 190 on XM.
Pittsburgh Radio:
Join Pat Bostick and the "Voice of the Panthers" Bill Hillgrove as they take you through game action. Pitt football is broadcast on the Pitt IMG College Network. Game broadcasts will air over a loyal network of stations, including flagship 93.7 The Fan in Pittsburgh.
To continue reading the Pittsburgh Panthers @ UConn Huskies preview, click on the read more button below if you're on the home page.
Last Week:
UConn lost to South Florida 13-6. Pittsburgh lost to Notre Dame 29-26 in triple overtime.
History:
Friday's game is the ninth meeting between UConn and Pittsburgh with the series tied at 4-4. UConn leads in games played at Rentschler Field by a 3-1 count.
Connections:
The UConn roster has 11 players on its team from Pennsylvania: S Ty-Meer Brown (McKeesport), C Tyler Bullock (Mechanicsburg), DT Julian Campenni (West Pittson), K Chad Christen (Etters), OG Steve Greene (Edensburg), LB Jon Hicks (Palmyra), DE B.J. McBryde (Beaver Falls), OG Zach Rugg (Windber), P Cole Wagner (York), TB Joseph Williams (Allentown) and CB Blidi Wreh-Wilson (Edinboro).
The Pittsburgh roster does not have any Connecticut natives on it.
UConn head coach Paul Pasqualoni has a 12-3 record against Pittsburgh with an 11-3 mark from Syracuse and 0-1 at UConn.
Pittsburgh running backs coach Desmond Robinson was an assistant coach at UConn from 1982-86.
Other UConn News:
Here are the quotes from UConn head coach Paul Pasqualoni's press conference as well quotes from some of the players.
Here is UConn's depth chart for the game.
Four members of the University of Connecticut football team were named to seven major award watch lists over the course of the 2012 preseason.
Senior Tight End Ryan Griffin
John Mackey Award Watch List
Lombardi Award Watch List
Sophomore Running Back Lyle McCombs
Doak Walker Award Watch List
Maxwell Award Watch List
Senior Linebacker Sio Moore
Butkus Award Watch List
Lombardi Award Watch List
Senior Defensive End Trevardo Williams
Bednarik Award Watch List
Lombardi Award Watch List
Nagursky Trophy Watch List
Sophomore Linebacker Yawin Smallwood
The following four Huskies were named team captains for the season in the week prior to the season opener vs. UMass – redshirt senior outside linebacker Jory Johnson (Mobile, Ala.), redshirt senior offensive tackle Adam Masters (Bethesda, Md.), senior wide receiver Nick Williams (East Windsor, N.J.) and redshirt senior cornerback Blidi Wreh-Wilson (Edinboro, Pa.).
Pasqualoni is the all-time winningest coach in BIG EAST Conference league wins with 65 and overall wins with 113. He is just one of two league coaches in history to win four BIG EAST Championships. His overall college coaching record stands at 149-89-1 (34-17 at WCSU, 107-59-1 at Syracuse and 8-13 at UConn).
UConn senior defense end Trevardo Williams is now the school career leader in sacks with 27.5.
UConn owns an all-time mark of 25-34 in BIG EAST Conference games since joining the league for football in 2004.
UConn is 20-11 at home in Big East games since joining the league for football in 2004.
UConn is 33-20 in games following a loss since Oct. 26, 2002. In the opening game vs. UMass, the Huskies were coming off as they lost the 2011 season finale at Cincinnati and the Maryland win was coming off a loss to N.C. State while the Buffalo win was coming off a loss to Western Michigan. The Temple loss was coming off a loss to Rutgers, the Syracuse loss was coming off the Temple loss and the USF loss was coming off the Syracuse loss.
Here is where UConn stands in the lastest NCAA statistics:
Total Defense – 9th at 290.22 yards per game
Rushing Defense – 21st at 114.22 yards per game
Passing Defense – 14th at 176.00 yards per game
Scoring Defense – 21st at 18.56 points per game
Sacks – 20th at 2.67 per game
Tackles For Loss – 19th at 7.22 per game
Total Offense – 110th at 317.89 yards per game
Rushing Offense – 116th at 82.00 yards per game
Passing Offense – 58th at 235.89 yards per game
Scoring Offense – 117th at 16.56 points per game
Punt Returns – 21st at 12.31 yards per return
Here is where UConn individuals stand in NCAA leaders
Trevardo Williams – t11th in sacks at 0.94 per game (leads BIG EAST)
Yawin Smallwood – 21st in tackles for loss at 1.44 per game (leads BIG EAST)
t18th in tackles at 10.11 per game (second BIG EAST)
Nick Williams 18th in punt returns at 11.73 per return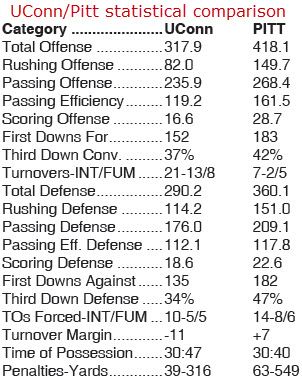 Notes from this week's opponent Pittsburgh:
Here are the quotes from Paul Chryst's press conference.
Paul Chryst is in his first year as the head coach at Pittsburgh. Prior to taking the job at Pittsburgh, Chryst was on the Wisconsin staff in 2002 and from 2005-11 as offensive coordinator and worked with the quarterbacks and tight ends. His coaching career has taken him to the college, NFL, World League of American Football and CFL ranks. He was the offensive coordinator at Oregon State from 1997-98 and 2003-04. Other college stops include: West Virginia (1989-90) and Wisconsin-Platteville (1993). He is a 1988 Wisconsin graduate and was a three-year letter winner as a
quarterback.
Pitt has selected its team captains for the 2012 season. They are senior center Ryan Turnley, senior wide receiver Mike Shanahan, senior wide receiver Cameron Saddler, senior safety Jarred Holley and junior defensive tackle Aaron Donald.
With a 4-5 record, the Panthers will be playing for bowl eligibility over the final month of the season. Pitt will need six victories to be eligible for an invitation to one of the Big East's six bowls. The Panthers have been to four consecutive postseason dates since 2008.
Senior tailback Ray Graham has rushed for more than 100 yards in each of the past two games.
Through nine games, Pitt has had four true freshmen see action: tight end J.P. Holtz, defensive lineman Darryl Render, tailback Rushel Shell and cornerback Jahmahl Pardner.
Twelve players on this year's Pitt football team have already earned their bachelor's degrees from the University of Pittsburgh:
Hubie Graham – TE – Social Sciences
Shayne Hale – DL – Social Sciences
Kevin Harper – PK – Business General Management
Jarred Holley – DB – Communication
Chris Jacobson – OL – Administration of Justice
Marco Pecora – DB – History
Mike Shanahan – WR – History
Andrew Taglianetti – DB – Business Marketing
Joe Trebitz – LB – Business Marketing
Ryan Turnley – OL – Communication
Justin Virbitsky – OL – Economics
Manny Williams – LB – Communication
Pitt football players among the national leaders:
Wednesday UConn Football Links:
What's left to play for in the Big East [matt fortuna - espn.com]
Former Huskies among CFL leaders [jim fuller - new haven register]
Men's Health Tailgating Challenge Before Pittsburgh Game [uconnhuskies.com]
UConn Woes: Protecting QB, Handling Blitz, Opening Holes For Running Game [hartford courant]
Next Week:
UConn is off again next week. They'll return to action on November 24th when the travel to Papa John's Cardinal Stadium in Louisville, KY for a matchup with the Louisville Cardinals.
Follow Ian on Twitter @soxanddawgs. And be sure to like us on Facebook as well.