Here's the release from the UConn athletic department and SNY concerning coverage of the 2011 UConn Huskies football team.
NEW YORK, N.Y. – SNY, the official television home of UConn football and men's basketball, is your place to get ready for the 2011 Husky football season.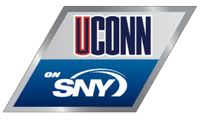 "The 2011 UConn Football Preview Show" will air on SNY several times with its debut on Thursday, Aug. 25 at 7:00 p.m. The show will also air on Friday, Aug. 26 at 1:00 p.m., Saturday, Aug. 27 at 7:30 p.m. and on Monday, Aug. 29 at 11:30 a.m.
The first airing of "UConn Press Pass" – a broadcast of UConn football coach Paul Pasqualoni's weekly press conference – will take place on Monday, Aug. 29 at 11:00 a.m.
UConn opens the season vs. Fordham on Thursday, Sept. 1 at 7:30 p.m. and SNY will have special reports leading up to kickoff. A rebroadcast of the game in its entirety will be aired on Friday, Sept. 2 at 11:00 a.m. and the "Huskies Power Hour" – a one-hour condensed version of the game – will air Friday, Sept. 2 at 7:00 a.m.