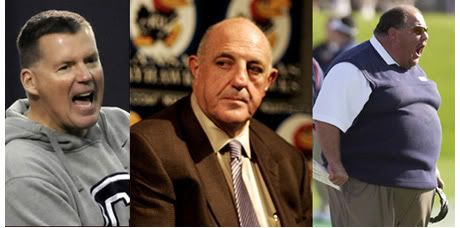 Here in UConn Country, we are dealing with rumors of UConn Huskies football coach Randy Edsall's name being thrown around for the Notre Dame job. Now with Kansas Jayhawks head coach Mark Mangino resigning, we can expect Edsall's name to be included in that search as well.
Here's what former UConn and current Kansas athletic director Lew Perkins had to say about the departure of Mangino:
"We appreciate the eight years that Mark has given to rebuilding our football program," Kansas Athletics Director Lew Perkins said.  "He and I have reached a mutually satisfactory agreement that reflects the appreciation we have for his efforts on behalf of Kansas Football.

"As you know we have recently completed an internal review of the football program.  I have been instructed by legal counsel that we cannot release any documents related to this investigation, nor any details regarding our settlement agreement.  The investigation and settlement agreement will remain part of Mark's personnel records.

"Mark has brought much success to the football program at KU," Perkins continued.  "He can leave with confidence that he has turned the football program around and set it on a path to even greater future success.
Perkins was the athletic director at UConn from 1990-2003 and was responsible for bringing Edsall in to help build the program as they were transitioning from the FBS (1-AA) to FCS (1-A).
Edsall did not speak about the Notre Dame rumor on Thursday nor would I would expect him to talk about this when it happens. He was already linked to the Kansas job when Mangino's troubles with his former players arose.