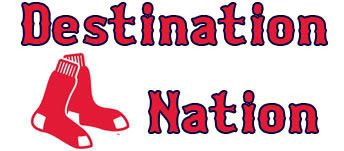 Destination Red Sox Nation is our look at how the minor league teams of the Boston Red Sox fare each night. Game story and box score links as well as links to team rosters, team stats and league standings can be found by clicking on the read more button below if you're on the home page.
If you would like to listen to any of the Red Sox minor league affiliates' games, MiLB.com offers them for free.
To open the links up in a new tab or window, use Control+click
Players of the Week, August 13-19: Brandon Workman & Andy LaRoche [soxprospects.com]
Pawtucket Red Sox
The Charlotte Knights held off the PawSox for a 2-1 win.
Knights Clinch South with 2-1 Win over PawSox [pawsox.com]
No answers for Charlotte starter Zaleski [providence journal]
Pawtucket Red Sox @ Charlotte Knights 8.24.12 box score [milb.com]
International League 2012 Standings

Portland Sea Dogs:
The Sea Dogs held off a late Binghamton Mets rally in a 4-3 win.
Sea Dogs Win Sixth Straight as Workman Tosses Gem [portlandseadogs.com]
Sea Dogs are staying hot [portland press herald]
Binghamton Mets @ Portland Sea Dogs 8.24.12 box score [milb.com]

Salem Red Sox:
It was a big night for the Salem offense as the beat the Carolina Mudcats 8-2.
Red Sox Maul Mudcats 8-2 [salemredsox.com]
Coyle drives in 4 runs as Salem Red Sox build big lead, hang on to beat Carolina Mudcats [roanoke times]
Gentile got playing time in Salem [roanoke times]
Salem Red Sox @ Carolina Mudcats 8.24.12 box score [milb.com]
Carolina League 2012 standings
Greenville Drive:
The Drive walked off with a 3-2 win over the Asheville Tourists in 10 innings.
Drive Ride Another Walk-Off to Third Straight Victory [oursports central]
Blake Swihart gives Greenville Drive walk-off win over Asheville Tourists [goupstate.com]
Asheville Tourists @ Greenville Drive 8.24.12 box score [milb.com]
South Atlantic League 2012 Standings

Lowell Spinners:
The Spinners used a six-run 6th inning to beat the Connecticut Tigers 7-6.
Six in the Fifth = Spinners Win [lowellspinners.com]
There's no quit in the Spinners [lowell sun]
Connecticut Tigers @ Lowell Spinners 8.24.12 box score [milb.com]

Gulf Coast League Red Sox
The GCL Twins beat the GCL Red Sox 4-1.
GCL Red Sox @ GCL Twins 8.24.12 box score [milb.com]
Gulf Coast League 2012 Standings
Follow Ian on Twitter @soxanddawgs. And be sure to like us on Facebook as well.