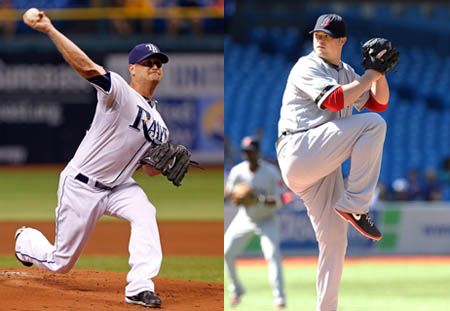 After falling 5-2 last night, the Boston Red Sox will play their final home game of the 2012 season. Tonight, they'll look to avoid being swept in the finale of a two-game set with the Tampa Bay Rays at historic Fenway Park.
First pitch is scheduled for 7:10 p.m. and the game will be broadcast on NESN in the Red Sox television market. If you live in the Rays television market, you can catch the game on Sun Sports. If you can't catch the television broadcast, you can always listen to it on the Red Sox radio network.
Jon Lester gets the honors for the final home game as he makes his 32nd start of 2012. In his previous 31 starts, Lester is 9-13 with a 4.96 ERA. His lone start against the Rays this season came way back on May 25 when he took the loss after allowing seven runs in four innings of work. Lester has made 21 career starts against the Rays and is 10-7 with a 4.29 ERA. 14 of those starts have come at the Fens where he is 6-6 with a 4.66 ERA.
Alex Cobb makes his 22nd start of 2012 as he looks to keep the Rays close in the AL Wild Card race. In his previous 21 starts, Cobb is 9-9 with a 4.27 ERA. Both of Cobb's career starts against the Red Sox have come this season in which is he is 1-1 with a 3.27 ERA. In his lone Fenway start, he was matched up with Lester on May 25th and got the win after allowing two runs (one earned) in five innings of work.
Click on the read more button below to see today's lineups, batter/pitcher matchups and links from the overnight and day if you're on the home page.
Here are today's lineups:
And here is how the hitters have fared against today's starting pitchers: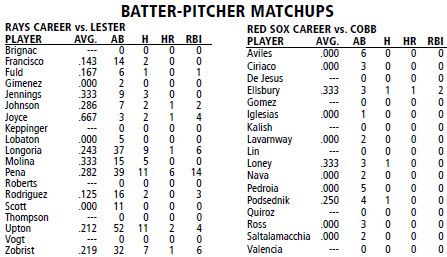 NOTES:
REFRESH OR CHECK BACK OFTEN AS MORE LINKS WILL BE ADDED BEFORE GAMETIME IF/WHEN THEY BECOME AVAILABLE AND WILL BE BOLDED
To open the links up in a new tab or window, use Control+click
Source: Jason Varitek close to new role with Sox [boston herald]
Bobby V discusses failed 2012 season, uncertain future with Red Sox [clubhouse insider]
David Ortiz: "I'm planning on finishing my career here." [clubhouse insider]
Valentine: I 'think Im coming back' [csn new england]
Ortiz 'frustrated' to finish season on DL [csn new england]
Red Sox notes: Ellsbury out, Lester close to 200 innings [csn new england]
Pedro: Would've retired if Sox lost in '04 [espn boston]
SoxProspects: Top 10 at season's end [espn boston]
Valentine: I think I'll be back [espn boston]
Braves offer a lesson that the Red Sox missed [extra bases]
Information on the 2013 WBC [extra bases]
Bobby Valentine: 'Not much I would've done differently' [extra bases]
Enough with the Fenway 100 celebrations [tony massarotti – boston globe]
Dustin Pedroia Swinging the Red Sox' Hottest Bat in Jacoby Ellsbury's Absence [nesn.com]
Pedro Martinez Admits He Would Have Called It Quits If Red Sox Didn't Win 2004 World Series [nesn.com]
Huge game — really, no kidding — for Sox in home finale [projo sox blog]
Valentine optimistic he'll be back next season [projo sox blog]
Ellsbury might not play again this season [projo sox blog]
Franklin Morales won't pitch in winter ball [projo sox blog]
Lester looks to dent Rays' playoff chances [redsox.com]
Bobby V: 'Think I'm coming back' in 2013 [alex speier – weei.com]
Follow Ian on Twitter @soxanddawgs. And be sure to like us on Facebook as well.
photo credits: getty images, getty images