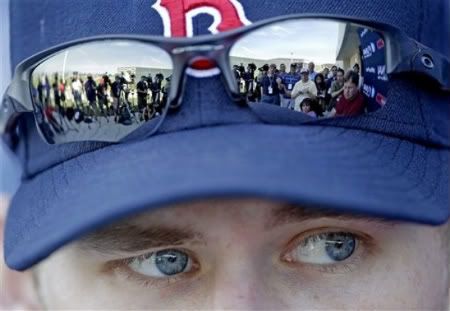 I'm not sure whether or not we know anything more or not about how the 2012 Boston Red Sox rotation will look after Daniel Bard's outing on Sunday where he gave up five runs.
Three of the four pitchers, Bard, Alfredo Aceves and Felix Doubront, all pitched in games over the weekend. Only Doubront had the best numbers of the trio.
Aceves outing on Saturday was more than likely an aberration as he's rarely had a bad outing in a Red Sox uniform whether it be spring training or the regular season. Doubront has been consistently good all of this spring.
So with Bard giving up five runs and both he and Valentine being happy with his outing, I'm not sure if any questions were answered this weekend.
"And he looked like [a starter]," Valentine said. "And I liked him in between innings. I liked how he was responding to things. I thought it was a really good look today. He worked runners when they were on base. He got ground balls when he needed to. He got some swings and misses when he needed to, too. I just like what I see. That's good stuff."
I honestly don't think Bard really pitched all that badly. There were some fluke things that happened. But if you're going by the numbers, this is the second bad outing in a row for him.
With just eight games remaining in the spring for the Red Sox, it's likely that each of the four in the competition will get one more start. Odds are Aaron Cook probably won't be ready so this could be a three horse race.
We all know how valuable Bard and Aceves have been in the Red Sox bullpen in the past. And I just don't see both of them making the rotation. So it'll be interesting to see how this all pans out.
I'd have to think that any final decisions won't be made until after each of them gets a chance to make one more start before Valentine has to put together his 25-man roster. And with just eight games remaining, they'll like only get the one chance.
Another decision we'll have to watch is who will be the Red Sox starting shortstop, Jose Iglesias or Mike Aviles.
If we're going by defense, it's Iglesias hands down. If we're going by offense, it's Aviles.
Iglesias is hitting .174 this spring with four RBIs while Aviles is hitting .333 with four RBIs. Aviles had three hits yesterday, including two doubles.
If the Red Sox offense is as potent as it was last year, they could conceivably get away with using Iglesias. But is that a chance Valentine is willing to make.
I'd have to think we'll know how the 25-man roster is going to shape up by the weekend. But then again with Carl Crawford starting the season on the DL, the roster may not be what they want.
One thing's for certain. It'll be very interesting to see how these final 10 days of spring training play out.
The Red Sox are off to Clearwater today for a matchup with the Philadelphia Phillies. So please click on the read more button below if you're on the home page to see today's lineups as well as the links from the media.
After falling 6-5 to the Toronto Blue Jays in Dunedin yesterday, the Red Sox make another trip up north to take on the Phillies.
First pitch is scheduled for 1:05 p.m. and the game will be broadcast nationally on ESPN. There is no radio coverage for the game.
Here are today's lineups:
Lester will be followed by RHP Matt Albers, RHP Scott Atchison, RHP Ross Ohlendorf, LHP Justin Thomas and RHP Justin Germano.
Blanton will be followed by LHP Antonio Bastardo and RHP Chad Qualls.
MORE LINKS WILL BE ADDED BEFORE GAMETIME IF/WHEN THEY BECOME AVAILABLE AND WILL BE BOLDED
To open the links up in a new tab or window, use Control+click
Aviles continues to make case [Boston Globe]
Not time to stop his starts [Boston Globe]
Daniel Bard better in this start [Boston Herald]
Mike Aviles makes case [Boston Herald]
Bobby V likes what he sees in Daniel Bard [Boston Herald]
Could a strong spring help Ryan Lavarnway catch on? [Clubhouse Insider]
Back no pain for Kevin Youkilis [Clubhouse Insider]
Jonathan Papelbon: 'I'm not going to throw shots at Boston fans' [Clubhouse Insider]
Bobby V: Reports of power struggle with Cherington are 'lazy journalism' [Clubhouse Insider]
Jim Thome on David Ortiz: 'He's always been one of the elite hitters' [Clubhouse Insider]
Despite runs, Bard, Valentine happy with outing [CSN New England]
Aviles continues strong spring at the plate [CSN New England]
Kalish slowly working his way back [CSN New England]
Bobby V. on Bard: 'I liked everything' [ESPN Boston]
Sox to meet tonight to sort roster [ESPN Boston]
Bryce Brentz bags a big boar [Extra Bases]
Projecting the Opening Day roster, 2.0 [Extra Bases]
Papelbon backs off comments against Boston fans [Extra Bases]
Valentine addresses reported power struggle with Cherington [Extra Bases]
Jonathan Papelbon: 'I'm not going to look back' [Full Count]
Red Sox to Add 'Royal Rooters Club' to Fenway Park As Part of 100th Anniversary Celebration [NESN.com]
Jonathan Papelbon Clarifies Comments About Boston Fans, Says He Wasn't Trying to Offend Anybody [NESN.com]
Aviles might not be thinking about shortstop competition, but he's probably winning it [Projo Sox Blog]
Valentine still up in the air about the 25th roster spot [Projo Sox Blog]
Bard feels like a starter — and Valentine concurs [Projo Sox Blog]
A breakdown of defensive innings played in spring training [Projo Sox Blog]
Papelbon on Boston-Philadelphia comparison: "I knew it was going to be read that way" [Projo Sox Blog]
Valentine: Suggestion of rift with Cherington "lazy journalism" [Projo Sox Blog]
Back stiffness prevents Youk from road trip [RedSox.com]
With Crawford out, spot up for grabs with Boston [RedSox.com]
Jenks issues apology to Red Sox [RedSox.com]
Starting becoming more natural for Bard [RedSox.com]
Aviles' play could make Red Sox's choice easy [RedSox.com]
Debunking the power struggle and other spring Red Sox myths [RedSox.com]
For Red Sox, the cost for Bobby Jenks grows even greater [Tony Massrotti – Boston Globe]
For more slices of Red Sox goodness, head over to the Boston Globe, Boston Herald, CSN New England, ESPN Boston, NESN, Providence Journal, RedSox.com and WEEI websites.
Follow Ian on Twitter @soxanddawgs. And be sure to like us on Facebook as well.
Photo credits: AP Photo