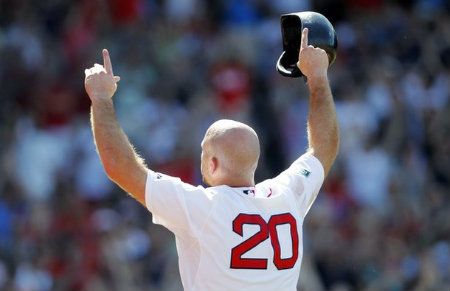 On a day where Cody Ross hit two home runs to help the Boston Red Sox to a 9-4 win over the Atlanta Braves, you would think that was the biggest story of the day. Or that Aaron Cook had a serviceable outing and the bullpen picked him up with four solid innings.
Nope, the big story of the day was the fact it was the last game that Kevin Youkilis played in a Red Sox uniform.
With his playing time limited due to the emergence of Will Middlebrooks and the outfield getting healthy again, something had to be done by the front office. While we had all thought something was going to happen, I don't think any of us wanted to believe it.
Youk's been a mainstay in the Red Sox lineup since 2006 but spent 2004 and 2005 with the Red Sox as well. While he didn't play in the 2004 World Series, he did play in the ALDS that year. When the Red Sox acquired Mike Lowell before the 2006 season, Youk moved from third base to first. In his second year at first base, he won the Gold Glove while helping the Red Sox to their second World Series title just three seasons after winning their first in 2004.
He made the All-Star team three times during his tenure in Boston, 2008, 2009 and last year in 2011.
But with his declining health and Middlebrooks coming along a year earlier than most projected, Youk's time was up in a Red Sox uniform. When this weekend series with the Braves started, it wasn't if he was going to be traded, it was when would he be.
Sensing it might be the last time Youk played for the Red Sox, the Fenway Park faithful rewarded his years of service and hard work with a standing ovation in his first plate appearance in the 2nd inning. He would end up reaching on an infield single off the leg of Braves starter Mike Minor.
His final at-bat in a Red Sox uniform probably won't be remembered entirely for hitting an RBI triple. It will be remembered for the ovation he received from that same faithful crowd who had chanted "YOUUUUUUUUUUUUUK" nine seasons.
He was greeted by his teammates who each took a turn hugging him. And the antagonist of this situation, the man who didn't play him for the past three games before yesterday, Bobby Valentine, was the one who prodded him to come back out of the dugout for a curtain call.
It was a classy move by Valentine, a baseball man who gets how people felt about Youk here in Red Sox Nation.
It's hard to say good bye to someone who has meant so much to this group of fans. What do you say?
The only thing I can think of is, thanks Youk for everything you have done. You were a class act the whole way and played the game the way it was meant to be played. And that's hard and with integrity.
It's going to be weird seeing him play for another team. It'll be even stranger seeing him play at Fenway Park in another uniform. But the topper of it all is the fact that we won't have to wait until next season for that to happen.
That moment will come when the Red Sox return from the All-Star break to host the Chicago White Sox, Youk's new team, for four games. You can bet your bottom dollar that you'll be hearing "YOUUUUUUUUUUUUUK" chants all night long.
And if I were you, I'd have a tissue handy for the first time he comes to the plate during the series. Because you know it's going to be a special moment.
So I'll leave with you this.
It's not goodbye, it's see you later Youk. We'll miss you and be easy on us when we play you. But we wish you the best of luck with the White Sox.
We'll be back later with today's lineups, batter/pitcher matchups and links from the day. So for now, let's take at look at the overnight links from the media by clicking on the read more button below if you're on the home page.
To open the links up in a new tab or window, use Control+click
Sox take care of business [boston globe]
He had critics, but many will miss 'Youk' [boston globe]
It's a nice sendoff for Youkilis [boston globe]
Buchholz latest to join DL [boston globe]
Cody Ross two good in Red Sox win over Braves [boston herald]
Kevin Youkilis changes Sox [boston herald]
Kevin Youkilis trade makes sense for everyone [boston herald]
Will Middlebrooks takes torch at 3rd [boston herald]
Clay Buchholz to DL [boston herald]
David Ortiz takes cut at new fresh salsa [boston herald]
What we learned on Kevin Youkilis' last day as a Red Sox [rob bradford -weei.com]
Ross, Cook power Red Sox past Braves in Youkilis' send-off, 9-4 [csn new england]
Ross swinging hot bat after two homers on Sunday [csn new england]
Cook uses right ingredients in second start for Sox [csn new england]
CSN Chicago: What a steal . . . for the White Sox [csn new england]
Punto, Red Sox react to Youkilis trade [csn new england]
Youk leaves a winning legacy [csn new england]
Rapid Reaction: Red Sox 9, Braves 4 [espn boston]
GM: Middlebrooks needs to be in lineup [espn boston]
Fans, teammates embrace Youkilis [espn boston]
Valentine: Cook 'more than I was hoping for' [espn boston]
Video: Youkilis changes Sox [espn boston]
Kevin Youkilis' time with Boston Red Sox simply had run out [espn boston]
What the Red Sox got for Youk: A look at Zach Stewart and Brent Lillibridge [full count]
Kevin Youkilis Leaves Red Sox in Trade to Chicago White Sox [nesn.com]
Dustin Pedroia, Cody Ross Saddened by the Departure of Kevin Youkilis to Chicago [nesn.com]
Kevin Youkilis' Final At-Bat Embodies His Unconventional Legacy, Success in Boston [nesn.com]
Dustin Pedroia Tells Kevin Youkilis He Loves Him, Man (Video) [nesn.com]
Kevin Youkilis Given His Due by Ben Cherington After Trade to White Sox (Video) [nesn.com]
Kevin Youkilis' Hard-Nosed Play Emblamatic of Much More Beyond Baseball [nesn.com]
Kevin Youkilis Trade Ultimately Improves Red Sox Lineup, Defines Roles for Starters [nesn.com]
Kevin Youkilis' Departure Leaves David Ortiz as Lone Member of 2004 World Series Team [nesn.com]
Kevin Youkilis Will Have to Make Some Changes as He Heads to Chicago White Sox [nesn.com]
McClure returns, resumes pitching coach duties [redsox.com]
Youkilis trade works for all involved parties [redsox.com]
Red Sox players say Youkilis will be missed [redsox.com]
Hot corner heir: Middlebrooks handed reins [redsox.com]
In Youk's swan song, Ross powers Red Sox [redsox.com]
For more slices of Red Sox goodness, head over to the Boston Globe, Boston Herald, CSN New England, ESPN Boston, NESN, Providence Journal, RedSox.com and WEEI websites.
And if you must check out the enemy news, be sure to head over to the Atlanta Journal-Constitution and Macon Telegraph websites. Also be sure to check out our Bloguin brother Chop-N-Change for all of your Braves needs.
Follow Ian on Twitter @soxanddawgs. And be sure to like us on Facebook as well.
photo credit: Getty Images