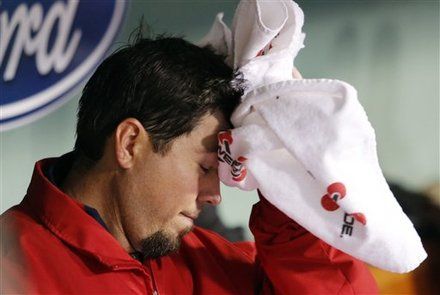 The Boston Red Sox have now played nine games in the month of May. Want to take a guess as to how many of those they have won?
If you guessed one, you'd be correct. That win came four days ago when they opened up the series with the Kansas City Royals. That win also snapped a five-game losing streak at the time.
So with last night's 8-3 loss to the Cleveland Indians, the new losing streak stands at three games and their record at 12-19. It was just at .500 (11-11) 10 days ago.
Josh Beckett made his return to the Red Sox rotation last night and when was all said and done, he was booed off the mound as he stunk worse than a pile of manure. And we all know how bad that stinks.
Beckett's pitches were flat, which may have been a sign of the long layoff he had after missing his last start with lat soreness. Or it could have been that he's still hurt. But Beckett did say after the game that there was no residual soreness from the injury and that he stunk last night.
While it was nice to see Beckett own up to the putrid smell of his outing, he was pretty defiant about the questions being asked about his golfing outing. Honestly, there's no point in me getting into that because in ways I agree with what he said and in others I don't. I'd rather focus on his effort.
Beckett wasn't all that good in his first start of the season with Jarrod Saltalamacchia behind the plate. Since then, he's had Kelly Shoppach with him. He pitched pretty well his first time out with Shop and they've been together ever since. After last night's debacle, I don't think it really matters whether or not Beckett is more comfortable with Shop behind the plate. He hasn't really done any better overall with him.
Beckett is the elder statesman of this Red Sox rotation and is supposed to lead by example. We all know how fiery he can be as he was towards the media last night. He was part of the Red Sox trio in the stories from last season and now you have this golf outing while supposedly hurt.
We all thought maybe it was the influence of John Lackey on the others but it's obvious now that Beckett may have been the ring leader. Either way, that's not good for the team at all.
It really is starting to appear that this team has no chemistry whatsoever. And folks that's not good at all.
Fenway Park is supposed to give the Red Sox a huge advantage over other teams. Judging by the 4-11 mark there, it's obvious there is no advantage.
This team really needs to be shaken up.
Whether it being trading someone, firing Bobby Valentine or some coaches, remains to be seen. But something has to be done and quickly before this entire season gets out of hand and we are toiling in mediocrity.
We'll be back later with today's lineups, batter/pitcher matchups and links from the day. So for now, let's take at look at the overnight links from the media by clicking on the read more button below if you're on the home page.
To open the links up in a new tab or window, use Control+click
Indians – and fans – let Beckett have it at Fenway [Boston Globe]
Pena perfectly happy to share in a no-hitter [Boston Globe]
He didn't do anything to swing opinions [Boston Globe]
Tributes paid to Beane [Boston Globe]
Josh Beckett, Red Sox off course [Boston Herald]
Light 'em up, Bobby Valentine [Boston Herald]
Johnny Damon finds new home [Boston Herald]
At least they've been a relief [Boston Herald]
Sox lose 8-3 to Tribe, Beckett knocked out in third [CSN New England]
Beckett felt good, pitched bad [CSN New England]
Defiant, unapologetic . . . and clueless [CSN New England]
Rapid reaction: Indians 8, Red Sox 3 [ESPN Boston]
Derek Lowe up to his old tricks [ESPN Boston]
Defiant Josh Beckett just doesn't get it [ESPN Boston]
Closing Time: More bad times for Josh Beckett, Red Sox [Full Count]
Derek Lowe: 'I'm playing [golf] tomorrow' [Full Count]
Josh Beckett's Early Exit Another Sign Red Sox Must Retool Rotation [NESN.com]
Red Sox Bullpen Quickly Becoming One of Team's Biggest Strengths Amidst Inconsistent Starting Pitching [NESN.com]
Josh Beckett Can't Dwell on Rough Performance, As He Remains Too Important to Red Sox' Efforts [NESN.com]
Carl Beane Going From the Voice of Fenway Park to the Voice of Heaven [NESN.com]
Bag-wearing fan becomes an overnight celebrity [Projo Sox Blog]
Beckett knocked around on heels of golf issue [RedSox.com]
Nava works way back to Boston [RedSox.com]
Damon focused in return to Fenway [RedSox.com]
Youkilis trying to be patient during rehab [RedSox.com]
Crawford working hard to get back [RedSox.com]
Lester unveils children's cancer initiative [RedSox.com]
Beane's absence leaves void for fans, players [RedSox.com]
Beckett's rough night compounds Sox's woes [RedSox.com]
One season later, Red Sox have yet to fix their clubhouse culture [Alex Speier – WEEI.com]
Cherington: Beckett 'always accountable' [Alex Speier – WEEI.com]
For more slices of Red Sox goodness, head over to the Boston Globe, Boston Herald, CSN New England, ESPN Boston, NESN, Providence Journal, RedSox.com and WEEI websites.
And if you must check out the enemy news, be sure to head over to the Akron Beacon Journal and Cleveland Plain Dealer websites. You can also check out our Bloguin brother, Burning River Baseball.
Follow Ian on Twitter @soxanddawgs. And be sure to like us on Facebook as well.
photo credit: AP Photo