Tonight's Red Sox vs Braves game is in a rain delay. The game is expected to start at 8:20 p.m.

After sweeping the Miami Marlins, the Boston Red Sox will continue their eight-game home stanza with the final three games of interleague play. Tonight they'll welcome the Atlanta Braves to historic Fenway Park for the first game of a three-game set.
First pitch is scheduled for 7:10 p.m. and will be broadcast on NESN in the Red Sox television market. If you live in the Braves television market, you can catch the game on Peachtree TV/Fox Sports South. And if you don't live in either market you are in luck as the MLB Network will have coverage of the game as well (not in Red Sox or Braves television markets. If you can't catch the television broadcast, you can always listen to it on the Red Sox radio network.
Jon Lester steps on to the bump for the 15th time this season tonight for the Red Sox. In his previous 14 starts, Lester is 4-4 with a 4.53 ERA. His lone career start against the Braves came in 2006 when he picked up the win after allowing one run in six innings work.
Jair Jurrjens makes his fifth start of 2012 and his first since April 23rd. In his previous four starts, Jurrjens is 0-2 with a 9.37 ERA (17 ER/16.1 IP). His only two career starts against the Red Sox came in 2009 when he went 0-1 with a 3.14 ERA (5 ER/14.1 IP). He picked up a no decision in his only Fenway start after allowing five runs (two earned) in 6.1 innings of work.
Click on the read more button below to see today's lineups, batter/pitcher matchups and links from the overnight and day if you're on the home page.
Here are today's lineups:
And here is how the hitters have fared against today's starting pitchers: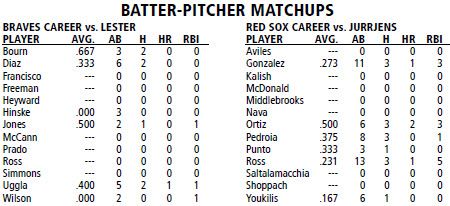 NOTES:

REFRESH OR CHECK BACK OFTEN AS MORE LINKS WILL BE ADDED BEFORE GAMETIME IF/WHEN THEY BECOME AVAILABLE AND WILL BE BOLDED
To open the links up in a new tab or window, use Control+click
Cherington: Bard to bullpen 'mutual' decision [rob bradford – weei.com]
Video: Is David Ortiz right about the media, state of the Red Sox [clubhouse insider]
Bard moves back to relief: "It felt like I belonged" [clubhouse insider]
Bobby V met with Youkilis before starting Middlebrooks [clubhouse insider]
Braves' Michael Bourn: Carl Crawford 'will bounce back' for Red Sox [clubhouse insider]
Cherington hopes Bard makes an impact out of bullpen [clubhouse insider]
Youngsters making the difference for Sox [csn new england]
Bard headed back to bullpen [csn new england]
Friday: Middlebrooks at third; Youkilis sits [csn new england]
Crawford to begin rehab assignment Saturday [csn new england]
Valentine pleased with youngsters' progress [csn new england]
Chipper makes final Fenway appearance [csn new england]
Atchison an All-Star? [csn new england]
SweetSpot: Teams want Youkilis [espn boston]
Daniel Bard says he has officially been moved back to a relief role [espn boston]
Youkilis sits, Middlebrooks at third [espn boston]
Bobby V braces Youkilis for less playing time [espn boston]
Crawford to play Saturday GCL game [espn boston]
Injury updates: Ellsbury, Hill progressing [espn boston]
Atchinson's case to be an All-Star [espn boston]
Bobby: Nava was 'completely off the radar' [espn boston]
Last hurrah for Chipper Jones at Fenway? [espn boston]
Middlebrooks stays at third, calm reigns [extra bases]
Red Sox prospect Duarte suspended [extra bases]
Valentine talks it over with Youkilis [extra bases]
Valentine meets up with Jones again [extra bases]
Bard: Bullpen 'is where I belong' [extra bases]
Curt Schilling on D&C: 'I'm not asking for sympathy' after losing $50M in business collapse [full count]
Nuggetpalooza: Red Sox hit for 'home run cycle' [full count]
Kevin Millar on M&M: Red Sox media problems are 'little pebble on the road' [full count]
Led by David Ortiz, Red Sox starting to fight back [tony massarotti – boston globe]
Vote: Is Will Middlebrooks the Early AL Rookie of the Year Favorite? [nesn.com]
Jenny Dell, Tom Caron Show Off What They're 'Drinkin' During Dunkin' Donuts Shoot at Fenway Park (Photos) [nesn.com]
Report: Daniel Bard Informs Red Sox He Doesn't Want to Start Anymore, Will Return to Bullpen [nesn.com]
Bobby Valentine Plans to Ride 'Hot Hand' At Third Base, Will Bench Kevin Youkilis For Now [nesn.com]
Will Middlebrooks' Performance Forces Bobby Valentine's Hand Into Solving Positional Battle [nesn.com]
Donaldson: Boston's "Whiz Kids" [projo sox blog]
Middlebrooks again playing third base over Youkilis [projo sox blog]
Crawford to start rehabbing, Braves' Bourn confident he's still 'a superstar player' [projo sox blog]
Bard: Meant to pitch late in games [projo sox blog]
Atchison might not be an All-Star, but he's been indispensible for Red Sox [projo sox blog]
Lester gets call as Red Sox welcome Braves [redsox.com]
Schilling's video-game company goes bankrupt [redsox.com]
David Ortiz has another pressing matter [touching all the bases]
Follow Ian on Twitter @soxanddawgs. And be sure to like us on Facebook as well.
photo credits: Getty Images, Reuters Pictures