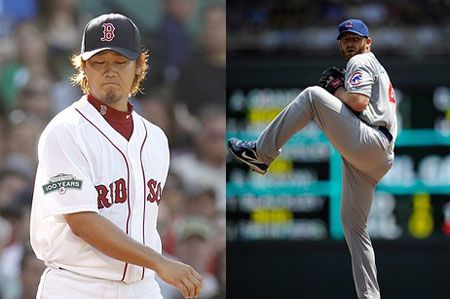 After taking two-of-three in Miami, the Boston Red Sox head to the Windy City to finish off their six-game interleague road trip. This afternoon, they'll take on the Chicago Cubs in the first game of a three-game set at Wrigley Field.
First pitch is scheduled for 2:20 p.m. and the game will be broadcast on NESN in the Red Sox television market. If you live in the Cubs television market, you can catch the game on CSN Chicago. And if you don't live in either market you're in luck as the MLB Network will have coverage of the game (not in Red Sox or Cubs television markets). If you can't catch the television broadcast, you can always listen to it on the Red Sox radio network.
Daisuke Matsuzaka makes just his second start of 2012 after returning from Tommy John surgery. He took the loss in his first start against the Washington Nationals after allowing four runs in five innings of work. Today mark his first career start and appearance against the team from the North Side of Chicago.
Ryan Dempster makes his 12th start of 2012 for the Cubs. In his previous 11 starts, Dempster is 2-3 with a 2.31 ERA. He last faced the Red Sox in 2005 when he picked up the save after allowing two runs in an inning of work. He's made four career appearances (three starts) against the Red Sox and is 1-1 with a 7.13 ERA (14 ER/17.2 IP) and one save.
Click on the read more button below to see today's lineups, batter/pitcher matchups and links from the overnight and day if you're on the home page.
Here are today's lineups:
And here is how the hitters have fared against today's starting pitchers:

NOTES:

REFRESH OR CHECK BACK OFTEN AS MORE LINKS WILL BE ADDED BEFORE GAMETIME IF/WHEN THEY BECOME AVAILABLE AND WILL BE BOLDED
To open the links up in a new tab or window, use Control+click
Hassan adjusting quite nicely [Boston Globe]
Podsednik sparkling with Sox [Boston Globe]
Middlebrooks bides time [Boston Globe]
Matt Garza is ripe for trip out [Boston Herald]
Dale Sveum setting tone in Chicago [Boston Herald]
Kevin Youkilis dilemma lingers [Boston Herald]
Ben Cherington keeps faith [Boston Herald]
Ben Cherington's big moves [Boston Herald]
Red Sox have their reunion with Theo Epstein [Clubhouse Insider]
How has Cherington fared so far? [CSN New England]
Prior: 'Things will work out' [CSN New England]
Blow up what? [CSN New England]
Cherington: 'Nothing going on' with Youkilis trade rumors [CSN New England]
It could be worse [CSN New England]
Memories return for Theo as Red Sox visit Wrigley [CSN New England]
Red Sox Offensive Struggles May Be Concerning, But Way Too Early to 'Blow Up' Roster [Tom Caron – NESN.com]
Video: BBTN previews Red Sox-Cubs [ESPN Boston]
Boston Red Sox not fielding Kevin Youkilis trade calls [ESPN Boston]
Do you believe in this Red Sox team? [ESPN Boston]
Cherington: High expectations are a factor [ESPN Boston]
Ben Cherington must take page from Theo Epstein's book to save the season for Boston Red Sox [ESPN Boston]
Theo prepping Cubs fans for lean years [ESPN Boston]
Sox face Cubs in matinee at Wrigley [ESPN Boston]
Worlds collide: Cubs, Red Sox meet [ESPN Boston]
Theo admits to mixed feelings about Sox game [ESPN Boston]
Good morning from Wrigley Field [Extra Bases]
Epstein's reunion with the Red Sox [Extra Bases]
Nuggetpalooza: Stat Nuggets on the Sox, Cubs, and all of baseball [Full Count]
Red Sox sign Ole Miss left-hander Dylan Chavez [Full Count]
Red Sox sign third overall pick Pat Light, second-rounder Jamie Callahan [Full Count]
Kevin Millar on M&M: 'It was just a slow start' for Clay Buchholz [Full Count]
Reunion day for Red Sox with Theo Epstein [Full Count]
Making due: Red Sox living through imperfect world of bouncing Gonzalez, Youkilis between positions [Full Count]
Will Middlebrooks, LaMichael James Share Professional Successes, Rookie Hurdles Through Tight-Knit Bond [NESN.com]
Will Theo Epstein Win a World Series With the Chicago Cubs? [NESN.com]
Dustin Pedroia Looks to 'Blow Up' Reporter Who Led Bryce Harper to Respond 'That's a Clown Question, Bro' [NESN.com]
Ben Cherington on Kevin Youkilis Trade Rumors: 'There's Nothing Going On' [NESN.com]
Matt Garza Would 'Pitch on the Freaking Moon,' Not Afraid of American League East [NESN.com]
Jackie Bradley Jr., Matt Barnes Finding Success in Red Sox System During First Full Season of Pro Ball [NESN.com]
A Series Matter: Red Sox-Cubs and Incandescence [Projo Sox Blog]
The Blame Game [Projo Sox Blog]
Few Red Sox know what rebuilding Cubs are going through [Projo Sox Blog]
Buttrey among 11 draft picks signed by Red Sox [Projo Sox Blog]
Sox look to run winning streak to three behind Dice-K [RedSox.com]
On comeback trail, Prior sets sights on Fenway [RedSox.com]
Prospect Barnes fans nine in third straight win [RedSox.com]
A-Gone grateful for father's sacrifices [RedSox.com]
Bypassed by Red Sox, Dale Sveum working to create winning culture with Cubs [Alex Speier – WEEI.com]
Time for Adrian to go off: Could Wrigley's friendly confines be antidote for slugger's struggles? [Alex Speier – WEEI.com]
Follow Ian on Twitter @soxanddawgs. And be sure to like us on Facebook as well.
photo credits: Getty Images, Getty Images