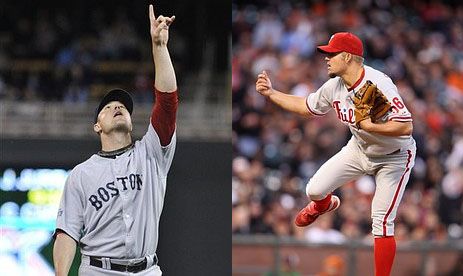 After falling last night 6-4, the Boston Red Sox look to get back on track in the second game of a three-game interleague set with the Philadelphia Phillies at Citizens Bank Park.
First pitch is scheduled for 7:15 p.m. and the game will be broadcast on FOX to 39% of the country. If you can't catch the television broadcast, you can always listen to it on the Red Sox radio network.
Jon Lester makes his ninth start of the season for manager Bobby Valentine. In his previous eight starts, Lester is 2-3 with a 3.71 ERA. He made one start against the Phillies in 2011 and picked up the win after firing seven shutout innings. He's had good success against the Phillies in his career as he is 2-0 with a 0.43 ERA (1 ER/21 IP) in three starts. All three of those starts have come at Citizens Bank Park.
Joe Blanton makes his ninth appearance (eighth start) of 2012 for manager Charlie Manuel who returns to the bench after a one-game suspension. In his previous eight appearances (seven starts), Blanton is 4-3 with a 2.96 ERA. He didn't face the Red Sox in 2011 and last faced them in 2010 when he took the loss after allowing nine runs in just four innings of work. Blanton has made 10 career starts against the Red Sox and is 3-3 with a 4.70 ERA.
Click on the read more button below to see today's lineups, batter/pitcher matchups and links from the day if you're on the home page.
Here are today's lineups:
And here is how the hitters have fared against today's starting pitchers:
REFRESH OR CHECK BACK OFTEN AS MORE LINKS WILL BE ADDED BEFORE GAMETIME IF/WHEN THEY BECOME AVAILABLE AND WILL BE BOLDED
To open the links up in a new tab or window, use Control+click
After piercing his ear, Jarrod Saltalamacchia back in Red Sox' lineup [Clubhouse Insider]
The Baseball Show: Where's Gonzalez's power? [CSN New England]
The Baseball Show: 'an old baseball move' [CSN New England]
The Baseball Show: Daniel Bard is a project [CSN New England]
The Baseball Show: Patience not a virtue in Red Sox Nation [CSN New England]
Salty back in lineup after receiving 12 stitches [CSN New England]
Ross injury comes at bad time for Sox [CSN New England]
The Bard experiment isn't working out [Extra Bases]
The Sox could extend Dice-K's rehab [Extra Bases]
Joe Blanton Reflects on Allowing Daniel Nava's Memorable Grand Slam, Says He Got '[Butt] Kicked' [NESN.com]
Should the National League Adopt the Designated Hitter During All Interleague Games? [NESN.com]
Jon Lester Tasked With Cooling Down Carlos Ruiz, Hunter Pence, Red-Hot Phillies [NESN.com]
Nick Punto Plans to Wear World Series Ring for 'A While,' Says Tony La Russa Content With Retirement (Photos) [NESN.com]
Jarrod Saltalamacchia Grateful His Injury Wasn't Serious Despite Needing 12 Stitches for Ear Laceration [NESN.com]
Bobby Valentine Remains Confident in Adrian Gonzalez' Abilities in Outfield as David Ortiz Starts at First Base [NESN.com]
Oral history: As Daniel Nava meets Joe Blanton again, a look back [Projo Sox Blog]
Bradley's work on patience paying off [Projo Sox Blog]
One night after head injury, Saltalamacchia back in the lineup [Projo Sox Blog]
Ross out of the lineup with foot injury [Projo Sox Blog]
Cook still making progress, future uncertain [Projo Sox Blog]
Lester looks to remain spotless in Philadelphia [RedSox.com]
Follow Ian on Twitter @soxanddawgs. And be sure to like us on Facebook as well.
Photo credits: AP Photo, Getty Images