After falling yesterday, the Boston Red Sox look for a split of their four-game series with the New York Yankees tonight at Yankee Stadium in the Bronx.
First pitch is scheduled for 8:05 p.m. The game will be broadcast nationally on ESPN. You can also catch the game online or on your mobile device at WatchESPN.com. And if you can't catch the game on television, you can always listen on the 2014 Red Sox Radio Network.
Felix Doubront makes his third start of 2014. In his previous two starts, Doubront is 1-1 with a 9.00 ERA. He made four starts against the Yankees in 2014 and was 2-1 with a 6.30 ERA. He's made 12 career appearances (eight starts) against them and is 3-2 with a 4.17 ERA. Five of those appearances (three starts) have come in the Bronx where he is 1-0 with a 4.00 ERA.
Ivan Nova toes the rubber for the third time in 2014. In his previous two starts, Nova is 1-1 with an 8.68 ERA. He made two starts against the Red Sox in 2013 and was 0-1 with a 7.88 ERA. He's made eight career appearances (seven starts) against the visitors from Boston and is 2-3 with a 5.60 ERA. Three of those starts have come at home where he is 0-1 with a 6.60 ERA.
NOTES:
Dustin Pedroia was in the original lineup leading off but was scratched with a sore wrist. He was replaced by Herrera.
Here is how the hitters have fared against the starting pitchers during the regular season over their careers.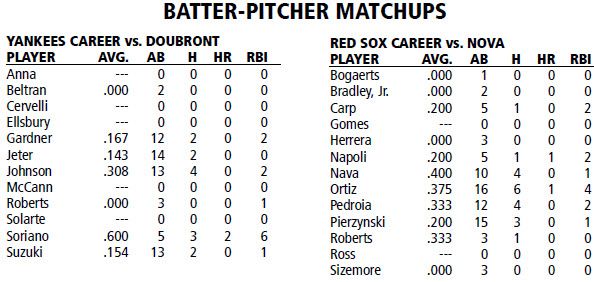 More links will be added if/when they become available so please check back often.
To open the links up in a new tab or window, use Control+click
Video: SNL Spoofs Red Sox DH David Ortiz [sox & dawgs]

Why Lester contract offer represents missed opportunity for Red Sox [rob bradford – weei.com]
From Ripken to Jeter to Bogaerts, the circle of life in baseball [clubhouse insider]
Koji Uehara 'encouraged' by throwing session [clubhouse insider]
Dustin Pedroia scratched from Red Sox' lineup due to sore left wrist [clubhouse insider]
Pedroia scratched from Red Sox lineup [csn new england]
'Tight quad' keeps Jeter on bench against Sox [csn new england]
Uehara has 'good throwing session' Sunday [csn new england]
Notes: MLB didn't have proper angle on replay [csn new england]
Instant replay system comes up short in New York Yankees-Boston Red Sox game [espn boston]
Red Sox, Doubront look for split with Yanks [espn boston]
Derek Jeter of New York Yankees not in lineup Sunday against Boston Red Sox [espn boston]
Dustin Pedroia heads back to Boston for wrist exam [espn boston]
Red Sox 'hopeful and expecting' Koji Uehara back for White Sox series [full count]
Trends in pitching: cutters, splitters, elbow injuries [providence journal]
Pedroia sent back to Boston to get wrist checked [providence journal]
Uehara, Red Sox 'encouraged' by throwing session [providence journal]
Shane Victorino expected to begin rehab assignment Tuesday in Portland [providence journal]
Mike Carp learning to play third base [providence journal]
Coming off rough start, Doubront eyes redemption vs. Yanks [red sox]
Sunday Mail: Losing Koji Uehara is a bummer, but at least Red Sox are prepared [touching all the bases]
photo credits: getty images, getty images