Jonathan Papelbon had said all along he wanted to see what he was worth on the open market. Instead of signing a long-term extension with the Boston Red Sox, he went year-to-year through arbitration to get to that moment.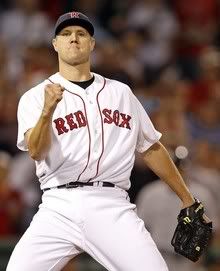 Well it appears the Papelbon's gamble has paid off as multiple outlets are reporting that he has agreed to a four-year, $50 million deal with the Philadelphia Phillies. The deal reportedly also has a vesting option for a fifth year.
Earlier in the week, it looked as though Philadelphia wouldn't have been an option for Paps as they reportedly had a four-year, $44 million deal with their closer Ryan Madson. But it fell through reopening the door for Papelbon. Ironically enough, Papelbon and Madson share the same agent.
Now the Red Sox will need to explore other options to close games for them going forward.
They could stay in-house with Daniel Bard or even Bobby Jenks who was signed as protection in case of Papelbon leaving. But with injuries sidelining him last year, he may not be a viable option.
The Red Sox will no doubtedly set their sights on the free agent market as well.
Heath Bell, Madson, Francisco Rodriguez, Brad Lidge are among the options out there at closer.
Depending on what happens with the new CBA, the Red Sox normally would have received Philly's first round draft choice plus a supplemental draft choice. So until the new CBA is resolved, we won't know the compensation the Red Sox will receive for losing Paps.
The big question now is what will Papelbon's entrance music be in Philly? Obviously it won't be "Shipping Up to Boston". Maybe one of the Philly bands can come out with "Shipping Up to Philadelphia".
Follow Ian on Twitter @soxanddawgs. And be sure to like us on Facebook as well.