The New England Patriots have announced the dates that their annual training camp will be open to the public. Each year the team has several days in which the fans can come to the practice field outside of Gillette Stadium and watch the players run through their drills.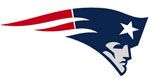 In addition, the last several years the team has also had the Patriots experience for kids.
This year the team will open camp to the public on the following days:
Thursday July 26 from 1:30 p.m. to 4 p.m.
Friday July 27 from 1:30 p.m. to 4 p.m.
Saturday July 28 from 1:30 p.m. to 4 p.m.
Sunday July 29 from 1:30 p.m. to 4 p.m.
As always dates and times can and will change and you are advised to always check the team website at patriots.com prior to making a trip to Foxboro.
Follow Steve on Twitter @SteveMichaelsII