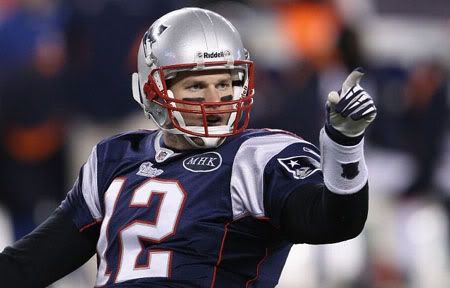 The Denver Broncos came into Foxboro with hopes of upsetting the New England Patriots and once again send the Patriots home earlier than expected in the post season. But with all the hype about Broncos QB Tim Tebow the sporting world seemed to forget about a man named Tom Brady.
I've said it before and I'll say it again. Brady plays best when he is pissed off. He needs a chip on shoulder it pushes him. If there isn't one he will make one up. This time the chip was disrespect, I am willing to bet Brady has felt disrespected with all the attention given to Tebow when Brady is a three time champion, a two time most valuable player and a sure fire Hall of Famer.
I think it's safe to say no one will ever forget about Brady again. He just absolutely annihilated the Broncos from start to finish, he was 26 of 34 for 363 yards with 6 TD passes and 1 INT. He set one NFL record, tied another and he and the team broke several other team marks in this one sided blow out as well.
But it just wasn't Brady and his multitude of offensive weapons that did the damage in the 45-10 win over Denver on Saturday at Gillette Stadium. The Patriots defense actually showed up sacking Tebow a half dozen times and stopping the Broncos running backs for several negative yard plays.
While Brady and Rob Gronkowski were setting records, Aaron Hernandez was showing his versatility by playing running back, as did Julian Edelman with time on both sides. The defense led by Rob Ninkovich, Brandon Spikes, Jerod Mayo, Devin McCourty and host of others was really, really good.
The best part is that the Patriots will once again be at home next weekend playing against either the Houston Texans or the Baltimore Ravens for the AFC Championship.
Broncos at Patriots Gamebook. This includes the box score, all the stats, play by play, drive charts and more.
Broncos at Patriots Game Recap.
To continue reading the Denver Broncos @ New England Patriots recap, hit the read more button below if you're on the home page.
Turning Point(s) of the Game
The 61-yard TD pass by Tom Brady to Deion Branch seemed to deflate Denver and it opened up the late second quarter lead to 28-7.
Offensive Player(s) of the Game
QB Tom Brady who was 26 of 34 for 363 yards 6 TD's and 1 INT
Defensive Player(s) of the Game
LB Brandon Spikes had 6 tackles (3 solo); 1 sack, 2 tackles for loss, 2 QB hits, 1 pass defensed and 1 fumble recovered.
Game Notes
Starters for the Patriots were:
On Offense:
LT – Light
LG – Mankins
C – Connolly
RG – Waters
RT – Solder
TE – Hernandez
TE – Gronkowski
WR – Branch
WR – Welker
QB – Brady
RB – Green-Ellis
On Defense:
DE – Wilfork
DT – Deaderick
DT – Love
DE – Anderson
LB – Mayo
LB – Spikes
LB – Ninkovich
CB – McCourty
CB – Arrington
S – Chung
S – Ihedigbo
Inactives for the Game:
Patriots
1. DE Ron Brace
2. T Sebastian Vollmer (back/knee)
3. T Donald Thomas
4. LB Gary Guyton
5. RB Shane Vereen
6. CB Nate Jones
7. QB Ryan Mallett
Broncos
1. LS Lonnie Paxton (family issue)
2. WR Eric Decker (knee)
3. S Brian Dawkins (neck)
4. DE Derrick Harvey
5. TE Julius Thomas
6. T Ryan Harris
7. LB Mike Mohammed
The spread (Patriots minus 13 1/2) WAS covered. The over/under (50 1/2) WAS COVERED. I TOOK the points (Broncos) and took the OVER. I am now 10-6-1 vs. the spread and 13 of 17 calling the under/over.
Broncos won the toss and deferred. It's only the second game this season that New England has started with the ball. The other was Week 3 in Buffalo a 34-31 loss.
The Broncos lead the all-time series 27-18 including playoffs (2-1).
New England and Denver have now met three times in the playoffs with the home team winning each time.
The Patriots are 9-9 as the home team in the series.
Since Gillette Stadium opened in 2002, New England is 75-15 at home including the playoffs.
The Patriots are 12-3 at home in the playoffs all-time. They are 8-2 in the post season at Gillette Stadium.
Overall in the playoffs they are 22-15, they are 9-6 in the Divisional Round.
This is the first time the teams have had a playoff game in Foxboro.
New England has won 9 consecutive games after a 2 game losing streak. It is their longest win streak of the season.
Patriots set a team record with 45 points most ever scored in a post season game.
Bill Belichick's 191 wins are good for 9th all-time. Chuck Knox, who coached the Rams, Redskins and Seahawks, is 8th all-time with 193.
He is now tied for 4th in post season coaching wins with Steelers legend Chuck Noll with 16. Long time Redskins coach Joe Gibbs is 3rd with 17.
Belichick is 5-10 vs. the Denver in his career. He is 5-6 against them as the head coach in New England and that includes the playoffs (1-1).
Tom Brady is 3-6 vs. the Broncos including 1-1 in the playoffs.
He is now 15-5 in the post season. He is now second all time behind his idol, Joe Montana who is 1st with 16 post season wins.
Brady started the game tied for 5th most post season TD passes with Terry Bradshaw (30) and then surpassed Kurt Warner (31) and Dan Marino (32) and is now all alone 3rd all-time with 36. Brett Favre is 2nd with 44 TD passes in the post season.
Brady set a NFL record with five TD passes in one half of a playoff game.
He also tied Daryle Lamonica and Steve Young with 6 TD passes in one playoff game.
He even got off a quick kick near the end of the game. That wasn't the first time he did that either.
WR Wes Welker now has catches in 99 consecutive games including playoffs, 82 as a Patriot. The last time Welker did not have a catch in a game was 12/24/05 as a Dolphin.
A fan that felt he was being ignored scored two tickets to the game and more from Patriots WR Chad Ochocinco.
Good Morning, America; The New Yorker; GQ; People and Time Magazine all had media credentials for tonight's game.
New England scored on its first drive for only second time in the last 12 games.
The Patriots were 3 of 6 in 3rd down efficiency with no fourth down attempts. The Broncos were 7 of 18 on 3rd down and 2 for 3 on 4th down attempts.
New England was 5 of 6 in the red zone and 1 for 2 in goal to go, while Denver was 1 for 3 in the red zone and 1 for 2 in goal to go.
This is the first time Denver has made the playoffs since the 2005 season.
Denver is 18-16 in the post season now.
The Broncos are 2-2 in Gillette Stadium.
Denver is the only team to beat New England twice in the playoffs.
John Fox is 82-80 in his 10th season as a head coach; he was 8-8 in his 1st season with Denver and 73-71 in 9 seasons with Carolina. In the playoffs he is 6-4 overall (5-3 with Carolina; 1-1 with Denver) for an overall record of 88-84.
Fox is 1-4 vs. New England including one Super Bowl (0-1). He is 0-2 with Denver and 1-2 with Carolina.
Tim Tebow is now 1-1 in the playoffs in his 2-year career.
He is 0-2 vs. New England in his career with both decisions coming this season.
Former Patriots and current Broncos LS Lonnie Paxton did not make the trip for the playoff game. His wife is 5 months pregnant and is battling a very serious pregnancy issue that could kill her.
Gene Steratore was the game referee. Did you know Steratore is also a Big East basketball ref? He was supposed to call the UConn/Notre Dame earlier in the day but passed on it for the playoff game.
The temp at kickoff was 28, windy and cold with a wind chill of 8 degrees.
Attendance: 68,756 at Gillette Stadium, Foxboro MA.
Post Game Interviews
Patriots head coach Bill Belichick and Patriots QB Tom Brady post game press conferences via patriots.com
Next Game
The Patriots host the winner of Sunday's Houston/Baltimore game in the AFC Championship Game. Kick off is at 3 p.m. Sunday on CBS from Gillette Stadium in Foxboro MA.
Follow Steve on Twitter @SteveMichaelsII
Photo credit: Elsa – Getty Images