Welcome to the Gigantic Sox and Dawgs 2012 MLB preview. Over the next few days you will get a team by team look at its key players, new faces, their potential MVP, Cy Young and Rookie of the Year candidates, their possible starting lineup and rotation as well as a quick summary.
For the second year in a row we will select a MVP candidate and Cy Young candidate for each team no matter what their predicted team outcome is.
This preview was sculpted over a two month period in the off season with some mild tweaking as we went along prior to publication. It comes from a culmination of reading many baseball magazines, periodicals, articles and websites.
I hope you enjoy this look at the upcoming season. I know everyone will not agree with me and that's fine put it in the comments or hit me up on Twitter. I can assure you I'll most likely have an argument for each and every objection that you could possibly raise.
Yesterday we looked at the NL West, today it's the AL West.
To continue reading, click on the read more button below if you're on the home page.
American League West

1. Los Angeles – Manager Mike Scioscia (13th year)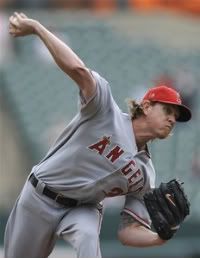 The Angels will contend with the Rangers for the division title as long as veteran outfielder's Vernon Wells and Torii Hunter and the DH types Bobby Abreu and Kendrys Morales can stay healthy and produce runs. Look for rookie Mike Trout to grab more playing time if those players struggle offensively. The Halos strengthened that lineup when they signed some guy named Albert Pujols for the next decade and most likely it will fall to Morales or Hunter to protect Pujols in the lineup. They also firmed up their rotation when they signed top free agent starter C.J. Wilson away from division rival Texas and acquired Brad Mills in a trade.
Key Players: 1B Albert Pujols; P Jared Weaver; LF Vernon Wells, RF Torii Hunter; DH Kendrys Morales
MVP Candidate: 1B Albert Pujols
Cy Young Candidate: P Jared Weaver
ROY Candidate: OF/DH Mike Trout
Key Additions: 1B Albert Pujols (FA-STL); SP C.J. Wilson (FA-TEX); P Brad Mills (Trade-TOR); C Chris Ianetta (Trade-COL); RP LaTroy Hawkins (FA-MIL); OF/DH Mike Trout (Rookie); SS Jorge Cantu (FA-SD); OF Ryan Langerhans (FA-SEA)
Possible lineup: Aybar SS; Kendrick 2B; Pujols 1B; Morales DH; Hunter RF; Wells LF; Trumbo 3B; Ianetta C; Bourjos CF
Possible rotation: Weaver; Haren; Wilson; Santana; Mills
2. Texas – Manager Ron Washington (6th year)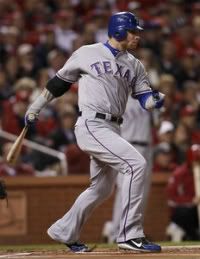 The two time division champions are on their third number one starter in three years, moved their closer into the starting rotation and signed a Japanese import to bolster the starting five. Line up wise there aren't many better 1-9 as they can hit with anyone. It's a two-team race and it comes down to the Rangers starting pitching vs. Angels aging outfield/designated hitter types (Hunter/Wells/Abreu/Morales).
Key Players: P Yu Darvish; LF Josh Hamilton; P Colby Lewis; 2B Ian Kinsler; DH Michael Young
MVP Candidate: LF Josh Hamilton
Cy Young Candidate: P Yu Darvish
ROY Candidate: P Yu Darvish
Key Additions: RP Randy Henry (Trade-BAL); RP Joe Nathan (FA-MIN); SP Yu Darvish (FA-Japan/Rookie); INF Brandon Snyder (Trade-BALT): RP Greg Reynolds (Trade-COL); 1B Brad Hawpe (FA-SD)
Possible lineup: Kinsler 2B; Andrus SS; Hamilton LF; Beltre 3B; Young DH; Cruz RF; Napoli C; Moreland 1B; Gentry CF
Possible rotation: Lewis; Holland; Darvish; Harrison; Feliz
3. Oakland – Manager Bob Melvin (2nd year/9th overall)
Oh you silly A's trading away anything with value, I was shocked they didn't deal the office furniture but who knows maybe Billy Beane did. And hoping to rekindle the magic of the 1997 Cleveland Indians they signed free agent starter Bartolo Colon and free agent loon Manny Ramirez. Colon proved last season with New York he still had some life after failing miserably the year before in Boston, while Ramirez has to sit the 50 games out for yet another failed PED test. He will be available to the team in late May.
They can't put fannies in the seats, they operate with a low payroll but they are a developmental machine for other teams that books are written about and movies are made about. Once again they are destined to battle Seattle for the bottom of the division.
Key Players: P Brandon McCarthy; P Jarrod Parker; RF Josh Reddick; LF Yoenis Cespedes
MVP Candidate: LF Yoenis Cespedes
Cy Young Candidate: P Brandon McCarthy
ROY Candidate: LF Yoenis Cespedes
Key Additions: OF Brandon Moss (FA-PHI); SP Jarrod Parker (Trade-ARI/Rookie); SP Brad Peacock (Trade-WAS); SP Tommy Milone (Trade-WAS); C Derek Norris (Trade-WAS); RF Josh Reddick (Trade-BOS); SP Bartolo Colon (FA-NYY); Jonny Gomes (FA-WAS); OF Seth Smith (Trade-COL); LF Yoenis Cespedes (FA-CUBA); OF/DH Manny Ramirez (FA-TB)
Possible lineup: Crisp CF; Weeks 2B; Reddick RF; Allen DH; Cespedes LF; Suzuki C; Barton 1B; Sizemore 3B; Pennington SS
Possible rotation: McCarthy; Colon; Braden; Peacock; Parker
4. Seattle – Manager Eric Wedge (2nd year/9th overall)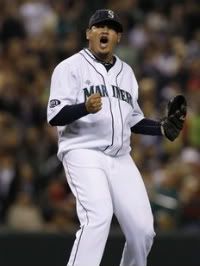 The Mariners go into 2012 with the potential for one rookie to play every day (DH Jesus Montero) and another to be in the starting rotation (Danny Hultzen) and for both to make an impact. Ichiro Suzuki's skills are winding down and they decided to take him out of the lead off spot, 3B Chone Figgins has been a colossal bust and was rumored to be replaced on the hot corner but they decided against that going into camp. Oh and there sure isn't much offense. They need to hope that Felix Hernandez stays healthy so they can look at possibly moving him by the deadline in July.
Key Players: CF Franklin Gutierrez; DH Jesus Montero; P Felix Hernandez; P Danny Hultzen
MVP Candidate: P Felix Hernandez
Cy Young Candidate: P Felix Hernandez
ROY Candidate: DH Jesus Montero and P Danny Hultzen
Key Additions: C John Jaso (Trade-TB); RP George Sherrill (FA-ATL); C/DH Jesus Montero (Trade-NYY/Rookie); P Kevin Millwood (FA-COL); P Danny Hultzen (Rookie); P Aaron Heilman (FA-ARI); RP Hector Noesi (Trade-NYY); RP Hong-Chih Kuo (FA-LAD)
Possible lineup: Figgins 3B; Ackley 2B; Suzuki RF; J. Montero DH; Gutierrez CF; Smoak 1B; Olivo C; Robinson LF; Ryan SS
Possible rotation: Hernandez; Furbush; Vargas; Millwood; Hultzen
Tomorrow: The National League Central
Follow Steve on Twitter @SteveMichaelsII
Photo credits: AP Photo, Reuters Pictures, Getty Images, AP Photo