Welcome to the Gigantic Sox and Dawgs 2012 MLB preview. Over the next few days you will get a team by team look at its key players, new faces, their potential MVP, Cy Young and Rookie of the Year candidates, their possible starting lineup and rotation as well as a quick summary.
For the second year in a row we will select a MVP candidate and Cy Young candidate for each team no matter what their predicted team outcome is.
This preview was sculpted over a two month period in the off season with some mild tweaking as we went along prior to publication. It comes from a culmination of reading many baseball magazines, periodicals, articles and websites.
I hope you enjoy this look at the upcoming season. I know everyone will not agree with me and that's fine put it in the comments or hit me up on Twitter. I can assure you I'll most likely have an argument for each and every objection that you could possibly raise.
Yesterday we looked at the NL Central, Sunday was the NL West, Monday was the AL West and today it's the AL Central.
To continue reading, click on the read more button below if you're on the home page.
American League Central
1. Detroit – Manager Jim Leyland (7th year/21st overall)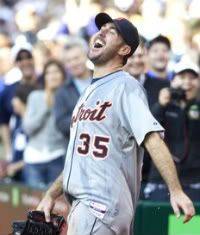 The Detroit Tigers got some bad news in early January when they found out that C/DH Victor Martinez had torn his ACL and was going to miss the season. A little over a week later they filled that lineup hole with free agent 1B Prince Fielder and Miguel Cabrera is going to take his big body to 3B. My only worry is can Detroit overcome the fielding deficiency at the hot corner? Lucky when Justin Verlander is pitching there isn't many balls put into play. Detroit wins the division rather easily.
Key Players: 1B Prince Fielder; 3B Miguel Cabrera; C Alex Avila; P Justin Verlander; P Doug Fister
MVP Candidate: 1B Prince Fielder and 3B Miguel Cabrera
Cy Young Candidate: P Justin Verlander
ROY Candidate: P Jacob Turner
Key Additions: RP Octavio Dotel (FA-STL); C Gerald Laird (FA-STL); 1B/DH Prince Fielder (FA-MIL)
Possible lineup: Jackson CF; Young LF; Cabrera 3B; Fielder 1B; Peralta SS; Boesch RF; Avila C; Raburn 2B; Inge DH
Possible rotation: Verlander; Fister; Scherzer; Porcello; Turner
2. Cleveland – Manager Manny Acta (3rd year/6th overall)
The Indians went out and got a pair of veteran starters to beef up their rotation. They acquired Derek Lowe from Atlanta and Kevin Slowey from Colorado via Minnesota. They also lost a starter when "Fausto Carmona" was placed on the suspended list for falsifying his identification. He is really Roberto Heredia and he is 31 not 28. The Tribe really hope that Grady Sizemore returns to past form as that will help them immensely. They will hang in there with the Tigers for most of the season but they will drop off in the end and finish second.
Key Players: C Carlos Santana; SS Asdrubal Cabrera; DH Travis Hafner; P Ubaldo Jimenez; P Justin Masterson
MVP Candidate: C Carlos Santana
Cy Young Candidate: P Ubaldo Jimenez
ROY Candidate: 2B Cord Phelps
Key Additions: SP Derek Lowe (Trade-ATL); OF Ryan Spillborghs (FA-COL); P Kevin Slowey (Trade-COL); 3B Andy LaRoche (FA-OAK); C Matt Pagnozzi (FA-PIT); OF Felix Pie (FA-BALT); RP Dan Wheeler (FA-BOS); 2B Cord Phelps (Rookie); 1B Casey Kotchman (FA-TB)
Possible lineup: Brantley LF; Cabrera SS; Choo RF; Santana C; Hafner DH; Sizemore CF; Phelps 2B; Kotchman 1B; Chisenhall 3B
Possible rotation: Jimenez; Masterson; Lowe; Tomlin; Slowey

3. Kansas City – Manager Ned Yost (3rd year/9th overall)
The Royals are coming they're just not quite all the way back as of yet. With good young players like Mike Moustakas and Eric Hosmer and good draft pick development the Royals are closer to being some one to contend with. This year they'll have to settle for third.
Key Players: 1B Eric Hosmer; 3B Mike Moustakas; DH Billy Butler; P Luke Hochevar; P Jonathan Sanchez
MVP Candidate: 1B Eric Hosmer
Cy Young Candidate: P Luke Hochevar
ROY Candidate: P Danny Duffy and OF Will Myers
Key Additions: RP Jonathan Broxton (FA-LAD); SP Jonathan Sanchez (Trade-SF); SS Yuniesky Betancourt (FA-MIL); RP Jose Mijares (FA-MIN); 3B Kevin Kouzmanoff (FA-COL); P Danny Duffy (Rookie)
Possible lineup: Gordon LF; Cain CF; Hosmer 1B; Butler DH; Francouer RF; Moustakas 3B; Perez C; Giavotella 2B; Escobar SS
Possible rotation: Hochevar; Sanchez; Chen; Paulino; Duffy
4. Minnesota – Manager Ron Gardenhire (11th year)
The Twins are falling and things could be worse if Joe Mauer and Justin Morneau can't stay healthy and on the field. They did add Jason Marquis to the rotation to replace Kevin Slowey and while Joel Zumaya was supposed to replace Joe Nathan in the bullpen it appears he is headed to the DL and Tommy John surgery just days into camp. With the losses of Michael Cuddyer and Jason Kubel to free agency and last years late season trade of Jim Thome this isn't the same team that has contended the last few years even with free agent pickups Josh Willingham and Ryan Doumit in the lineup.
Key Players: C Joe Mauer; 1B Justin Morneau; DH Ryan Doumit; P Carl Pavano; RF Josh Willingham
MVP Candidate: C Joe Mauer and 1B Justin Morneau
Cy Young Candidate: P Carl Pavano
ROY Candidate: P Liam Hendricks
Key Additions: C/DH Ryan Doumit (FA-PIT); INF Jamey Carroll (FA-LAD); Josh Willingham (FA-OAK); SP Jason Marquis (FA-ARI); RP Joel Zumaya (FA-DET).
Possible lineup: Spann CF; Carroll SS; Mauer C; Morneau 1B; Willingham RF; Doumit DH; Valencia 3B; Casilla 2B; Revere LF
Possible rotation: Pavano; Baker; Liriano; Blackburn; Marquis
5. Chicago – Manager Robin Ventura (1st year)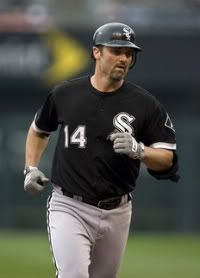 The White Sox are going no where fast and if you weren't sure of that the late season and off-season fire sale should have clued you in. They aren't done dumping payroll yet and will probably be sellers come the trade deadline look for them to move Gavin Floyd and maybe Paul Konerko. Not a good start to the Robin Ventura era.
Key Players: SS Alexi Ramirez, 1B Paul Konerko; DH Adam Dunn; P John Danks; P Chris Sale
MVP Candidate: SS Alexi Ramirez
Cy Young Candidate: P John Danks
ROY Candidate: RF Dayan Viciedo and P Addison Reed
Key Additions: RP Nestor Molina (Trade-TOR); P Simon Castro (Trade-SD); RF Dayan Viciedo (Rookie);OF/DH Kosuke Fukudome (FA-CLE); Mgr. Robin Ventura
Possible lineup: De Aza LF; Ramirez SS; Konerko 1B; Dunn DH; Pierzynski C; Rios CF; Viciedo RF; Beckham 2B; Morel 3B
Possible rotation: Danks; Floyd; Peavy; Sale; Humber
Tomorrow, in Day 5, we will preview the NL East.
Follow Steve on Twitter @SteveMichaelsII
Photo credits: Reuters Pictures, AP Photo, Getty Images, AP Photo, Getty Images