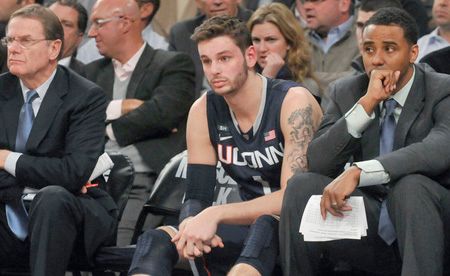 When I looked up at the scoreboard on the television and saw that the UConn Huskies had scored seven points in about the first 10 minutes of the game, I said to myself, "here we go again". And like the game against South Florida, I hoped UConn would rally.
Again they did rally but unfortunately, a late 9-0 run by the St. John's Red Storm gave them a 71-65 win over the Huskies in front of 8,441 and a nationally televised audience on Wednesday night at Madison Square Garden in the Big Apple.
The loss ends a three-game winning streak for UConn who fall to 15-6 (5-4 Big East). St. John's improves to 15-8 (7-4). It just happened to be the Huskies last trip to the Garden this year since they are ineligible for the Big East Tournament next month.
In his hometown, Omar Calhoun led UConn with 21 points. Shabazz Napier, who didn't start because of a rules violation, finished the game with 14 points and five assists. DeAndre Daniels chipped in with 12 points and seven rebounds.
Niels Giffey, making the start for Napier, almost had a double-double with nine points and 10 rebounds.
Jakaar Sampson paced the Johnnies with 18 points and had six rebounds. Both D'Angleo Harrison and Marco Bourgault had 11 points with Harrison pulling down a team-high seven rebounds. Phil Greene IV rounded out the Red Storm in double-digits with 10 points and a team-high six assists.
With Napier out of the game, UConn couldn't drain their shots early and that put them into a hole. I'm not sure Napier would have made that much of a difference starting out but you never know. But if he violated a team rule, head coach Kevin Ollie did the right thing in punishing him.
The Huskies started their rally late in the first half cutting a 15 point deficit down to eight points before trailing 31-20 at the break. But St. John's opened the second half up by increasing their lead back up to 15 points at 39-24.
Behind Napier, the Huskies would cut the deficit to seven points on an 8-0 run. They would continue to whittle down St. John's lead behind Napier and Calhoun cutting it down to one point at 40-39 with just over 10 minutes left.
Giffey tied the game up at 44 on a free throw and then Ryan Boatright tied it up again at 51 with a three pointer. Two free throws by Boatright gave UConn the lead at 53-51 but St. John's used a 9-0 run to seize control of the game as the Huskies would get no closer than three points the rest of the way.
For starters, UConn REALLY needs to figure out how to attack a zone. I don't think Napier and Boatright did a good enough job of that. Settling for three-pointers isn't going to win you ballgames. Sure the Huskies don't have the size up front, but they have good athletes at other positions and have to figure out their zone offense.
Secondly, they need to figure out a way to not come out flat. When their shots weren't falling, it looked as though they had their heads down. We know Kevin Ollie isn't going to stand for that and my best guess would be that we may see some changes to the lineup going forward.
Yes, we know the Huskies aren't playing for anything but pride this season. They've done a pretty decent job of that all season long. Last night, just wasn't one of those nights.
UConn returns to action on Sunday afternoon when they visit the Prudential Center in Newark, NJ for a matchup with the Seton Hall Pirates. Tip is scheduled for 12 p.m.
To continue reading, please click on the continue reading button below if you're on the home page.
UConn Huskies @ St. John's Red Storm 2.6.13 box score
Here are the postgame quotes from St. John's head coach Steve Lavin. Here are the postgame quotes from UConn head coach Kevin Ollie.
Here are St. John's postgame notes.
Follow Ian on Twitter @soxanddawgs. And be sure to like us on Facebook as well.
photo credit: brad horrigan – hartford courant (no. 10 in gallery)