With the Boise State Broncos and San Diego State Aztecs deciding not to come to the Big East in 2013 for football, the conference had to realign the schedule for the UConn Huskies and other members of the conference.
Here's the release from UConn:
STORRS, Conn. – The University of Connecticut football team will play an eight-game league schedule and host seven games overall at Rentschler Field in the latest release sent out by the BIG EAST, revising the conference's home and away schedule breakdown. The schedule was originally established in December before the league's membership went from 12 to 10 teams for 2013.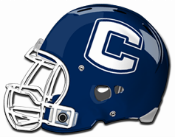 UConn will play home BIG EAST Conference games against Louisville, Memphis, Rutgers and USF. The Huskies' non-league home games will be Maryland (Sept. 14), Michigan (Sept. 21) and Towson State (Aug. 29). The exact dates for BIG EAST games will be announced in early 2013.
Memphis was added to Connecticut's home schedule to replace the departure of San Diego State to the Mountain West Conference, along with Boise State.
Road conference games for the Huskies in 2013 will be Central Florida, Cincinnati, SMU and Temple. UConn's lone non-conference road game will be at Buffalo (Sept. 28).
UConn's home schedule features three teams that played in bowl games this year, including: Louisville, winners of the Allstate Sugar Bowl vs. Florida; Michigan in the Outback Bowl vs. South Carolina; and Rutgers in the Russell Athletic Bowl vs. Virginia Tech.
The Huskies also play road games against three bowl teams: Central Florida, winners of the Beef 'O' Brady's Bowl vs. Ball State; Cincinnati, winner of the Belk Bowl vs. Duke; and SMU, winners over Fresno State in the Sheraton Hawaii Bowl.
The BIG EAST Conference will have 10 football playing schools in 2013, the largest membership in the league's 23 seasons of football. Each team plays eight conference games with four games at home and four on the road.
Editor's note: Not mentioned in the release is the fact that the only Big East team the Huskies will not play is the Houston Cougars.
Follow Ian on Twitter @soxanddawgs. And be sure to like us on Facebook as well.