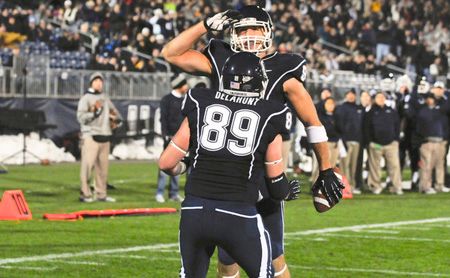 If the UConn Huskies football team could have played like they did in the first half on Friday night all season long, maybe their results would have been different. Of course, they really do need to remember the game is 60 minutes long.
UConn held off a late charge from the Pittsburgh Panthers for a 24-17 win in front of 33,503 and a nationally televised audience at Rentschler Field.
It's the first conference win of the season for the Huskies as they improve to 4-6 (1-4 Big East). The Panthers fall to 4-6 (1-4). Both teams now need to win their final two games to become bowl-eligible.
The Huskies looked great out of the opening gate. They had as many rushing yards on their opening touchdown drive (42) as they did in the loss to South Florida last week (43).
UConn used those 42 yards rushing as well as three passes to Ryan Griffin including the final one which went for a touchdown. The defense responded with a three-and-out and the offense once again drove down the field. This time though, they had to settle for a Chad Christen field goal.
Meanwhile the defense kept doing its part, keeping Tito Sunseri off balance and shutting down the rushing attack of Ray Graham.
UConn had a great second quarter as they scored 14 more points to go up 24-0 and it looked as though the Huskies were on their way to a rout. But once again, the play calling got conservative in the second half and that allowed the Panthers to get back into the game.
Even with 2:32 to go in the game, the final outcome wasn't settled until Whitmer found Shakim Phillips for a 17 yard gain and a first down. From there, UConn was able to close out the game to earn the win.
Honestly, I thought the Huskies were great in the first half, lousy in the second (mostly 4th quarter). While as I said above, the play calling was suspect. But it also looked as though UConn wasn't playing with the same intensity on both sides of the ball.
Still though, it's a solid win and something to learn from and grow from. And they'll need to do just that if they want to avoid being home for the winter instead of playing in a bowl game.
Scoring:
| | | | | | |
| --- | --- | --- | --- | --- | --- |
| Team | 1st | 2nd | 3rd | 4th | Final |
| Pittsburgh Panthers | 0 | 0 | 3 | 14 | 17 |
| UConn Huskies | 10 | 14 | 0 | 0 | 24 |
1st quarter
CON - 08:31 – Ryan Griffin 2 Yd Pass From Chandler Whitmer (Chad Christen Kick)
CON - 01:43 – Chad Christen 29 Yd Field Goal
2nd quarter
CON - 09:26 – Nick Williams 80 Yd Punt Return (Chad Christen Kick)
CON - 01:02 – Lyle McCombs 2 Yd Run (Chad Christen Kick)
3rd quarter
PIT - 10:33 – Kevin Harper 42 Yd Field Goal
4th quarter
PIT - 13:37 – Drew Carswell 11 Yd Pass From Tino Sunseri (Kevin Harper Kick)
PIT - 02:46 – Mike Shanahan 18 Yd Pass From Tino Sunseri (Kevin Harper Kick)
To continue reading, the Pittsburgh Panthers @ UConn Huskies recap, click on the read more button below if you're on the home page.
Offensive Players of the Game: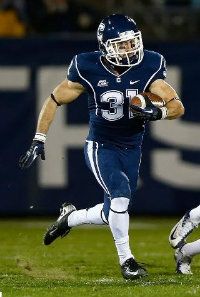 Lyle McCombs had just his second 100 yard rushing game of the season with 120 yards and a touchdown. Also have to give some props to Nick Williams who had 160 all-purpose yards including an 80 yard punt return for a touchdown.
Defensive Player of the Game:
Sio Moore seemed like he was everywhere even though he had six tackles. Three of those tackles were for a loss that included two sacks. He also had two pass breakups and one QB hit. Just a great all around game from him.
Turning Point(s) of the Game:
With Pitt mounting their 4th quarter comeback, UConn had the ball 3rd and 7 on their own 28 with 2:32 in the game. After the timeout, Chandler Whitmer hit Shakim Phillips for 17 yards to seal the win for the Huskies.
Offensive Notes:
Chandler Whitmer was 19-of-25 for 213 yards and a touchdown. He threw one interception and was sacked twice. He had five carries for -7 yards and fumbled that was recovered by UConn. Lyle McCombs had 29 rushes for 120 yards and a touchdown. Ryan Griffin was Whitmer's favorite target as they hooked up six times for 84 yards. Shakim Phillips had five catches for 52 yards. Nick Williams had three catches for 31 yards while Michael Smith's only catch was good for 27 yards.
Defensive Notes:
Yawin Smallwood led the Huskies with nine tackles. Sio Moore had six tackles, including three for a loss. He had two sacks, two pass breakups and one QB hit. Dwayne Gratz and Jory Johnson both had six tackles as well. Tim Willman had three tackles and a sack.
Special Teams Notes:
Nick Williams was spectacular. He had an 80 yard punt return for a touchdown and finished with 122 yards on returns (42 on kickoffs, 80 on punts. Cole Wagner averaged 41.4 yards on five punts. Two of those punts were downed inside the 20. Chad Christen made all three of his extra points and was good on his only field goal attempt. Only one of his five kickoffs went for a touchback.
Injuries:
Sio Moore suffered a leg injury in the 4th quarter but returned to the game.
Officials:
Referee: Jerry McGinn; Umpire: John Shigo; Linesman: Lyndell Shelton; Line judge: Chuck Rice; Back judge: James Downey; Field judge: Ben Vasconcells; Side judge: Bruce Williams; Scorer: Andy Prince
Game Notes:
Pitt Panthers @ UConn Huskies 11.9.12 box score
Here are the postgame quotes from UConn head coach Paul Pasqualoni and Pittsburgh head coach Paul Chryst as well as players from both teams.
Here are the starters for the Huskies:
OFFENSE
WR 6 Smith, Michael
TE 89 Delahunt, John
LT 72 Bennett, Jimmy
LG 69 Greene, Steve
C 50 Bullock, Tyler
RG 65 Cruz, Gus
RT 77 Friend, Kevin
QB 10 Whitmer, Chandler
TB 43 McCombs, Lyle
FB 47 Frank, Reuben
WR 85 Davis, Geremy
DEFENSE
DE 48 Williams, Trevardo
DT 53 Wirth, Ryan
DT 59 Stephen, Shamar
DE 56 Pruitt, Angelo
SLB 3 Moore, Sio
MLB 33 Smallwood, Yawin
WLB 28 Johnson, Jory
CB 5 Wreh-Wilson, Blidi
S 16 Jones, Byron
S 15 Brown, Ty-Meer
CB 7 Gratz, Dwayne
Here are the game notes from the UConn Huskies Sports Information Department:
With the win Connecticut improved to 5-4 all-time against Pittsburgh.
Connecticut redshirt sophomore quarterback Chandler Whitmer was a perfect 3-3 on the UConn's first drive of the game with all passes completed to redshirt senior tight end Ryan Griffin.
Whitmer's first quarter 2-yard touchdown pass to Griffin was Griffin's career best fifth touchdown of the season.
Griffin is now fifth all-time among Connecticut tight ends with nine career touchdowns.
Senior wide receiver Michael Smith's 27-yard reception in the first quarter was his season long.
The Huskies outgained Pittsburgh 141 to 39 in total yards in the first quarter.
Redshirt sophomore fullback Reuben Frank's 3-yard catch in the second quarter was his fourth reception of the season.
Senior wide receiver Nick William's career long 80-yard punt return in the second quarter was his second punt return touchdown of the season, tied for the most in a season in Connecticut history. He is now second in school history with a total of four career punt and kickoff returns combined.
Redshirt junior Cole Wagner's 37-yard punt in the second quarter was his 23rd punt inside the 20-yard line this season.
Griffin matched his career high with six catches tonight.
Connecticut's 24 first half points tonight were the most for the Huskies this season.
Sophomore Lyle McCombs rushed for his fifth touchdown of the season late in the first half. It was his 12th career-rushing touchdown.
Redshirt senior linebacker Sio Moore had two sacks in the game and now has 15 career sacks and seven sacks this season.
Moore made his 11th tackle for loss of the season in the third quarter. He has 39.5 tackles for loss in his career.
Redshirt junior defensive tackle Tim Willman recorded his third sack of the season in the fourth quarter.
McCombs' 44-yard run in the fourth quarter was his longest run of the season.
McCombs ran for over 100 yards for the second time this season and the eighth time in his career.
Big East Games and Results:
Saturday, November 10
Army
(23) Rutgers, 12 p.m.
(9) Louisville
Syracuse, 12 p.m.
Cincinnati
Temple, 12 p.m.
Things to Work On:
Play the entire game like they did in the first half.
Make sure team is prepared for Louisville.
Up Next:
UConn is off again next weekend. They return to action on November 24th when they head Papa John Cardinal Stadium to take on the Louisville Cardinals.
Follow Ian on Twitter @soxanddawgs. And be sure to like us on Facebook as well.
Photo credit: patrick raycraft – hartford courant (no. 9 in gallery), getty images