Given the way the UConn Huskies men's basketball team dominated the first half action, you would have thought the final outcome would have been much greater than it was.
Instead the Huskies sat back in the second half and saw the Fordham Rams claw their way back into things.
But in the end, it was the Huskies who ended up prevailing 88-73 over Fordham in front of 10,265 at the XL Center in Hartford, CT on Friday.
UConn improves to 9-2 in Kevin Ollie's first season as head coach. The visiting Rams fall to 2-9.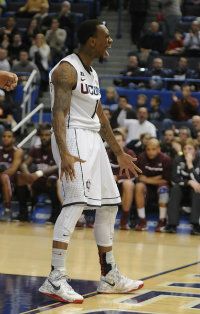 Ryan Boatright led the way for the Huskies with a career-high 26 points and nine assists. He did however have six turnovers. Shabazz Napier added 19 points, six assists and a team-high seven rebounds to go along with four steals.
Omar Calhoun chipped in with 17 points while DeAndre Daniels added 10 points. R.J. Evans returned to action with nine points.
Branden Frazier was the high scorer for the Rams with 26 points and had four rebounds and five assists. And like Boatright did for UConn, he also had six turnovers. Chris Gaston was the only other Fordham player in double figures with 11 points and he added six rebounds.
Ryan Rhoomes led the Rams with seven rebounds to go along with just one point.
This was a game where the Huskies should have absolutely blown away the Rams. They had 29 point halftime lead. Instead with the UConn enjoying a 63-31 lead, they watched Fordham get back into the game with a 19-0 run.
While the Huskies never let the Rams get closer than 13 points the rest of the way, it was something that shouldn't have happened.
They played the scoreboard and that ended up almost costing them. Given the way Ollie has coached them this season, you wouldn't have expected this to happen. But it did. And you he'll make them work even harder in practice.
I've said this all along. If the Huskies can play a complete game, they'll surprise some people in the Big East this season. After all, that's what these early season games are for, the grueling Big East season.
They'll get a chance to show they can play a full 40 minutes next Saturday when they host the Washington Huskies at the XL Center in Hartford, CT. Tip is scheduled for 7:30 p.m. and the game will be broadcast nationally on ESPN2.
To continue reading, please click on the continue reading button below if you're on the home page.
Fordham Rams @ UConn Huskies 12.21.12 box score
Here are the postgame quotes from UConn head coach Kevin Ollie.
Here are UConn's postgame notes.
Follow Ian on Twitter @soxanddawgs. And be sure to like us on Facebook as well.
photo credit: richard messina – hartford courant (no. 4 in gallery)