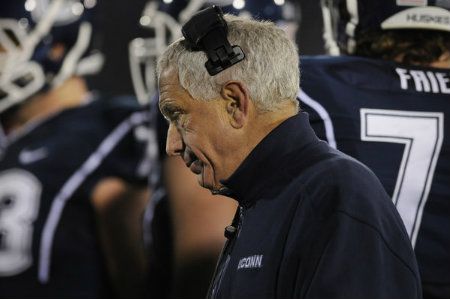 For the second straight season, the UConn Huskies football team needed to beat the Cincinnati Bearcats to become bowl-eligible. And for the second straight season, Huskies fans were once again left disappointed.
Brandon Kay threw two touchdown passes, both of them to Travis Kelce, and then took advantage of turnovers to beat the Huskies 34-17 in front of 33,112 chilly fans at Rentschler Field in East Hartford, CT on Saturday.
UConn finishes 5-7 (2-5 Big East). It's the same record as last year under Paul Pasqualoni. Cincinnati finishes at 9-3 (5-2) and wins a share of the Big East title.
The Bearcats finished in a four-way tie for the title with the Louisville Cardinals, Rutgers Scarlet Knights and Syracuse Orange. Yes Syracuse finished 5-2 as well. Louisville will get the automatic bid from the Big East.
The Huskies weren't actually out of this game until the 4th quarter mistakes.
After Chandler Whitmer left the game with what appeared to be his second straight game with a concussion, Johnny McEntee came in and continued the march down the field. The drive culminated with a one yard run from Lyle McCombs that cut Cincy's lead to 21-17.
But after a Bearcats field goal, McEntee was picked off and that set up a George Winn four-yard touchdown run. McEntee would once again be picked off later in the quarter. But at that point, the game was essentially over as Johnny Mac didn't have the magic he had last week.
What can we say?
Well it was a disappointing season for the Huskies. They lost a few games they probably shouldn't have. The running game was virtually non-existent for at least 3/4 of the season. That was due in part to an offensive line that struggled all season long. Whitmer made too many mistakes. Bad play calling or shall I say conservative play calling.
Personally some thing needs to change offensively.
Whether it be firing offensive coordinator George DeLeone and/or head coach Paul Pasqualoni, I don't know. They have a big QB recruit coming in for next season but unless he's coming in for January, I highly doubt he'll be the answer.
They do have Casey Cochran on the bench and it wouldn't surprise me to see him emerge as the starting quarterback after spring practice. Had he not injured himself in a non-football incident, he could have been the quarterback.
But it's not a woulda, coulda, shoulda situation. They did the best they could offensively with what they had. And yes, it wasn't all that good.
Props to the defense.
Despite the seven losses, they were outstanding. If it weren't them, it's quite likely the Huskies could have had more losses.
They'll lose some key parts of the defense to graduation but as long as Don Brown remains as defensive coordinator, the defense will be almost as good, if not better than they were this year.
But now instead of getting 15 extra practices, the Huskies will now have to wait until spring football to start organized football activities.
Scoring:
| | | | | | |
| --- | --- | --- | --- | --- | --- |
| Team | 1st | 2nd | 3rd | 4th | Final |
| Cincinnati Bearcats | 7 | 7 | 7 | 13 | 34 |
| UConn Huskies | 0 | 10 | 7 | 0 | 17 |
1st quarter
CIN - 11:33 – Travis Kelce 25 Yd Pass From Brendon Kay (Tony Miliano Kick)
2nd quarter
CIN - 11:20 – Brendon Kay 39 Yd Pass From Travis Kelce (Tony Miliano Kick)
CON - 06:43 – Bobby Puyol 40 Yd Field Goal
CON – 05:23 – Ryan Griffin 74 Yd Pass From Chandler Whitmer (Bobby Puyol Kick)
3rd quarter
CIN - 11:24 – Travis Kelce 21 Yd Pass From Brendon Kay (Tony Miliano Kick)
CON - 00:17 – Lyle McCombs 1 Yd Run (Bobby Puyol Kick)
4th quarter
CIN - 12:04 – Tony Miliano 38 Yd Field Goal
CIN - 10:52 – George Winn 4 Yd Run (Tony Miliano Kick)
CIN - 06:03 – Tony Miliano 42 Yd Field Goal
To continue reading, the Cincinnati Bearcats @ UConn Huskies recap, click on the read more button below if you're on the home page.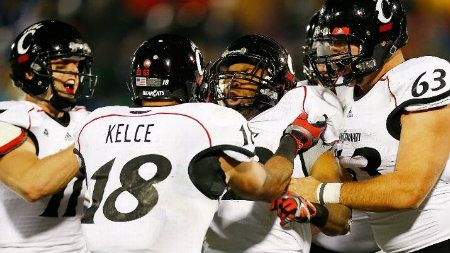 Offensive Player of the Game:
Cincinnati's Travis Kelce had five catches for 69 yards and two touchdown catches. He also threw a 39-yard touchdown pass to his quarterback Brandon Kay.
Defensive Player of the Game:
Cincinnati's Dan Giordano had six tackles and two sacks. His two sacks went for a total loss of 21 yards.
Turning Point(s) of the Game:
After a Cincinnati field goal, Johnny McEntee was picked off in the 4th quarter. The turnover led to a Bearcats touchdown that put the game out of reach for the Huskies.
Offensive Notes:
Chandler Whitmer was 16-of-31 for 264 yards and one touchdown pass. He was sacked four times and threw one interception. Johnny McEntee was 7-of-16 for 73 yards and was intercepted twice. Lyle McCombs had 21 carries for 60 yards and a touchdown. Shakim Phillips had seven catches for 93 yards while Geremy Davis had five catches for 46 yards. Ryan Griffin had three catches for 85 yards and one touchdown. Michael Smith had three catches for 54 yard while Nick Williams had two catches for 38 yards.
Defensive Notes:
Jory Johnson, Yawin Smallwood and Byron Jones led the Huskies with nine tackles each. Johnson had a forced fumble and fumble recovery as well as a pass breakup. Shamar Stephen had seven tackles while Tim Willman and Ryan Wirth each had six tackles. Sio Moore had the team's only sack to go with just three tackles.
Special Teams Notes:
Freshman Bobby Puyol made his debut and was perfect on his only field goal attempt (40 yards). He also made both of his extra points. One of his four kickoffs went out-of-bounds. Cole Wagner averaged 37.7 yards on six punts. None of them were downed inside the 20. Nick Williams had five kickoff returns for 95 yards while Taylor Mack had one kickoff return for 25 yards.
Injuries:
Chad Christen missed the game with a thigh injury.
Chandler Whitmer suffered an apparent concussion in the 3rd quarter and didn't return to the game.
Officials:
Referee: John McDaid; Umpire: Greg Brenner; Linesman: Lyndell Shelton; Line judge: Lance Thompson; Back judge: James Downey; Field judge: Glenn Crowther; Side judge: George Liotus
Game Notes:
Cincinnati Bearcats @ UConn Huskies 12.1.12 box score
Here are the postgame quotes from UConn head coach Paul Pasqualoni and Cincinnati head coach Butch Jones as well as players from both teams.
Here are the postgame notes from the UConn Football Sports Information Department:
With the loss Connecticut fell to 2-7 all-time against Cincinnati.
Connecticut redshirt senior linebacker Jory Johnson recovered his first fumble of the season in the first quarter. It was his third career fumble recovery.
UConn redshirt junior defensive tackle Tim Willman recorded two tackles for loss in the first quarter. Willman had five career tackles for loss entering the game.
Connecticut redshirt junior defensive tackle Shamar Stephen made his first individual tackle for loss of the season in the second quarter. Stephens has 6.5 tackles for loss in his career.
Husky senior wide receiver Michael Smith's 52-yard reception in the second quarter was his longest catch of the season.
UConn freshman kicker Bobby Puyol's 40-yard field goal in the second quarter was the first of his career.
Connecticut redshirt sophomore quarterback Chandler Whitmer's 74-yard touchdown pass to tight end Ryan Griffin in the second quarter was the longest career score for both Whitmer and Griffin.
Griffin caught six touchdowns, tying for second all-time for single season touchdown receptions by a tight end.
UConn redshirt senior linebacker Sio Moore recorded his eighth sack the season late in the first half. It was the 16th of his career.
Connecticut sophomore running back Lyle McCombs ran for his sixth touchdown of the season late in the third quarter. The score was Connecticut's first touchdown scored in the second half in BIG EAST play this season.
With his score in the third quarter, McCombs eclipsed 2,000 career-rushing yards.
McCombs now ranks eighth all-time in career rushing yards with 2,011; passing Tony Jordan (1,983) and Andre Dixon (1,958)
Connecticut redshirt sophomore Shakim Phillips matched his career high today with seven receptions.
Big East Games and Results:
Thursday, November 29
Louisville 20
Rutgers 17
Saturday, December 1
Pittsburgh 27
South Florida 3
Things to Work On:
Fire George DeLeone and/or Paul Pasqualoni
Up Next:
UConn is off until spring practice starts.
Follow Ian on Twitter @soxanddawgs. And be sure to like us on Facebook as well.
Photo credit: richard messina – hartford courant (no. 7 in gallery), getty images