By Wil Goldsholl
Hartford, CT, January 26, 2013 – The Connecticut Whale are glad to be home. After playing six straight on the road in mid-January, Connecticut returned to Hartford and won their third in a row Saturday against the division-rival Springfield Falcons by a count of 3-2. In addition to a goal from Andrew Yogan, the Whale got scores from blueliners Blake Parlett and Mike Vernace, and 26 saves from Cam Talbot.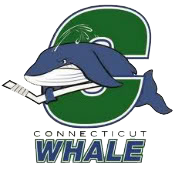 Springfield took a while to get their game together in the early minutes. It took all of six seconds for the Falcons to earn their first penalty, when Tomas Kubalik was called for roughing.
The first power play unit applied early pressure and word on the Falcons' penalty kill unit, and Yogan scored his second of the year just two seconds after the penalty expired. Logan Pyett fired a shot from the point and Micheal Haley was lurking in the slot. He managed to redirect the puck and hit the post, and Yogan was standing at the ready. Scoring first proved valuable to the Whale, who had lost the previous two at home to Springfield by an aggregate score of 15-2.
Dalton Prout tied up Jason Wilson at the crease after Brandon Segal and Brandon Mashinter connected on a break-in and, while he managed to keep Wilson from burying the puck in the back of the net, he would sit for interference. By the time the Whale's second power play expired they had a 10-0 shot advantage.
Near the midway mark of the period, Kelsey Tessier hit the pipe after faking a slapshot and then shooting from the dot, and after setting up in the zone, Christian Thomas drew interference once again on Prout at 10:14. A Pyett minor for interference at 10:40 would negate the power play opportunity.
Once four on four play expired, Springfield started to show signs of life. Jake Hansen put a pass to Springfield's Sean (B.) Collins (not to be confused with Connecticut's Sean (P.) Collins) that ran him into Talbot. Dylan McIlrath took exception to that and, simultaneously, took a holding penalty with 3:43 to play in the period.
Talbot made a quality save on a cross-ice play between Cody Goloubef and Scott Howes before the period ended, and the Whale led 1-0 heading into the second.
Seventy-one seconds in to the second period, former Whale Tim Erixon flipped the puck over the glass. Talbot was called upon to stop a shorthanded flurry, including Falcons captain Ryan Craig on the doorstep five minutes in.
Springfield goaltender Allen York replied with a few big saves of his own, particularly one on Tessier after a wild bounce off the glass.
Shayne Wiebe sat for slashing at 7:02 and Springfield would get on the board on the ensuing power play. After Newbury horseshoed the puck around, Sean (B.) Collins pushed it to Nick Drazenovic, tipped by Jonathan Audy-Marchessault on the way. Craig jammed it in front and Drazenovic would knock it out of the air to tie it up at one apiece.
McIlrath got some more attention from Springfield and the officials after running down Tim Spencer, who was making an effort to touch up on a delayed penalty. Erixon was guilty of interference for the original penalty and McIlrath was called for cross-checking.
Craig sought a second Springfield goal when Kubalik wristed a high shot from the point and a great bouncing redirect was tracked by Talbot with eight to go.
The Whale would then take a 2-1 edge when Blake Parlett got a pass from Newbury and cranked it towards the net. With traffic in front, Falcon defenseman Bryan Helmer accidentally gloved the puck into his own net at 13:16.
Tessier was tripped by Goloubef with 2:12 left in the second and Will Weber was called for high sticking at 19:10, giving the Whale 38 seconds of five on three time. Newbury fired a shot that nailed Mashinter in the ribs, but the cost came with the reward of an assist, as the puck found its way to Segal, then Vernace right in front to make it 3-1.
Weber's penalty rolled over in to the third, and York made another timely save on Tessier moving left to right.
Springfield dominated the third period, and Scott Howes managed to collect a rebound on his backhand, earning Kubalik and Holden assists and cutting the deficit in half. York left the net with 83 seconds left and Talbot was forced to make two more stops in the last 30 seconds, but the Whale held on to win 3-2. Talbot finished with 26 saves, while York stopped 30 of the 33 he faced.
To continue reading, please click on the continue reading button below if you're on the home page.
Springfield Falcons 2 at Connecticut Whale 3
Saturday, January 26, 2013 – XL Center Veterans Memorial Coliseum
Springfield 0 1 1 – 2
Connecticut 1 2 0 – 3
1st Period-1, Connecticut, Yogan 2 (Haley, Pyett), 2:08. Penalties-Kubalik Spr (roughing), 0:06; Prout Spr (interference), 6:09; Prout Spr (interference), 10:14; Pyett Ct (interference), 10:40; McIlrath Ct (holding), 16:17.
2nd Period-2, Springfield, Drazenovic 14 (Craig, Audy-Marchessault), 8:20 (PP). 3, Connecticut, Parlett 3 13:16. 4, Connecticut, Vernace 3 (Segal, Mashinter), 19:44 (PP). Penalties-Erixon Spr (delay of game), 1:11; Wiebe Ct (slashing), 7:02; Erixon Spr (interference), 9:11; McIlrath Ct (cross-checking), 9:11; Drazenovic Spr (high-sticking), 14:18; Goloubef Spr (tripping), 17:48; Weber Spr (high-sticking), 19:10.
3rd Period-5, Springfield, Howes 3 (Kubalik, Holden), 13:22 (PP). Penalties-Jean Ct (holding), 11:40.
Shots on Goal-Springfield 8-6-14-28. Connecticut 14-14-5-33.
Power Play Opportunities-Springfield 2 / 4; Connecticut 1 / 7.
Goalies-Springfield, York 5-4-0 (33 shots-30 saves). Connecticut, Talbot 15-17-0 (28 shots-26 saves).
A-7,372
Referees-Keith Kaval (40).
Linesmen-Marty Demers (79), Luke Galvin (2).
Follow Ian on Twitter @soxanddawgs. And be sure to like us on Facebook as well.