Just a few days after being released by the New England Patriots, former UConn Huskies offensive lineman Donald Thomas finds himself back in the NFL again.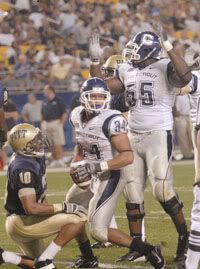 With Matt Light suffering an injury in Monday night's win over the Kansas City Chiefs, the Patriots have re-signed Thomas to the 53-man roster. Stop me if you've heard this one about a 1,000 times this season (actually 17th roster move with him) but Ross Ventrone has been released to make room on the roster for Thomas.
Thomas was signed by the Patriots on September 14th and has seen action in four games this season with them.
The former Husky was a sixth round pick of the Miami Dolphins in 2008. He started one game for the Dolphins in 2008 before being placed on injured reserve list. He played in all 16 games, starting 12 of them, for the Dolphins in 2009.
Follow Ian on Twitter @soxanddawgs. And be sure to like us on Facebook as well.
Photo credit: Ross Taylor – Hartford Courant