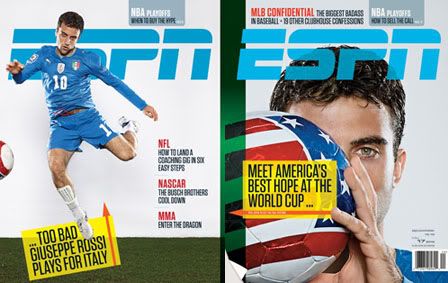 Look out Sports Illustrated. It looks like there's a new magazine jinx in town.
Back when ESPN the Magazine hit newsstands on May 17th, American-born Italian National Soccer Team player Gisueppe Rossi graced the cover of the magazine in the leadup to 2010 FIFA World Cup in South Africa. The games will begin on June 11th.
But when the Azzurri kick off their run to the championship on June 14th against Paraguay, Rossi won't be there as he was cut from the squad yesterday.
This is all Italian head coach Marcello Lippi has said about the exclusion of Rossi:
"All the exclusions were difficult, maybe Giuseppe Rossi's was the most difficult one.
Rossi had this to say over on his Twitter page:
didnt make it, but i have no regrets…worked hard and showed what i could do..i gues the coach had other plans. good luck Italy..

….cant wait to go back home to my family now…….!! gonna enjoy a beautiful summer…
So do we have a new magazine jinx on our hands? I guess we'll have to see as each subsequent issue of The Mag comes out.