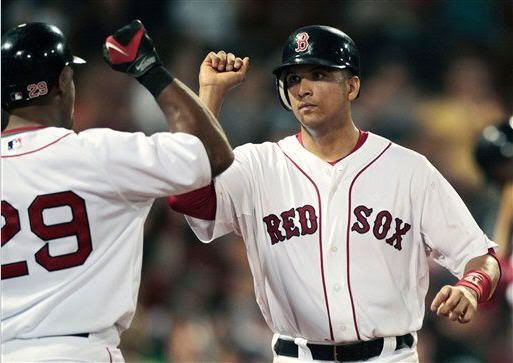 John Lackey should be pretty happy that the Boston Red Sox offense has been able to pick him up because right now he's just not cutting the mustard. The Oakland A's came into the game as one of the hottest teams in baseball and it showed early on at Fenway Park on Tuesday night.
While he was able to pick up his sixth win of the season, Lackey wasn't fooling anyone on the A's last night. He allowed four runs on 12 hits and four walks with just two strikeouts. He really hasn't pitched to his ability just yet so when he does, it could be lights out for opposing hitters.
I'm sure that he was thanking Adrian Beltre and Victor Martinez last night for their spectacular nights at the plate that helped spurn the Red Sox rally from 4-0 to the final margin of 9-4.
Beltre got things going for the Red Sox with a 3-run homer that was part of his three-hit night. But leave it to VMart to upstage Beltre as he had four doubles as part of a five-hit, two RBI night.
With no immediate date in sight for return of the Josh Beckett to the Red Sox rotation, they need Lackey to be at the top of his game. They are getting quality start after quality start from Jon Lester and Clay Buchholz. And unfortunately they just don't know what they're going to get from Daisuke Matsuzaka and at times, Tim Wakefield.
Lackey's been hit hard at Fenway Park as opposing hitters are hitting .308 off of him and has an ERA there of 5.60. His road numbers aren't much better as teams are hitting .290 with an ERA of 4.22. His walks to strikeout ratio at home is 12/23 while on the road it's 20/16. Not what you expected from a guy you're paying $82.5 million of the course of the next five years.
It will come folks or at least we hope it better.
I do love the resilency of this team though as it doesn't seem to matter if they are down anymore. They've been able to battle back and make it a game again lately. This bodes well going forward.
While the Red Sox weren't able to pick up any ground on the first place Rays or second place Yankees, they are now just a ½ game out of third since the Blue Jays fell to the Rays. While you'd rather see the Rays and Yankees lose, at least they gained against the Jays.
We'll be back later with tonight's lineups, batter/pitcher matchups and links and news from the day but for now enjoy the overnight links after the jump.
The unexpected force: Beltre emerges as key lineup member [Alex Speier – WEEI.com]
Lackey is lacking again, but Sox pick up the slack [Boston Globe]
A high-five for red-hot Martinez [Boston Globe]
Bruised Cameron needs further testing [Boston Globe]
Recap: Red Sox 9, Athletics 4 [Boston Herald]
Mike Cameron's sore again [Boston Herald]
Celtics fan Terry Francona likes how Doc Rivers operates [Boston Herald]
In long run, John Lackey expects more [Boston Herald]
West Roxbury kids learn how to play like Clay Buchholz [Boston Herald]
Papi on Beltre: 'He's got power like no one here' [Clubhouse Insider]
Red Sox come back to beat A's, 9-4 [CSN New England]
Cameron to meet with specialists on Wednesday [CSN New England]
Jacoby Ellsbury's Absence Hurting Red Sox, Even During Winning Streaks [Don Orsillo – NESN.com]
Lackey: The good run still to come [ESPN Boston]
Lowell drawing some interest [ESPN Boston]
Martinez makes a little history [Extra Bases]
Closing Time: Red Sox 9, A's 4 [Full Count]
Pedroia shows signs of a turnaround [Full Count]
Cameron to see specialist amidst ongoing abdominal woes [Full Count]
Boxscore Breakdown – Tuesday's Comeback Win [Full Count]
John Lackey Less Than Pleased With Personal Numbers But Happy With Win [NESN.com]
Victor Martinez Doubles Down at the Dish, Paces Red Sox Past A's With Historic Performance [NESN.com]
Beckett to have conversation Wednesday with staff [Projo Sox Blog]
Red Sox 9, Athletics 4: Five hits for Martinez [Providence Journal]
Another underwhelming performance for Lackey [Providence Journal]
Cameron to see a specialist on Wednesday [Providence Journal]
Defense finally gets its act together [Providence Journal]
Red Sox journal: Francona rooting for Rivers, Celts [Providence Journal]
Francona rooting for Doc, Celtics [RedSox.com]
Cameron to see specialist about pain [RedSox.com]
Sox now approaching the tinkering time [Tony Massarotti – Boston Globe]
For more slices of Red Sox goodness, head over to the Boston Globe, Boston Herald, ESPN Boston, NESN, Providence Journal and WEEI websites.
And if you must read the enemy papers, you can check out the San Francisco Chronicle and San Jose Mercury News websites.