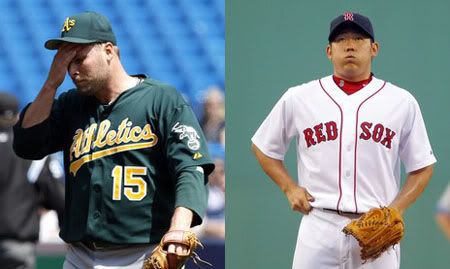 After coming back for a 9-4 win last night, the Boston Red Sox host the Oakland Athletics in game two of a three-game set at Fenway Park.
Tonight's game will start at 7:10 p.m. and will be shown on NESN in the Red Sox television market. If you live in the A's television market, you can catch the game on CSN California. If you can't catch the television broadcast, you can always listen to the game on the 2010 Red Sox radio network.
Dr. Jekyll and Mr. Hyde Daisuke Matsuzaka takes the mound for Terry Francona and the Red Sox tonight and only God knows which Dice-K will show up. Dice-K has made six starts this season and is 3-2 with a 5.77 ERA. After almost throwing a no-hitter against the Phillies, he came back with an eight walk start. He made one start against the A's in 2009 and took a no decision after allowing five first inning runs. He's made five career starts against them and is 201 with a 4.21 ERA. He's made one career start in 2008 against the A's at the Fens and picked up the win after allowing two runs in eight innings.
Ben Sheets started off slow for the A's but has been a much better pitcher as of late. In his 11 starts this season with his new club, he is 2-3 with a 4.91 ERA. Sheets will be making his first career start against the Red  Sox and at Fenway Park.
Keep reading for lineups, batter/pitcher matchups and pregame links.
28-25

30-23

1. Rajai Davis
CF
1. Marco Scutaro
SS
2. Daric Barton
1B
2. Dustin Pedroia
2B
3. Ryan Sweeney
RF
3. David Ortiz
DH
4. Kurt Suzuki
C
4. Kevin Youkilis
1B
5. Jack Cust
DH
5. J.D. Drew
RF
6. Mark Ellis
2B
6. Adrian Beltre
3B
7. Gabe Gross
LF
7. Jeremy Hermida
LF
8. Adam Rosales
3B
8. Jason Varitek
C
9. Cliff Pennington
SS
9. Darnell McDonald
CF
Ben Sheets
SP
Daisuke Matsuzaka
SP
Here's the hitters have fared against tonight's starting pitchers in their careers: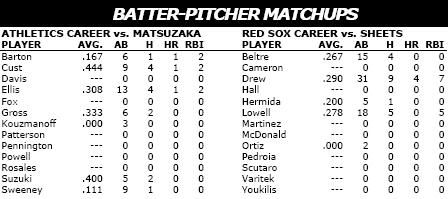 To open the links up in a new tab or window, use Control+click
No new injury for Cameron; Beckett taking it slow [Clubhouse Insider]
Cameron may return to action Friday [CSN New England]
Early Sox Notes: Beckett shut down for 10 days [CSN New England]
Beckett shut down for 10 days [ESPN Boston]
Martinez out tonight, back tomorrow [ESPN Boston]
Good news on Cameron [ESPN Boston]
Martinez takes a hot bat to the bench [Extra Bases]
Cameron OK, Beckett slowed down for 10 more days [Extra Bases]
Remy on D&C: 'I can't figure it out' with Matsuzaka [Full Count]
The man who almost stopped Pedroia from being a Red Sox [Full Count]
Pregame Notes: Beckett held back, Cameron moving forward [Full Count]
Victor Martinez Gets Night Off, Will Catch Tim Wakefield on Thursday [NESN.com]
The Jimmy Fund and the Red Sox Team Up to Help a Fan Fight Cancer [NESN.com]
Where Will the Red Sox's Next Star Come From in the MLB Draft? [NESN.com]
Red Sox Seeking to Draft Player With Biggest Impact [NESN.com]
Mike Cameron's Progress Encouraging News for Red Sox Fans [NESN.com]
Exam shows no new problems for Mike Cameron, OF could return in a few days [Projo Sox Blog]