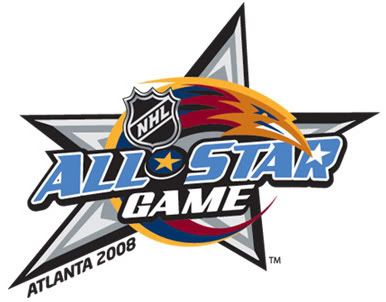 The 2008 NHL All-Star Game will take place in Atlanta, GA on January 27, 2008 at 6:00 PM. It will be televised in the United States on Versus and in Canada on CBC and RDS.
A full look at the rosters for the Eastern and Western Conferences after the jump.
Eastern Conference
Western Conference
POS
Player
Team
POS
Player
Team
G
Martin Brodeur*
New Jersey
G
Roberto Luongo*
Vancouver
G
Rick DiPietro
New York Islanders
G
Manny Legace
St. Louis
G
Tomas Vokoun
Florida
G
Chris Osgood
Detroit
D
Zdeno Chara*
Boston
G
Evgeni Nabokov
San Jose
D
Andrei Markov*
Montreal
D
Nicklas Lidstrom*
Detroit
D
Brian Campbell
Buffalo
D
Dion Phaneuf*
Calgary
D
Sergei Gonchar
Pittsburgh
D
Chris Pronger
Anaheim
D
Tomas Kaberle
Toronto
D
Ed Jovanovski
Phoenix
D
Kimmo Timonen
Philadelphia
D
Duncan Keith
Chicago
F
Sidney Crosby*
Pittsburgh
D
Sergei Zubov
Dallas
F
Vincent Lacavalier*
Tampa Bay
F
Henrik Zetterberg*
Detroit
F
Daniel Alfredsson*
Ottawa
F
Pavel Datsyuk*
Detroit
F
Scott Gomez
New York Rangers
F
Jerome Iginla*
Calgary
F
Dany Heatley#
Ottawa
F
Shawn Horcoff
Edmonton
F
Marian Hossa
Atlanta
F
Anze Kopitar
Los Angeles
F
llya Kovalchuk
Atlanta
F
Henrik Sedin
Vancouver
F
Alex Ovechkin
Washington
F
Paul Stastny
Colorado
F
Mike Richards
Philadelphia
F
Ryan Getzlaf
Anaheim
F
Jason Spezza
Ottawa
F
Joe Thornton
San Jose
F
Eric Staal
Carolina
F
Rick Nash
Columbus
F
Martin St. Louis
Tampa Bay
F
Jason Arnott
Nashville
F
Marian Gaborik
Minnesota
* elected as starters
Roberto Luongo was voted in as a starter but will not play in the game.
#Dany Heatley is injured and has been replaced by Marc Savard of the Boston Bruins.