The wins keep coming for the Boston Celtics as they made it 14 straight in a 94-82 win over the New Orleans Hornets in front of another full house at the TD BankNorth Garden.
The 14 straight wins ties a franchise record set back during the 1985-86 season.
Before the game, the Celtics presented James Posey with his NBA Championship ring. Posey bolted from Boston during  free agency signing a 4-year deal with the Hornets.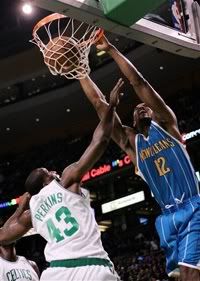 After falling behind by 8 points early in the game, the Green came back to tie the game at 21 at the end of the 1st. They then got out to a 6 point lead before the Hornets took a 1 point lead at the half.
The Celtics then used a 17-5 run to put the game away as they would never trail again in the game. The Hornets did make it interesting in the 4th quarter when they cut a Celtics 14 point lead to 7 points but the Celtics would score the final 5 points of the game.
Paul Pierce led the Celtics with 28 points and added 6 rebounds and 6 assists. Kevin Garnett chipped in with a double-double of 19 points and 10 rebounds while Rajon Rondo added 10 points, 6 rebounds and 2 assists. Former UConn Husky Ray Allen, Kendrick Perkins and Eddie House all had 9 points as well for the Green.
The Hornets were paced by David West's 23 points and 14 rebounds. Chris Paul added 20 points, 6 rebounds and 14 assists while another former UConn Husky, Hilton Armstrong, had 8 points and 4 rebounds.
The Celtics return to action on Monday night when Deron Williams and the Utah Jazz come to Boston. Tip-off is scheduled for 7:30 PM.