The Boston Celtics got back to their winning ways on the road tonight with a 86-77 win over the poor-shooting New Jersey Nets in front of 19,990 at the Izod Center in East Rutherford, NJ Friday night.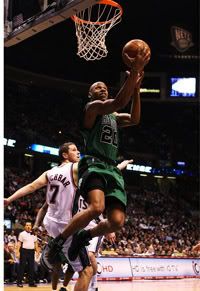 The Green were led by the "Three Amigo's" as Kevin Garnett had a double double with 20 points and 11 rebounds, Paul Pierce had 18 points and Ray Allen had 16 in the teams 30th win against 4 losses. The 30-4 record matches the 1959-60 Boston Celtics championship team for the best start in franchise history.
It wasn't all good news for the Celtics as point guard Rajon Rondo left the game in the 3rd quarter with a back injury after being run out of bounds under the basket. His status is unknown for Boston's game tomorrow night in Washington against the Wizards.
The Nets (18-18) got 17 points from Richard Jefferson, 16 from Vince Carter, 14 points and 16 rebounds from UConn product Josh Boone and Jason Kidd just missed a triple double with 11 points, 13 boards and 9 assists.
The free throws really killed New Jersey tonight they were pitiful as they were 9 of 24 from the line. They also struggled from the field in the fourth quarter as they made only 3 of 19 shots as they only managed 9 points in the final stanza.
The Celtics have not lost a division game this season.