Yes I know I don't write too much about the UConn men's soccer team but when there's some big news I feel an obligation to write about it. For those who don't know me, I grew up playing soccer and played the game until around 1999 or so. As a small lad, my parents took me to UConn to watch the soccer games and as scary as it sounds, I still can remember some of the games (ask me what I had for dinner last night though and I won't be able to tell you). My parents still attend games although I am sure it's not as frequent as it was when my brother and I were growing up.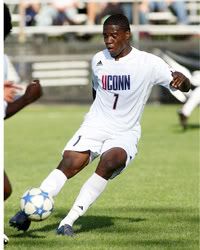 A little while back, I wrote a post about how UConn soccer stud O'Brian White was a finalist for the MAC Hermann Trophy as the top collegiate soccer player in the land. For those who don't know, the Hermann Trophy is the equivalent of the Heisman Trophy in soccer.
On Friday, the Missouri Athletic Club announced that White was chosen as the recipient of the 2007 MAC Hermann Trophy winner as the top men's collegiate soccer player. The top runner-up was Patrick Nyarko from Virginia Tech and last year's winner, Joseph Lapira from Notre Dame, was third.
White is the third winner in the history of UConn men's soccer. Joe Morrone, Jr. won the award in 1980 and Chris Gbandi won it in 2000. White was also the Soccer America Player of the Year, a first-team NSCAA/Adidas All-American and the 2007 Big East Offensive Player of the Year.
If you would like to read White's acceptance speech, click here.