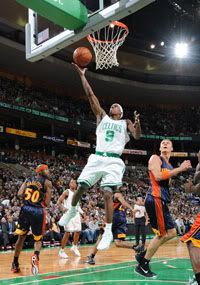 The Boston Celtics tipped off a full Thanksgiving weekend of sports by hosting the Golden State Warriors and for a while it didn't look like this was going to be a fun start to the long holiday weekend.  But they were able to rally and regain control and take down the Warriors 119-111 at TD Banknorth Garden on Wednesday night.
After jumping out to 35-28 lead after a high scoring first quarter the Celtics built the lead to 40-30 early in the second and then the wheels came off as the Warriors went on a 28-8 run and took a 67-54 lead at the half as the Green went cold making only five shots in the quarter.  The performance or maybe lack there of drew the ire of head coach Doc Rivers who took it out on the officials and got a technical late in the half.
But the home team put it together back in the third quarter led by Rajon Rondo who made 6 of 9 shots in the quarter and was 4 for 4 at the line as the Celtics took a 86-83 lead into the final 12 minutes.  It was the final quarter where Golden State kind of fell apart as the Celtics played a solid quarter and locked up the win.
Boston (14-2) was led by Ray Allen who had 25 points, Rondo had 22 points, 8 rebounds, 7 assists and two steals and was definitely the player of the game for the Green.  Kevin Garnett had a double-double with 21 points and 13 points and Paul Pierce asdded 21 points as well.
Golden State (5-10) dropped it's fourth straight game and was paced by Corey Maggette who had a game high 32 points, Stephen Jackson had 30 points and Jamal Crawford, who made his Warriors debut added 18 in the loss.
The Celtics host the 76ers Friday night at the Garden at 7:30 p.m.