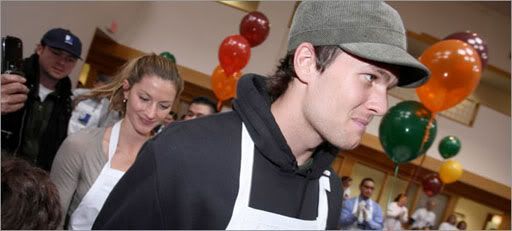 New England Patriots QB Tom Brady made a surprise appearance today at Goodwill headquarters in Roxbury to help serve Thanksgiving dinners along with his girlfriend Gisele Bundchen and many other local celebrities.
According to WCVB TV Brady walked with no noticable limp and told the TV Station:
"I am doing well. It's good to be out here today and serve all these wonderful people and sign some autographs. I am thankful to be here in Boston. It's my favorite holiday."
While I admire what Matt Cassel has done in Brady's absence, let's face it the man is no Tom Brady and I can't wait to see him on the field again next season.