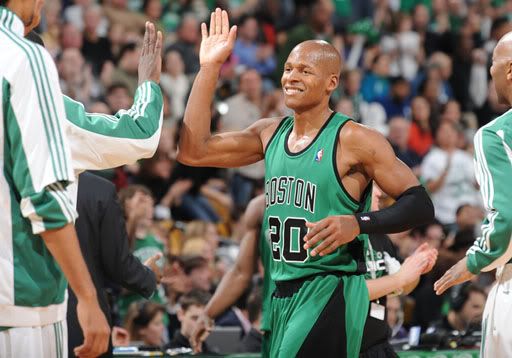 On the night after Thanksgiving it appeared that the Philadelphia 76ers were still digesting their turkey dinners as they were absolutely blown out the TD Banknorth Garden by the reigning NBA Champion Boston Celtics, 102-78.
It was Ray Allen's night as the former UConn Husky had 13 points in the third quarter including 11 in a row for the Green as he just buried three trey's and one 2 point field goal in the matter of a five possessions.  It was also the Celtics stifling defense that led to this post holiday bashing of the boys from Philly.
Boston took a 46-28 halftime lead into the locker rooms before turning Allen free on the Sixers in the 3rd quarter as they outscored Philadelphia 27-19 in the quarter.  Doc Rivers rested the starters for most of the fourth quarter as they pulled away on the front end of yet another home/road back-to-back.
Boston (15-2), who if it's possible is playing better than they did last season, was led by Allen who had a game high 23 points, Kevin Garnett added 16 points and Tony Allen and Leon Powe chipped in with 10 points each off the bench.
Philadelphia (7-9) was paced by Elton Brand who had 18 points and Louis Williams who had 15 points off the bench.
Game Notes:
Fomer UConn All-America Donyell Marshall didn't dress for the Sixers.
The Celtics wore their third uniform tonight for the first time this season.  It's the same one they've worn the last few years it's green with mostly black trim and says "Boston" on the chest.
The Celtics hit the road tomorrow night for a game in Charlotte at 7 p.m.