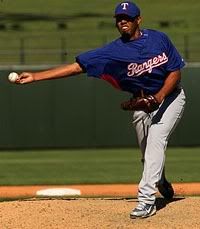 The Boston Red Sox and Texas Rangers hooked up today for a trade but it didn't solve any of the Sox catching issues instead they added yet another arm to the bullpen by acquiring 26-year old sidearming right hander Wes Littleton for future considerations.  The return to Texas isn't considered to be a sizable one as Littleton is out of options.
Littleton, who spent most of 2008 in Triple A, is 5-3, 3 saves, 3.69 ERA and 55 K's in 102.1 innings at the major league level.
With the acquisition of Littleton, Boston now has 38 players on it's 40-man roster for 2009.