Houston, here we come with an extraterrestrial take on basketball celebrating the excellence of the sport's midseason weekend.
The mission control center in Texas, widely know by its radio call sign "Houston," provides the creative inspiration for a special collection of shoes for Nike Basketball's fearless leaders LeBron James, Kobe Bryant and Kevin Durant.
Space exploration defies practical reality. To launch into space on a mission to reveal the unknown can be mind-boggling. Extraterrestrial species, undiscovered planets, new constellations – there is no limit on the potential for discovery. These unlimited barriers also apply to Nike Basketball's design philosophy – no limits, no restrictions, rooted in exploration and discovery.
What began as a simple idea by members of the Nike Basketball design team has manifested itself into a creative celebration and fictional interpretation for the game's top players during basketball's prized weekend. Our heroes appear in a distant universe, where players are not just stars… They come to life as fictional planets on each of the three following shoes.
LEBRON X
An indestructible force originating from fictional Nike Space Program (NSP) planet NSP-LJ6, LeBron James' dominance was born from the volcanic surface in the planet's mantle. He is rumored to have journeyed to earth on a meteor made of the galaxy's hardest substance – black diamonds.
Technical benefits of the LEBRON X include full-length visible Nike Zoom cushioning, dynamic Flywire technology and Hyperfuse construction – a trilogy set to unleash its fury in Houston.
KOBE 8 SYSTEM
Engineered to the specifications of Kobe Bryant's Houston mission, with origins rooted on a planet marked as NSP-KB24. The Ice Mamba circles the volatile surface as guardian of the five rings. The wise veteran is known to strike with moves that leave his opponents frozen.
Built for Bryant's lightning speed and precision, the KOBE 8 SYSTEM is Nike+ Basketball enabled for the first time and this shoe also features Nike Zoom in the midsole insert. Nike Engineered Mesh upper and tactile traction complete the shoe.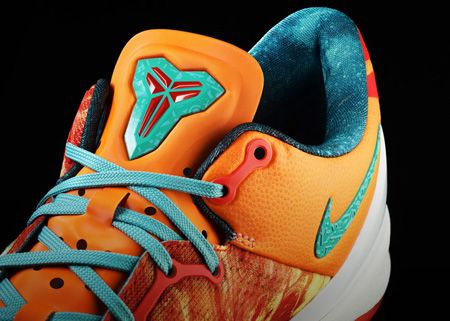 KD V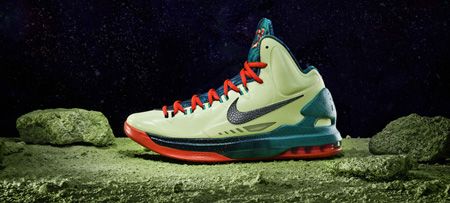 Identified as Dark Matter, the biological and molecular breakdown of this figure remains a puzzle for scientists. Early readings of its origin, NSP-KD35, have sent back conflicting reports of a planet that is simultaneously solid, liquid, and gas – properties that make his game adaptable to any situation.
Joining with Bryant for their quest to lead the West to victory, this KD V is designed to the specifications of Kevin Durant's Houston mission. The KD V features the combination of Nike Zoom (forefoot) and Nike Air (heel) cushioning along with Hyperfuse upper and dynamic heel support.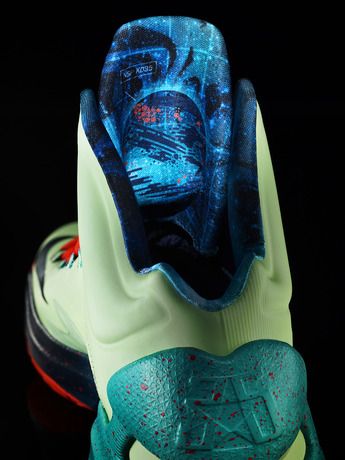 Houston, Here We Come
Driven by the creative vision of Nike Basketball's color lead Eugene Rogers and graphic extraordinaire Erick Goto, the 2013 collection specially built for Houston pushes the limits with meaningful, in-depth storylines.
The team dove into Houston's space lineage to create a fictitious basketball universe led by Nike's elite three players – it was an intricate, creative and fun project intended to celebrate the game's best.
The space concept also comes to life through select Nike Basketball apparel including the Hyper Elite Galaxy shorts and collection of three t-shirts for James, Bryant and Durant.
Nike Basketball has also joined forces with Nike Sportswear to create a special product collection based around Area 72, a top-secret facility where shoes take on a life of their own. Stay tuned for the launch of the Nike NSW collection celebrating Houston tomorrow, January 23, on NikeInc.com.
The Nike Basketball shoes specially engineered for Houston – KOBE 8 SYSTEM, KD V and LEBRON X – will be available beginning February 15 at select retail stores and at Nike.com.
Follow Ian on Twitter @soxanddawgs. And be sure to like us on Facebook as well.
photo credits: nike, inc.