After going 2-7 on the nine game road trip, the Boston Red Sox return home for seven games where I expect they'll go 0-7. In all seriousness, they'll kick it off tonight with the first game of a four-game set with the Tito Francona's Cleveland Indians at Fenway Park.
First pitch is scheduled for 7:10 p.m. The game will be broadcast on NESN in the Red Sox television market. If you live in the Indians television market, you can catch the game on SportsTime Ohio. If you don't live in either market you're in luck as the MLB Network will have coverage of the game (outside of Red Sox and Orioles television markets). And if you can't catch the game on television, you can always listen on the 2014 Red Sox Radio Network.
Jon Lester toes the slab for the 14th time in his walk year. In his previous 13 starts, Lester is 6-7 with a 3.52 ERA. He made two starts against the Tribe in 2013 and was 1-0 with a 3.86 ERA (6 ER/14 IP). He's made 13 career starts against them and is 6-1 with a 3.43 ERA. Five of those starts have come at the Fens where he is 2-1 with a 2.97 ERA.
Josh Tomlin makes his seventh start (eight appearance) of the 2014 season for the Erie Warriors. In his previous seven appearances (six starts), Tomlin is 4-2 with a 3.12 ERA. He last faced the Red Sox in 2012 when he allowed seven runs in 1.1 innings of work out of the bullpen. He's made four career appearances (three starts) against the local nine and is 1-1 with a 7.17 ERA. Two of those starts have come at the Fens where he is 0-1 with a 6.23 ERA (9 ER/13 IP).
NOTES:
Here is how the hitters have fared against the starting pitchers during the regular season over their careers.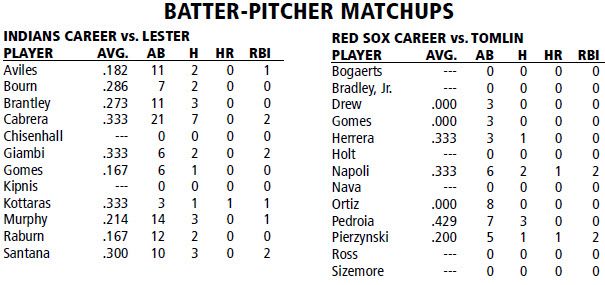 More links (bolded) will be added if/when they become available so please check back often.
To open the links up in a new tab or window, use Control+click
Brock Holt, baBIP, and Reality [sox & dawgs]
Orsillo & Remy To Get Mid-Season Vacation [sox & dawgs]
If Sox have an answer, it's already here [csn new england]
Xander Bogaerts on whether playing third has contributed to slump [full count]
David Ortiz on The Bradfo Show: 'I only think about the Hall of Fame when you guys talk to me about it' [full count]
Former Red Sox manager Terry Francona on D&H discusses relationship with Sox owners, '04 celebration, return to Fenway [full count]
Lester set to battle Tomlin, Indians in opener [red sox gameday]
Too early to count out defending Series champs [red sox]
Struggle for the ages? Red Sox' offensive futility reaches unfamiliar depths [alex speier – weei]
Argue If You Want, But You'll Be Wrong: The Ultimate Red Sox Roster Must Begin With … [touching all the bases]
photo credits: getty images, getty images